A steady stream of cars honking, chanting and cheering could be heard downtown Thursday morning, as a massive crowd of teachers, families and other #RedforEd supporters gathered to rally for education funding.
The crowd, which looked to be about 2,000 people, filled Congress Street from Granada Avenue west, almost reaching Interstate 10.
Supporters were there to push the legislature to meet teacher demands, which are: increase teachers' salary by 20 percent, restore education funding to 2008 levels, no new tax cuts until Arizona per-pupil spending reaches the national average and yearly raises until Arizona teacher salary reaches the national average.
We talked to several people on the street today. Here's what they had to say, along with photos of the rally:
Glenna Harrel, Elizabeth Daugherty, Laura Hatfield, teachers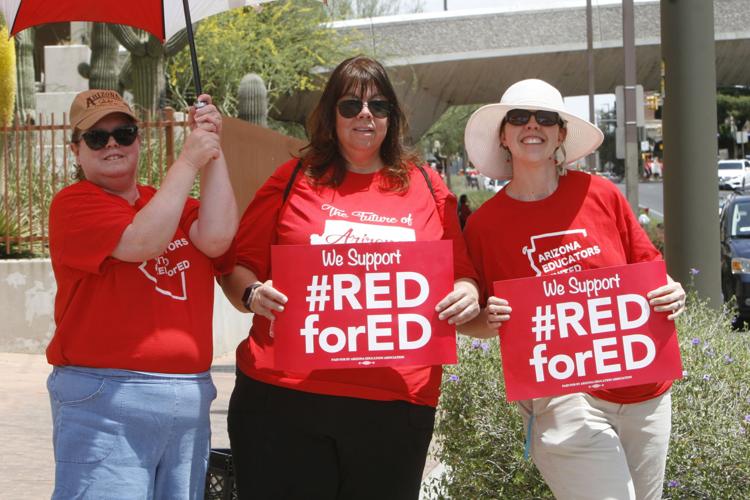 Glenna: "As a homeowner and single person, I barely make it paycheck to paycheck. I wouldn't have a house if it wasn't for my dad. On the walkout I could lose my house, but I'm doing it because my kids (students) are important. I have 140 kids this year and they're my kids. I've been crying the past week. My heart is with my kids. This is my life. I love each kid as if they were my own. I had to do this. It was not an easy decision...I have so many bright and beautiful kids, but they don't get to show it. I'm still using a desktop computer. I have a smartboard that doesn't work. If computers go down, we've gotta pull one from the computer lab. My students deserve better."

Elizabeth: "My text books are dated 2004. I was on a field trip Monday in a van with no A/C in Arizona. My sink constantly drips. I had to buy a projector that cost $800. I have to spend my evenings at DES applying for AHCCCS for my three sons. It's a mess. The districts can't afford books so we look for free online sources. I spend time going to the UA begging for us. This is the truth. They (legislature) broke it in 2008 and still haven't fixed it."

Laura: "Teachers come out of school with the same student debt as nurses and wages aren't comparable to pay off debt."

---
Andrea Lopez, mom and teacher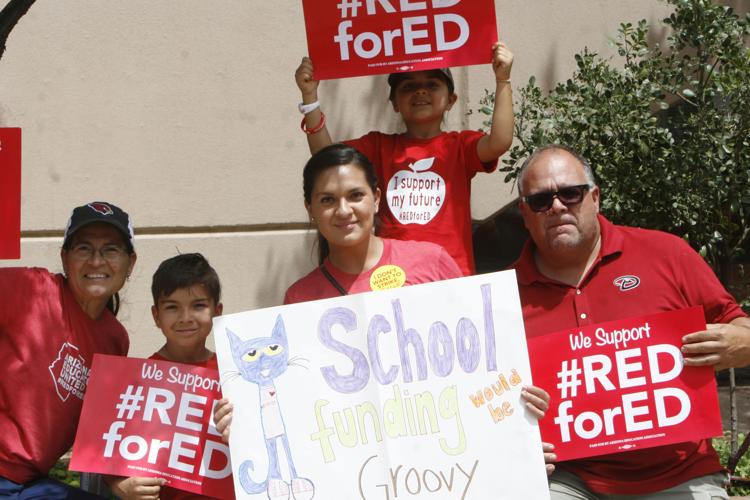 "We find ourselves buying stuff out of pocket. It would be nice to get the bare necessities, like paint and glue. ... I'm putting a lot of money in and not getting a lot back.

"I'm going to use all the personal time off I have and I hope we get what we need ASAP."

---

Leiba Schuneman, teacher and mom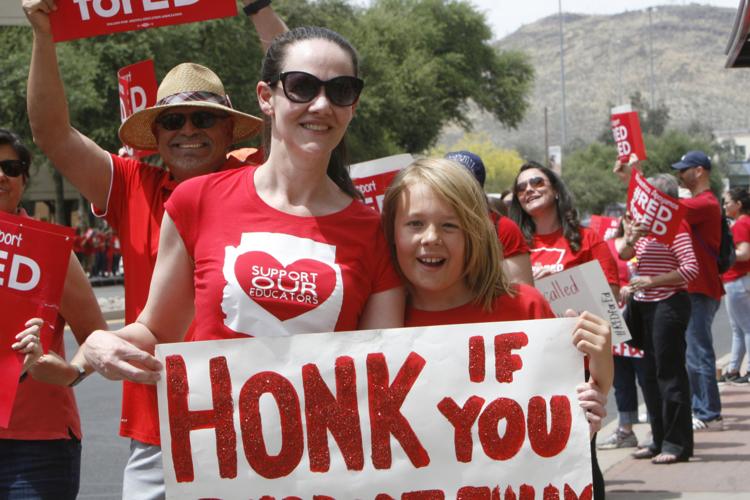 On how you can help: "I think contacting the legislature is first — to have our voices heard. I think second is standing in solidarity, wearing red, coming to events and letting us know they support us. And, supporting families that can't come by offering childcare. I'm really impressed by the community and I hope it continues until we get a good result."

---
Sydney Sears, first-year teacher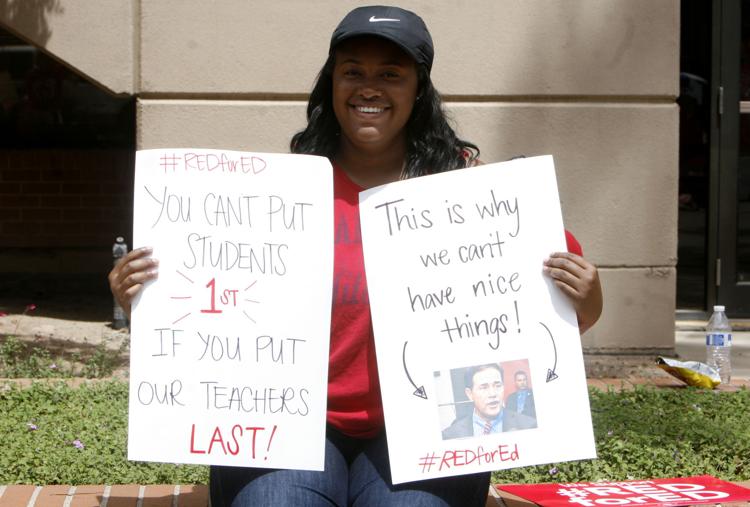 "It's a struggle. I'm having to rely on family and sacrifice pay for schools. Ideally I want to go until needs are met. I hope it doesn't go longer than a week or two. That's a whole paycheck. ... It was hard (to decide to walk out) at first. I didn't want the kids to think I was abandoning them. But it came down to whether I could lose out on pay and decided it was worth it."

---
Monique Murrieta, teacher
"I'm a seventh grade social studies teacher and part of that is talking about workers movements. I tried to explain it the best I can. I was worried in terms of them being taken care of. It helped that schools are doing that (serving food). I got a sense from students that they didn't think I was walking out on them."

---
Dennis Tamblyn, former teacher and Greg Guenther, teacher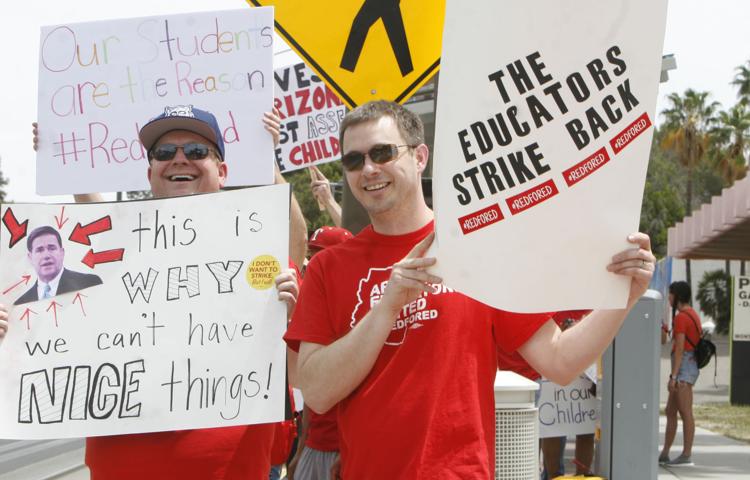 Dennis: "I loved my job but couldn't sustain a lifestyle. I couldn't buy a house. We need to invest in children or we're not building a future."

Greg: "The problem isn't us. The problem is the blame game in the Capitol. We can't make these decisions. Our job is to teach kids. I hope this momentum travels onward to make a change. If you don't do anything you don't get noticed and we've asked for this for how long? 

"Most people here are hard working, so we have PTO. We're there for our students all the time."

---
Monsterrat Caballen, co-chair TUSD Parent Advocacy council and parent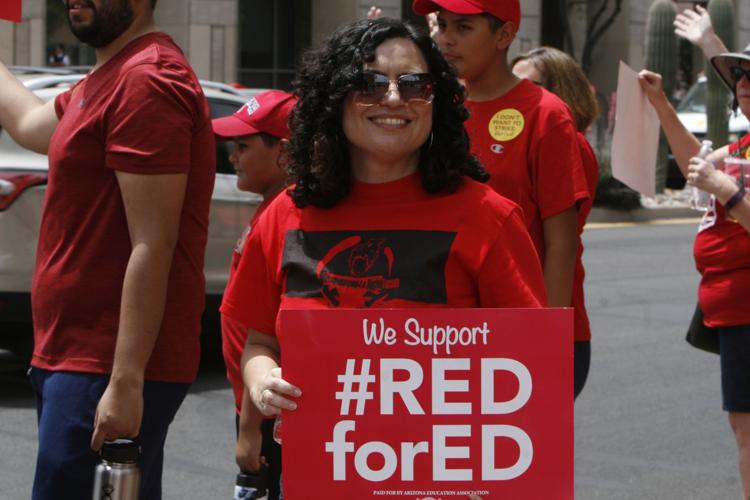 "We need to realize the reason we are here is we are in a serious crisis. We're missing $1.1 billion since 2008 and schools are falling apart. Parents need to use their parent voices to demand better for our children."

---
Amina Rashad, special needs resource teacher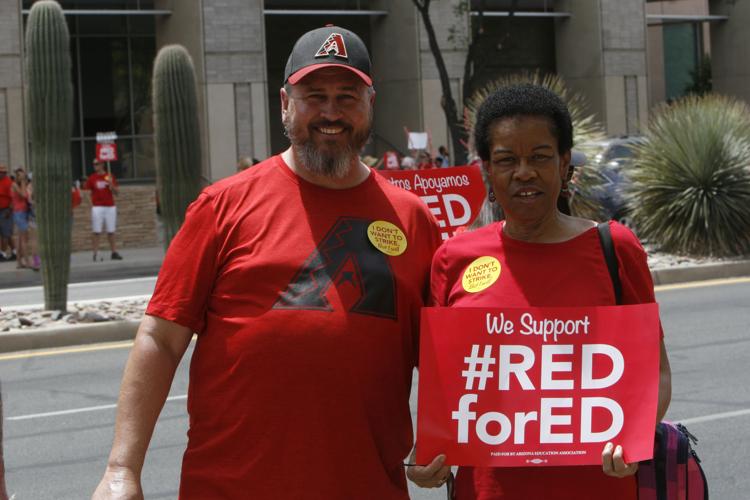 On how funding would benefit the classroom: "Current books, supplies, up to date tech equipment and availability for more field trips and interaction with outside community."

---
Adam Ragan, educator running for TUSD school board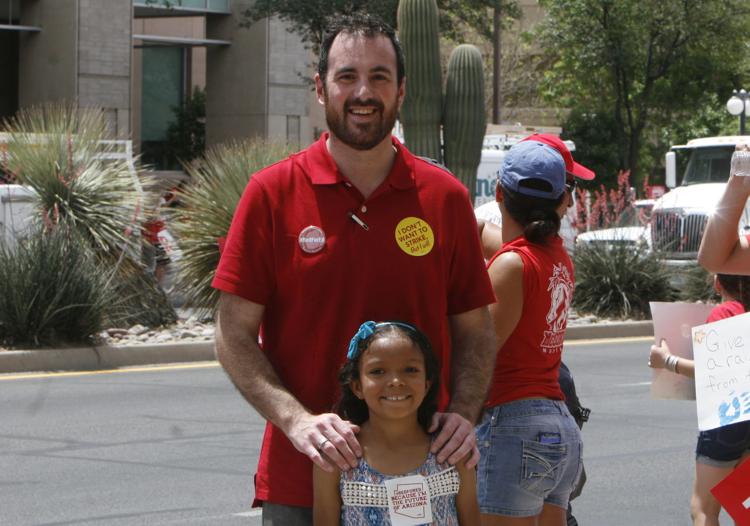 "None of us want to be here. We'd rather be in the classroom, but we have no other option. We have a governor and legislature that refuse to hear us and support our students.

"We have so many educators saying they're using history books where the last president was Ronald Reagan."

---
Kevin Brungardt, teacher and father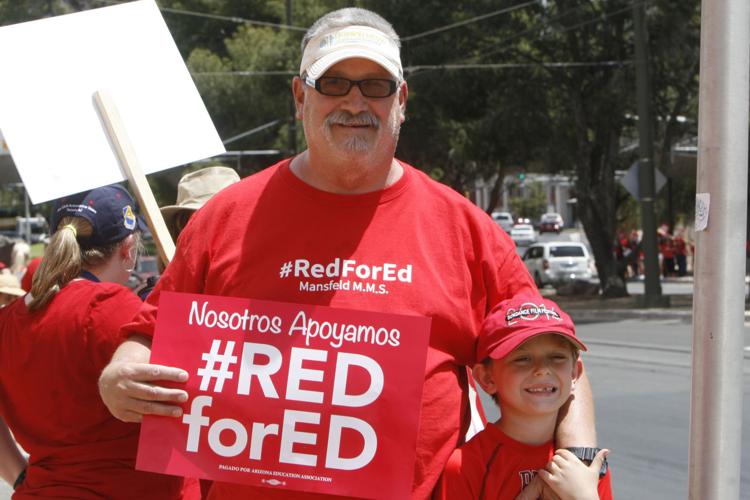 On how funding would benefit his class: "It'll level the playing field between kids that have things and kids that do not...I'm a teacher that has food in the fridge in the classroom for kids that need it. For some, if you don't have money in the account, you don't eat."

---
Here's what the rally looked like