The candy, like other objects in the sparkly red vending machine, are part of an art installation by Tucson artist Jessica Flax. So if you want the chocolate, you'll have to buy the whole installation. 
You'll spot dried creosote, a coyote skull, a Tucson sunset belt buckle, tiny cacti and copper, among other things, all propped up on the shelves of a vending machine Flax found on Craigslist. 
"I thought it would be a fun way to contrast throwaway, thoughtless consumption like you get in a vending machine ... with things that are actually meaningful if you take a closer look," says Flax, who is a speech-language pathologist for Tucson Unified School District.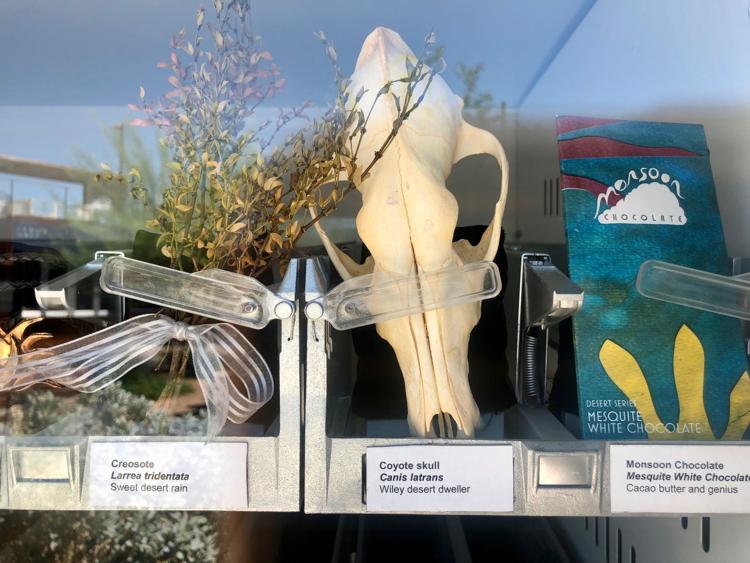 The vending machine piece, titled "Great Value," is part of the MSA Annex's summer art series, showcasing a new, temporary installation each month. Flax's piece will remain up through this weekend.  
Then, next Friday, Aug. 30, the MSA Annex will have a new art installation to behold: "The Golden Pyramid," a collaboration between Tucson artist Lex Gjurasic and the MSA Annex shop Dirt. Each month, a new installation premieres at the Annex's Summer Night Market. 
"Our goal is always to be a reflection of the community," says Christine Donley, the marketing and production coordinator for the Mercado San Agustín. "So I think it's that sense of placemaking and giving some dynamism to the event." 
This is the second year the Annex, 267 S. Avenida del Convento, has hosted Summer Night Markets on the last Friday night of the month but the first time it has included art installations. 
"We want to give artists a platform to connect with the community at large," Donley says. 
Gjurasic's golden pyramid will include a treasure hunt component. Because the piece itself is literally a pyramid made out of brick painted gold, golden nuggets will also be hidden around the Annex. Find a nugget, post a photo to social media with the hashtag #GoldenPyramidAnnex and get discounts at a variety of Annex shops including Dirt, Why I Love Where I Live, Beaut Burger, Hermosa Coffee Roasters and Westbound, Donley says. 
"I hope it creates a different way for people to interact with the retail space and bring them into shops they haven't been in before looking for nuggets," Gjurasic says of the pyramid and treasure hunt. 
She adds that the pyramid is an examination of global connection — ie: Pyramids are found all over the world. 
"Even (Dirt) had 'A' Mountain overlooking it, and oh, there's a pyramid, a pinnacle in the desert," Gjurasic says, laughing. 
"The Golden Pyramid" will stay up until Sept. 25. Donley says the Annex will have artists through October. 
For Flax, the Tucson vending machine is her first piece to go on display locally. She had been playing with the idea to use a vending machine to artistically explore consumerism, and the summer art series gave her a chance to do it. 
The items within the vending machine represent life, decay, romance, functionality and reflection. A mirror, for example, replaces the spot where you would insert your money. She says the piece isn't anti-consumption but rather an encouragement to consume thoughtfully and consider what has lasting value. 
"I've actually had this concept for a while of taking a vending machine and filling it with different items, and I originally wanted to fill it with a bunch of junk..." Flax says. "But it ended up being more of a love letter to Tucson and all of the things about the desert that I really like." 
---
Details
You can see Jessica Flax's art installation "Great Value" at the Mercado San Agustin Annex, 267 S. Avenida del Convento, until Monday, Aug. 26.
The opening reception for "The Golden Pyramid" coincides with the Summer Night Market, Friday, Aug. 30, 6-10 p.m. 
For more information, go here.