Piles of bike cogs and metal scraps sit on shelves in Cathy Franklin's carport.
Some are shiny and perfect while others are discolored, scratched and dented.
All of them will eventually add beauty and character to one of Cathy's metal sculptures.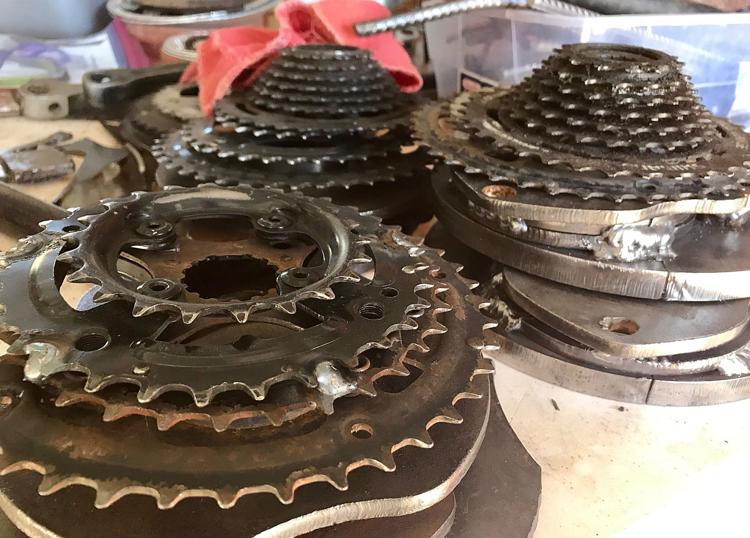 The 52-year-old mother of three creates intricately detailed works of art by welding bike parts and other used pieces of metal together.
"There are so many bike parts that are so beautiful and I love to incorporate them in my art," Cathy says. "These cogs. They've had a life and they have a story to tell and to be able to give them a new place is really cool."
Franklin has only been making metal art for about three years, but you'd never know it. 
In the yard of her east side home two shark sculptures hang from a tree. One was created by her son, Nathan. And the other is the first one she worked on with him.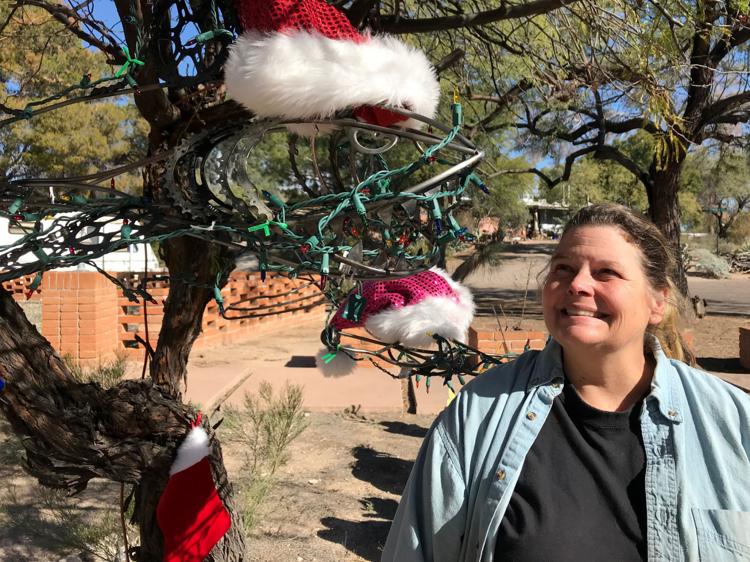 Cathy had been many things: preschool teacher, scuba diving instructor, marine educator and crafter. She'd never considered herself an artist.
In 2015 she designed a sea turtle and sea horse wall hanging to be in the BICAS silent auction and had her son and husband weld them.
When she saw those pieces in the auction that year, she was excited.
"I think my son could see I was going to be asking him to weld quite a bit for me in the future," Franklin says. "Instead he told me that I could learn to weld and he would teach me."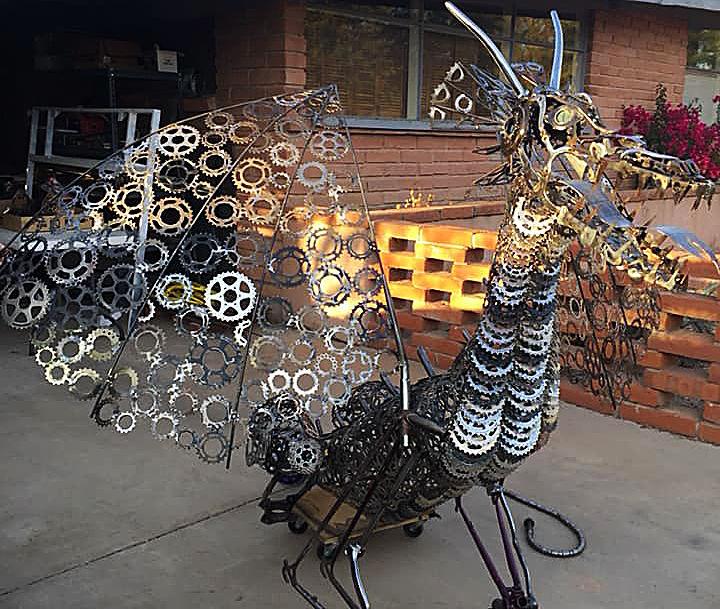 She accepted his offer and the two got to work. Nathan started bending metal for a 5-foot shark and taught his mother welding techniques. 
When Nathan went back to Flagstaff where he was attending college, Cathy kept at it. 
"It took me many welds to get better, but I could see progress in both my technique and art," Cathy says. 
Now, she creates nature inspired sculptures all on her own.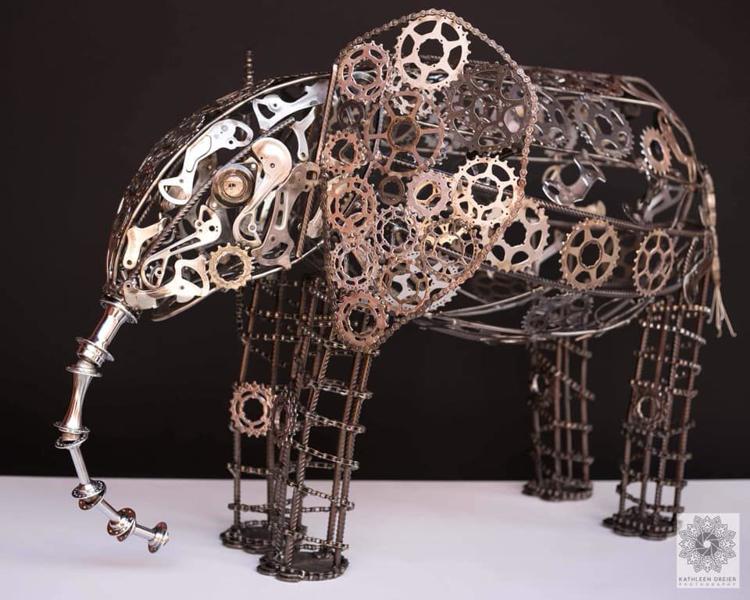 For this year's silent auction at BICAS, Cathy created a sculpture inspired by the Reid Park Zoo's little elephant Nandi. It included a metal table with grass and a cute little cricket. All made from recycled metal and bike parts. She says it took her about 50 hours to complete the project. 
She mostly makes larger pieces for commissions or for benefit silent auctions, but she also makes smaller pieces like sea turtles, bike trophies, key chains and holiday decorations.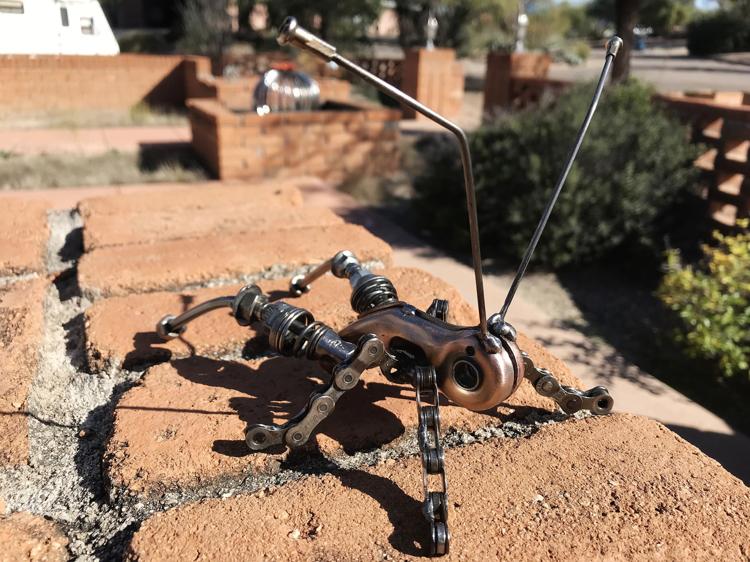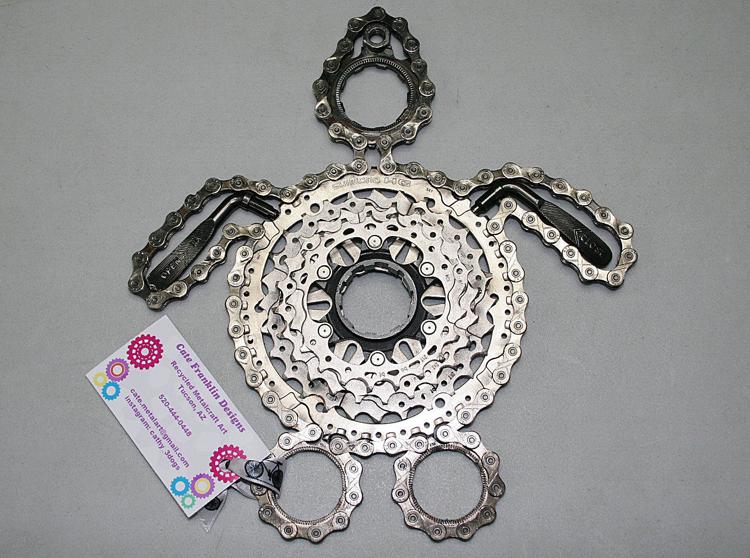 "I like making animal sculptures," Franklin says. "Nature is what motivates me to make my art."
On a recent Tuesday morning, Cathy pulls out a couple large flat metal pieces and says they will be the feet of a giant 13-foot giraffe she is going to create for her front yard. 
"This is the first one I'm making for myself and I'm gonna put it out there like it's eating from that tree," Cathy says. 
Cathy's process starts in a couple of different ways. Sometimes she has an idea in mind and other times, the metal parts inspire her to create something.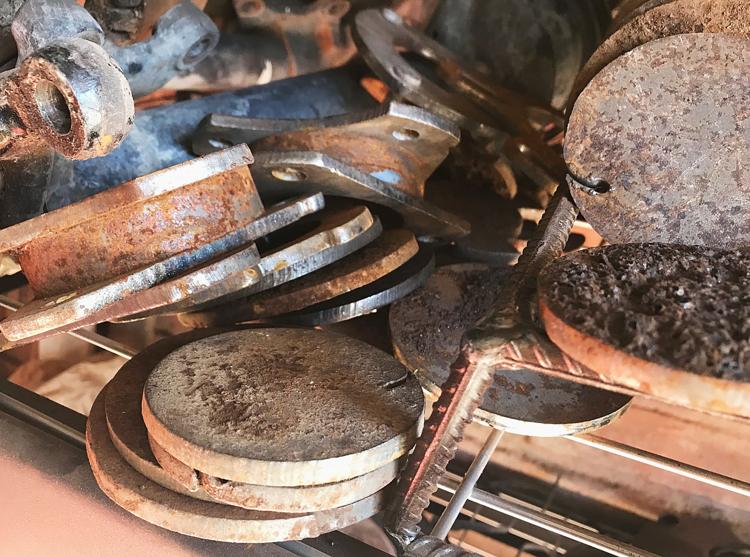 "On smaller pieces, sometimes the parts speak to me," Cathy says. "And I'm like, 'oh this has to be made into a such and such,' and then I'll look at pictures to help me get the features."
A giraffe figurine sits on one of her work tables. She says she'll use it to help design the sculpture. 
"Then I'll look up (on Google) how big the legs are, how big the body is and how big the neck is to get an idea of where to start," Cathy says. "Usually I work from the head down. For this big piece I'm working from the legs up."
Her husband Mark is an engineer and will help with logistics to make sure it'll stand, she says.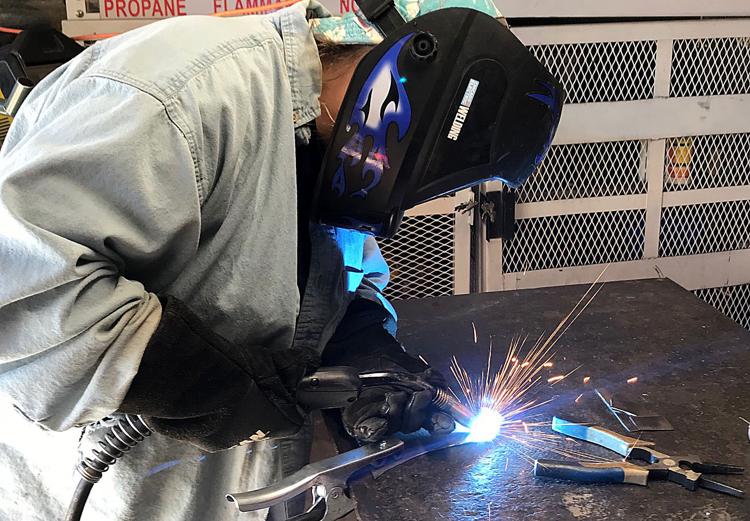 Cathy dons her safety gear — a helmet with a face cover that adjusts to the light, an apron, hair tie and gloves — then draws some lines on a scrap piece of metal and starts to demonstrate how to do a basic weld. 
"My left hand is what's giving me stability and with my right hand I'm pressing the trigger and pulling it across," she says. "And it's pretty slow."
There's a green spark and a crackling sound as she slowly moves across the work table. 
"You know it's right when it sounds like sizzling bacon," Cathy says.
This is how it goes until the parts stay together. From there it's about cleanup.
There's another worktable with power tools in the backyard. Three dogs excitedly approach as we go through the gate, which has been topped with flowers made out of bike cogs. They keep the dogs from jumping the fence, Cathy says.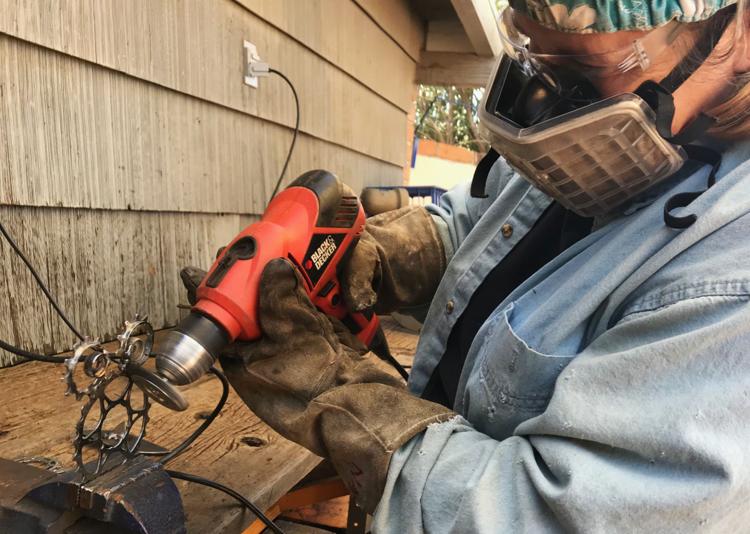 The next step is buffing the pieces to make them smooth while leaving some things like variations in color to add character. 
"I like that purplish color," Cathy says before buffing the rest of the owl ornament we're making. 
Once she's happy with how it looks, the final step is varnish. 
She goes out front and places the owl on a board and sprays it with clear coat. It's finished. 
"After many burnt fingers, abrasions and dirty nails I still love the process," she says. 
---