After countless WhatsApp messages and calls, an international hops theft, some creative problem solving and the leadership and resilience of two female head brewers, a history-making beer is ready for tasting.
Las Hermanas (or The Sisters), the first ever all-female binational craft beer collaboration will be released Friday, Jan. 17 during a party celebrating the project at Borderlands Brewing Company, 119 E. Toole Ave.
The project was led by Ayla Kapahi head brewer for Borderlands in Tucson and Sandra Navarro lead brewer and founding partner of Turulata Brewing Company in Monterrey, Nuevo Leon, Mexico, who spent months making plans for the historic partnership conceived by the Consulate of Mexico and Tucson and Visit Tucson as a way to showcase binational collaboration and the role of women and minorities in the craft beer industry.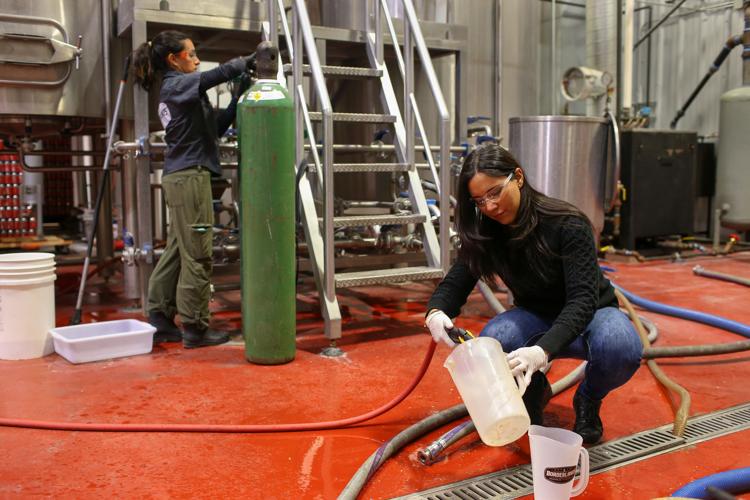 "The industry is male dominated in both countries, so we have really little female presence in the industry and even less that are actually head brewers like I am, like Ayla is," says Navarrro. 
Both women's journeys to become head brewers began from their love of home brewing. 
For Navarro, she admits that prior to 2011 she didn't like beer. However her passion for craft beer developed quickly and completely by accident while she was studying international affairs and living in Brussels, Belgium that year. 
"I started to look for an apartment there and I grabbed a map backward and I wound up at the Brussels beer festival and people started handing me beers and they were like a purplish haze thing, raspberry beer, whatever, and I was like 'is this beer?'" Navarro says.  
When she moved back to Mexico she missed those types of beers and started home brewing in 2012. She then launched her own business in 2015 as part of the emerging, but fast growing craft beer industry in Mexico. 
"My brand is called Turulata which means to be awestruck, which is kind of the experience I had with trying the beer in Brussels," Navarro says. "And I wanted to give that to people too."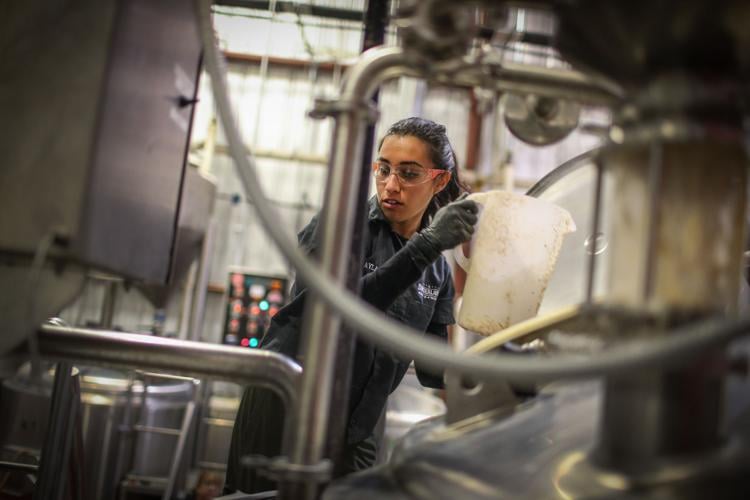 Like Navarro, Kapahi made her first brews at home as a hobby but turned it into her career after leaving her doctoral program at the University of Arizona to work full time as a brewer four years ago, first at Public Brewhouse and now at Borderlands. 
"Brewing is so interesting to me because it's really this blend of art in a way and there's also the hard and fast rules in science and even engineering that you have to follow because you have to work with all this equipment," Kapahi says. 
In December both women traveled to the other's city to lead a full day of brewing of two batches of Las Hermanas, one to be sold in Mexico and another to be sold in Tucson made with the same recipe, same hops, grain and yeast. During both brew days the women were assisted by teams of female brewers from their respective communities. 
"I think it's an important time to celebrate and strengthen our relationship with other female brewers, especially female brewers from Mexico," says Kapahi who leads an entirely female brew crew, the only one of its kind in the whole state at Borderlands.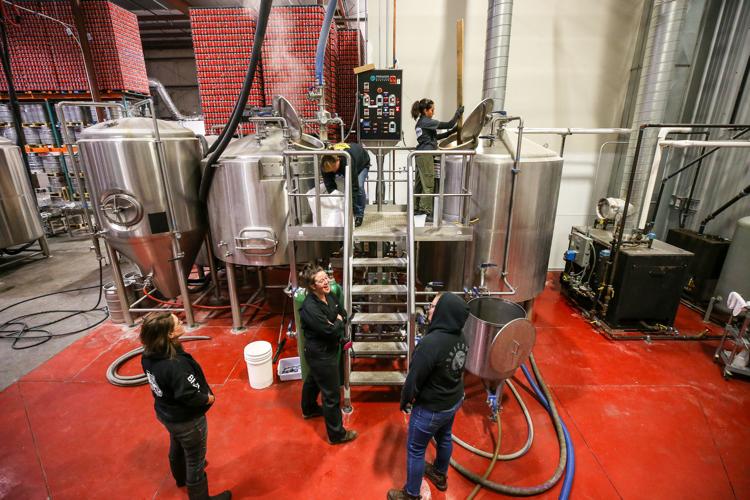 "We want to show our solidarity with the Mexican craft beer industry and the women producing their beer," she continued. "This project is meant to bring people together regardless of nationality, borders or stereotypes. It's amazing that we're able to do this through craft beer." 
The Tucson brew day took place on Kapahi's home turf at Voltron Brewing Company where Borderlands' brewing operations take place and included a team of women brewers from Crooked Tooth, Dragoon, and Tombstone brewing companies along with Borderlands assistant brewer Savanna Saldate, Navarro and another female brewer from Mexico, Patricia Sanchez.
Set to Saldate's Brew Day playlist which starts with hits from female pop icons Britney Spears, Christina Aguilera, Lady Gaga and Beyoncé the women worked on the resulting Las Hermanas hazy IPA which features citrus and tropical flavors. 
"Because of the process and the yeast and they way we use the hops…it will taste very moderately bitter, just very well balanced and all of the flavors from the yeast and the hops tend to be very tropical in nature," Kapahi says. "We don't add fruit to it but it'll naturally produce pineapple, mango, papaya aromas and flavors just because of the hops and the yeast."
Although the brewing happened just a few weeks ago, work on the project began earlier in the fall when Kapahi and Navarro began daily and near constant communication via WhatsApp to prepare for the brew.
They worked on a recipe with input from other female brewers, secured donations of hops, grain and yeast from U.S. distributors, rounded up women brewers from their communities to assist with the brew days, and handled the logistics of making sure the donated supplies got to Mexico in time for the brew day in Monterrey. 
"One piece of advice someone told me years ago is being a brewer is so much more than brewing beer, you have to be resilient and adaptable," Kapahi says. 
Whether you're brewing beer at home as a hobby, or working on a large corporate scale the one thing that's certain about the brewing process is that there's a lot of unpredictability, Kapahi says. 
With the added challenge of working from two different countries the pair had some unique things to work through.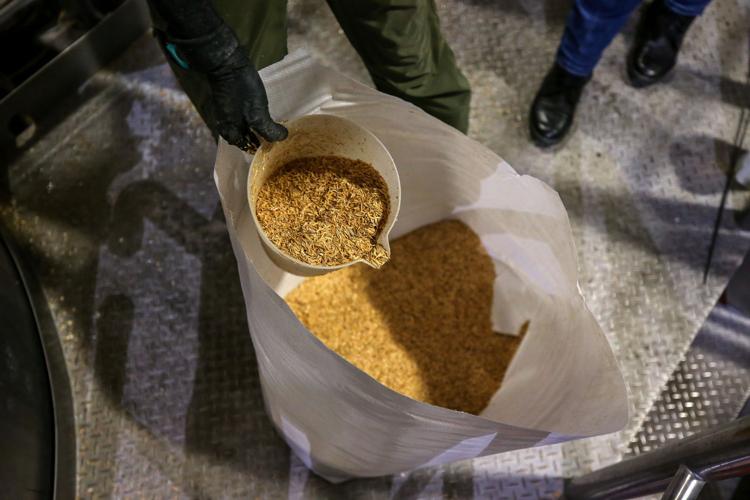 First the donated supplies had to get to Mexico on time, which meant Kapahi had to ship the hops to Navarro's family in Texas so Navarro could drive up from Monterrey to pick up the packages. The shipment was delayed by a few days due to mechanical issues with the delivery fleet and when Navarro did pick up the hops, someone broke into her car and stole half of them when she took a break to grab a bite to eat on her road trip. 
Then during the week of the Tucson brew day the water and propane were shut off on two separate occasions for tests being done in the area, which meant important preparations had to be delayed, Kapahi says. 
For Kapahi the unexpected challenges are part of the appeal of the gig.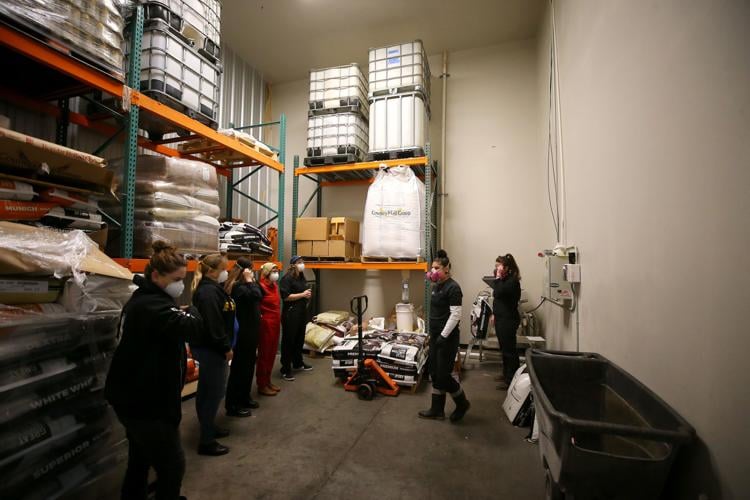 "I love having a physically demanding job, a challenging job that forces me to adapt to situations every day," Kapahi says. "Every day is different. I'm thankful that I don't come to work every day and have the same job for eight hours a day." 
Navarro says the reward of seeing someone enjoy her brews is always worth all the effort. 
"I love sharing the final product with people just to see their reaction and if they love it that's just pure satisfaction," she says. 
Since the brew was made from all donated ingredients, proceeds from its sales will be donated to non-profit organizations on both sides of the border that help women in need.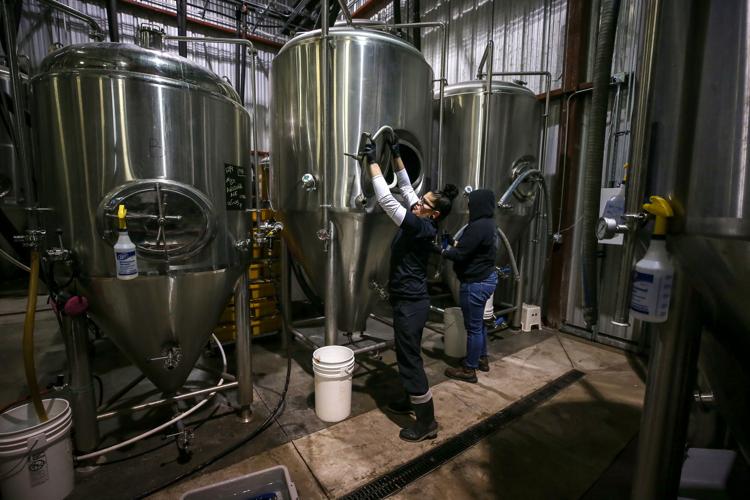 If you go
What: Las Hermanas Release Party
When: Friday, Jan. 17, 5-7 p.m. The first toast happens at 5:30 p.m.