With chalk in hand, she'd take to the neighborhood's streets to scrawl poems on concrete. She went at dawn — or at dusk — when the light makes everything magic. 
Now the secret is out. She started chalking poems in 2014 on her own and soon began getting requests to chalk thematic poems for neighborhood events. 
That's when she heard about Portland's obsession with poetry boxes. 
Salper never had a choice about her own poetry passion. She inherited it from her father, who was a professor of literature and the performance of poetry, and a librarian mother. She has been writing, reading and collecting poetry for most of her life.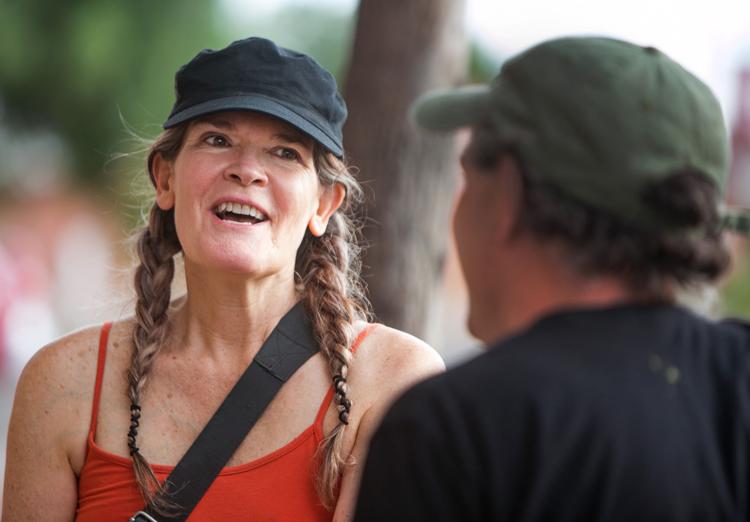 She knew Tucson needed its own version of a poetry box. 
"I started thinking that we don't get a lot of exciting things in the mail physically, so why don't we do a poetry mailbox?" says Salper, who has lived in the neighborhood since 2000. 
Salper, 53, found the rundown mailbox that would become a treasure trove of poems at Ronny G's Pottery and More. It was the metal rooster perched on top she spotted first.  
Eight neighbors in the Broadmoor-Broadway Village Neighborhood rallied around the mailbox, cleaning it up, adding a post, painting the body and installing it along the Treat Walkway. Artist Heather Free painted the mailbox. 
Salper's mission is to spread the joy she finds in poetry. The poetry mailbox is just one part of that. 
In April, Salper and her neighbors planted the poetry mailbox and dedicated it with a public celebration. 
Tucson's poet laureate for 2017 and 2018, TC Tolbert, joined the dedication. 
"Elizabeth is doing the work of taking poetry out of the classroom, out of academia and off the page and into the public sphere..." Tolbert says. "I think we can get caught up in: What's the latest technological advancement we can apply to this? And she's like, 'All we have to do is write in chalk on the sidewalk.'"
No longer the phantom poet, Salper invites others to chalk with her during monthly "Chalk It UPP!" events. She started these this summer — chalking river poems during monsoon season and book and autumn poems at a library for the fall equinox. She also organizes bicycle rides to the poetry mailbox.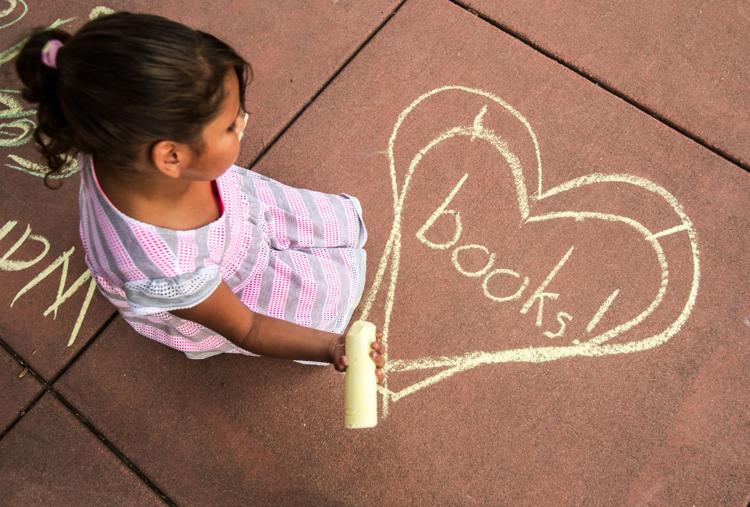 "It's this idea of having poetry outside of four walls, and I guess that's my big belief," she says. "I love bringing poetry outside into public spaces where you might not expect to see it." 
Neighbor Cynthia Holmes lives near the mailbox and helps Salper keep it stocked. Holmes has lived in the Broadmoor-Broadway Village neighborhood for more than 25 years and has seen neighborhood engagement blossom in the last 10 years, she says. 
Joan Thomas, the neighborhood's chairperson for the pocket park Malvern Plaza, also helped Salper make the mailbox a reality. 
"I think that any time a community comes together to find something that brings the neighborhood together, that's a good thing and makes for a safer neighborhood, because you get to know your neighbors," Thomas says."It's a connection and people are proud of where they live and all of these things resonated heavily with our neighborhood." 
Salper wants the Urban Poetry Pollinators to do exactly what the name suggests: Pollinate Tucson with poetry. 
"It's just to stimulate other people to think about their own ways to bring poetry into public spaces..." she says. "It's not one set thing, but really to pollinate a bunch of different ideas and collaborations and to have fun with poetry, either to rediscover it or maybe to come to poetry for the first time in your life."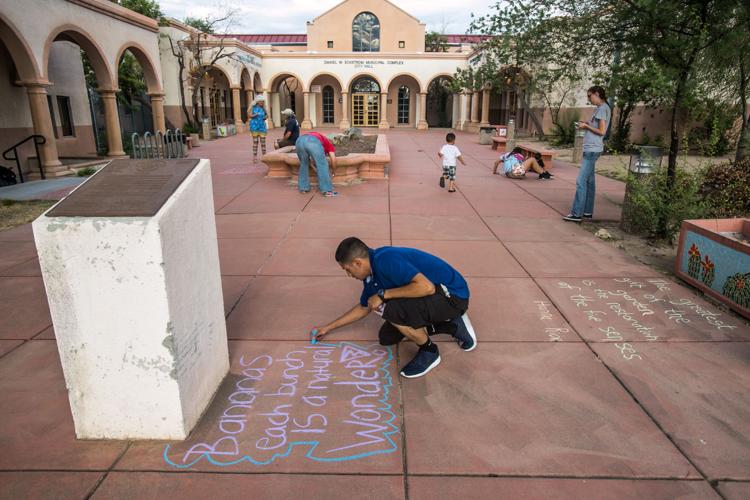 Even if other neighborhoods don't want a poetry mailbox, she suggests pop-up poetry readings or leaving a poem on the barber's chair. Anything to interact with a poem.  
"It has brought more people to an area that used to just be a sidewalk," says Ryan Brown, one of the neighbors who helped to plant the poetry mailbox. "We see more people there which is a great thing, more pedestrians, more walking and everyone is talking to each other, so it's enriching the neighborhood." 
Tucson's poet laureate Tolbert believes that poetry enriches even daily speech. 
"I think because we use language all the time, we tend to imagine or think that we know all that it can do or all that it's for," he says. "And when we take this really common substance, language, and make it fresh again or make it alive again, I think it allows us to experience delight, joy and connection and also remind us that we ourselves can also be new." 
At the poetry mailbox, you can rifle through scraps of paper and sift through words until one poem resonates. 
"I think today especially, in terms of everything going on in the world, I think poetry is a really good place to not only remind us of community, but also to remind us of what grounds us..." Salper says. "It asks us to pay attention, to see the poetry in everything, even the laundry line. Poetry is really everywhere, you know? It's not one thing and it's not housed. Poetry is really in and among us."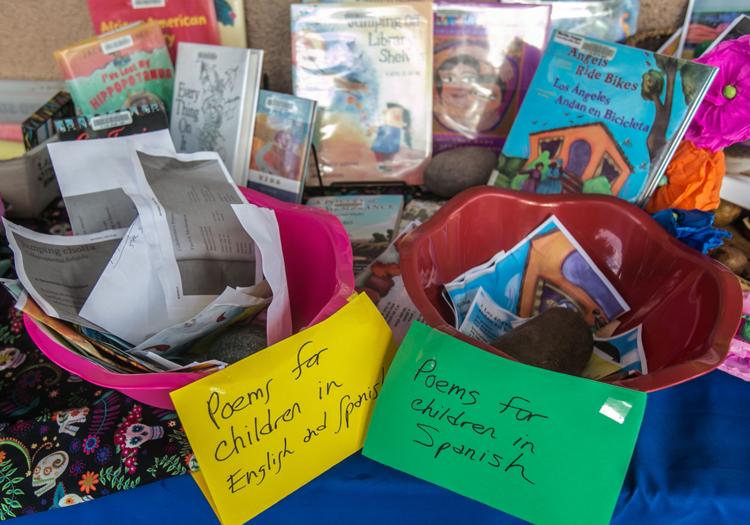 In the Broadmoor-Broadway Village Neighborhood, poetry is a funky mailbox, a notebook and pen for on-the-spot musings and a polka-dot envelope for children's poems. It's dog walkers who stop to ponder a turn of phrase, and neighbors who wander by with poems in hand. 
"This is a community effort," Salper says. "It takes a village and one rooster to keep a poetry mailbox going."