Ditch the couch and walk up Tumamoc Hill.
Take your friend, your brother, your cousin, your mom, your stroller (with a kid inside) but not your dog — dogs aren't allowed up Tumamoc. 
I went up. And on a Friday of all days, last Friday. 
Go because ... 
It's open to everyone of all ages and abilities and is now open during the day! You can enjoy Tumamoc from 4 a.m. to 10 p.m. every day.
2. It's an intense workout 
It is pretty intense because the 700-foot hill trail is long and steep. The hike is around 3 miles. Right after you pass the unofficial halfway point you start climbing, like really climbing. Your legs will hurt and you might lose your breath. Keep going.
I ran into the Murrietta family walking Tumamoc. The four of them go twice a week because they needed a lifestyle change and they figured this was the best way. Stephanie, 29, keeps bringing the kids because they like it and she loves that she can get a workout in. Reina, 10, and Adan, 8, love going up the steep parts. Of course they do, they're young. And John Jr., 2, sits in his stroller during the walk. Lucky.
I walked more than 6,000 steps and only stopped to catch my breath like four times.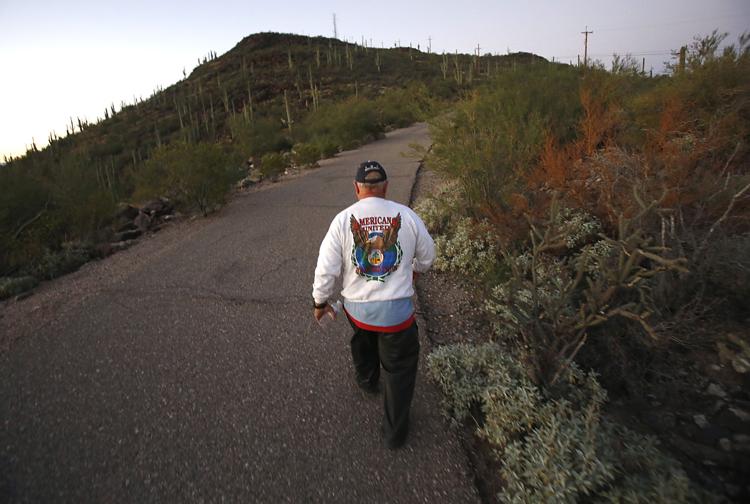 You'll dig the vibe. I had 200 steps left from the top and a woman shouted, "You're almost there!" Thank you, lady with the "Thumbs Up" shirt.
4. The view is unbelievable
Evan Gibson, 24, went up for the first time to watch the sunset. He went with his girlfriend Jessica Draper, 23, who had only been three times before. He said that on one end he could see night and on the other he saw day. He was pointing at the bright moon on one side and the magenta sunset on the other. 
If you go in the evening, you'll probably catch colors dancing in the sky while you walk. And as the sun goes down, you'll see Tucson come to life. The view of the city is best from the top of the hill. Get there and you're in for a treat.
5. It's a close-enough getaway
Corina Gonzalez, 21, was by herself. She said she was there to get away. 
6. It's a great place for bonding
Aleah Valenzuela, 4, and her father Jacob, 28, walk up Tumamoc three or four times a week. They listen to Twenty One Pilots because "they don't cuss." This is their time to bond. She sits on his shoulders as he walks up the hill. It's a win-win. He raises the intensity and she gets the best view, all while spending time together.
The hike can take as long as two hours. Take someone up and get to know them.
Need a date idea? Walk up Tumamoc. The sunsets are romantic and if your date doesn't make you feel good, the walk will.
8. It's full of history and you'll learn something
This is often overlooked by walkers but Tumamoc is full of information. 
You probably didn't know Tumamoc means horned lizard, didya? Stop to read the signs on your walk up or read about the hill here. Instead of taking a second to smell the flowers, take a second to read about the wildlife.
9. It's (one of) the best places to take an out-of-towner
Eileen Millar, 77, took her friend Janice Kelly, 67, from Vancouver up. Eileen wanted to get a better look at the moon. It was a mighty fine moon that Friday night.
But don't forget ...
• Water in a reusable water bottle (limit waste).
• Your phone for photos. Again, the sights are beautiful. 
• THE RULES: You can't take your pet up, you can't ride your bike, don't walk when or where you're not allowed to, and no smoking or firearms.
• Parking can be a nightmare, especially when it's packed. People park along the road at the base of the hill. You'll see a long stretch of cars. Others park in the St. Mary's Hospital parking lot but that's not recommended.