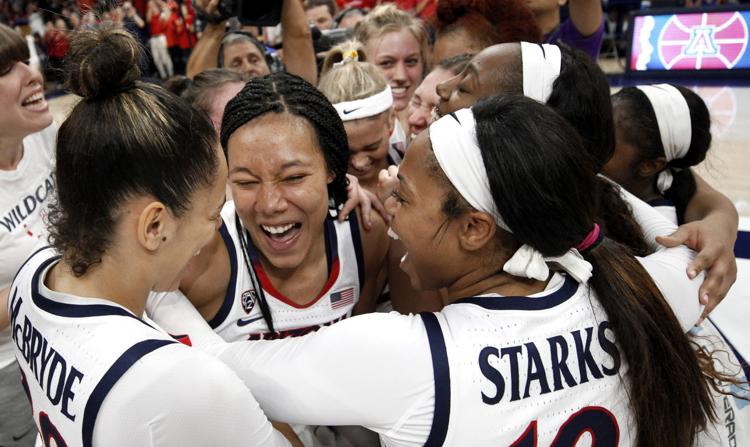 The easiest prediction of the Pac-12 basketball offseason was that Arizona's women's program would be poached by those looking to upgrade their coaching staffs.
And sure enough, 12 days after Adia Barnes' team won the WNIT and sold out McKale Center, two assistant coaches left Tucson.
The first was a no-brainer. Former UConn NCAA championship player Morgan Valley went home to be the head coach at Hartford University. The second — UA assistant coach April Phillips taking a similar job at Cal — created some political ripples inside the league.
The unwritten rule in Pac-12 sports has forever been not to raid one another's coaching staff.
But those days are becoming old news. Anything goes. It happened twice last week: Arizona State's Bobby Hurley lost assistant coach Anthony Coleman, who chose to accept an offer to coach for Tad Boyle at Colorado. Coleman is seen by some as one of the league's top recruiters.
You don't need long to count the number of Arizona assistant coaches who've jumped to other Pac-12 schools:
It began in 1981 when a rising star in the business, Mike Frink, sensing the end of Fred Snowden's regime in 1981, left to coach at league powerhouse Washington.
Baseball assistant coach Mark Wasikowski left Andy Lopez's staff for a significant raise in compensation for Oregon, 2011, missing out on Arizona's 2012 national championship.
Track assistant coach Sheldon Blockburger, among the best jumps coaches in the industry, left for USC in 2015, but surprisingly returned to Arizona last summer.
Arizona offensive line coach Jim Michalczik, perhaps sensing the end of Rich Rodriguez's days in Tucson, jumped to a struggling Oregon State program a few days before Christmas in 2017.
One that didn't get much attention was UA assistant women's golf coach Justin Silverstein jumping to the USC golf program in 2013. Silverstein's move has worked well; later promoted to head coach, Silverstein coached the No. 1-ranked Trojans' women's golf team to the Pac-12 championship last week.
The job market for assistant coaches in college sports is forever fluid, here and everywhere.
When Joan Bonvicini's Arizona women's basketball program became of Top 25 caliber, she lost assistant Curtis Loyd to Virginia. Fellow assistant Clemette Haskins became the head coach at Dayton.
And when Lute Olson started rolling at Arizona, his cornerstone assistants both left: Scott Thompson became the head coach at Rice and Ken Burmeister the head coach at UTSA.
The other side of losing assistant coaches is that, given Arizona's community support and quick rebuild under Barnes, she now is likely to be able to hire assistant coaches from a higher level, and, perhaps, offer more compensation.
Most head coaches appoint someone as "assistant head coach," but Barnes has chosen not to do that. Her husband, Salvo Coppa, is clearly among the handful of most qualified assistant coaches in Pac-12 women's basketball. Whoever Barnes hires — and expect her to do so quickly — will be joining one of the more promising young staffs in women's college basketball.