With modern industrial space practically nonexistent in Santa Cruz County, investors are developing a new park in Rio Rico and interested tenants are lining up.
The Rio Rico South Industrial project will sit on 35 acres, adjacent to an existing industrial park on the Interstate 19 frontage road. The lot sizes will range from 3 to 13 acres in size.
It is the first development of this kind in 25 years for Rio Rico, about an hour south of Tucson.
The property is zoned for light industrial and distribution and the majority of tenants will be those in the produce industry, said Jose Dabdoub, broker for the site.
Land for industrial projects in Santa Cruz County has largely been absorbed as produce distributors look to be in a hub as grocers expectations have changed.
"Retailers no longer want to take the full truck of tomatoes," Dabdoub said. "They want a mix of pallets with tomatoes, peppers and berries."
Arizona's main produce competitor is McAllen, Texas, which has more warehouses, but they're spread out and filling a truckload of pallets with varying produce could be a daylong endeavor.
"There's no cluster," Dabdoub said. "A mixed-use of pallets requires distributors to be close and from Rio Rico we can diversify delivery."
Another boon for the region is the recently announced flyover ramp from the Mariposa Port of Entry in Nogales to I-19.
The project was financed by state and federal grants to get more than 350,000 commercial trucks that cross the port every year off of surface streets.
"That flyover is going to make a big difference," Dabdoub said.
Santa Cruz County is within a federally recognized foreign trade zone, which delays or reduces import duties for temporary storage in warehouses while products are shipped to a final destination.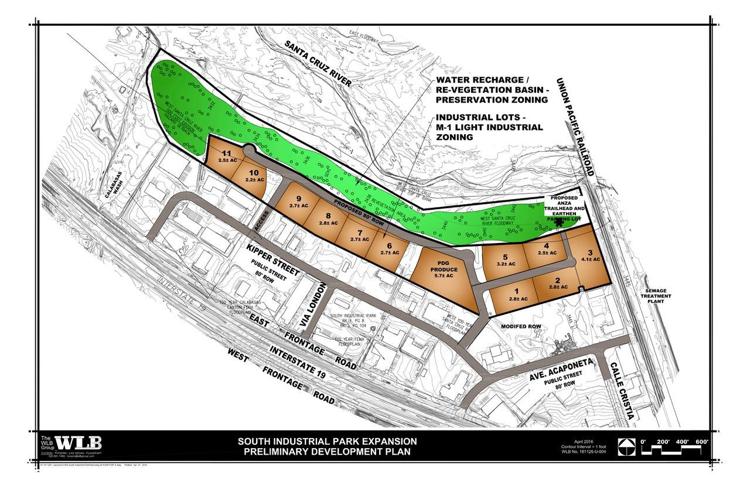 "Commercial warehousing is a significant part of the cross-border economy in Santa Cruz County and proximity to the I-19 corridor is important," said Jesse Drake, Community Development Director and Chief Zoning Inspector for Santa Cruz County. "This expansion of the commercial warehouse district will help provide space for new businesses and will also assist with expansion of existing business."
Developers also agreed to include a floodway component to reduce the intermittent flooding in the current industrial park that includes a retention area to slow the water runoff from the river, she said.
"Another benefit is the addition of a trailhead with parking spaces for the de Anza Trail, providing a new access point to this north-south hiking and birding trail."
Vacancy rates for industrial space in Southern Arizona have been at historic lows for the past few years.
Not counting outdated industrial spaces, vacancies in the Tucson market are around 7 percent and nearly at zero in the Nogales market.
In Nogales, there is only 100,000 square feet of industrial space with today's height, office and parking requirements, said Denisse Angulo-Badilla, an industrial cross-border broker with Picor.
"Other spaces are obsolete or hard to access," she said. "When a company comes to me and says, 'We need 20,000 square feet' I have nothing to show them."
There is more construction activity in Nogales, Sonora, where speculative buildings that were erected three or four years ago are now getting tenants, Angulo-Badilla said.
"Developers are prepping land and eager to work," she said, noting that in Mexico developers usually have their own construction crews and don't need to wait for bids from contractors.
"In Sonora you can get a new building-to-suit in five or six months. That's more difficult in Arizona," Angulo-Badilla said. "But there's a lot of opportunity for industrial growth here."
At the Rio Rico project, infrastructure is under construction and roads are expected to be completed by the end of March.