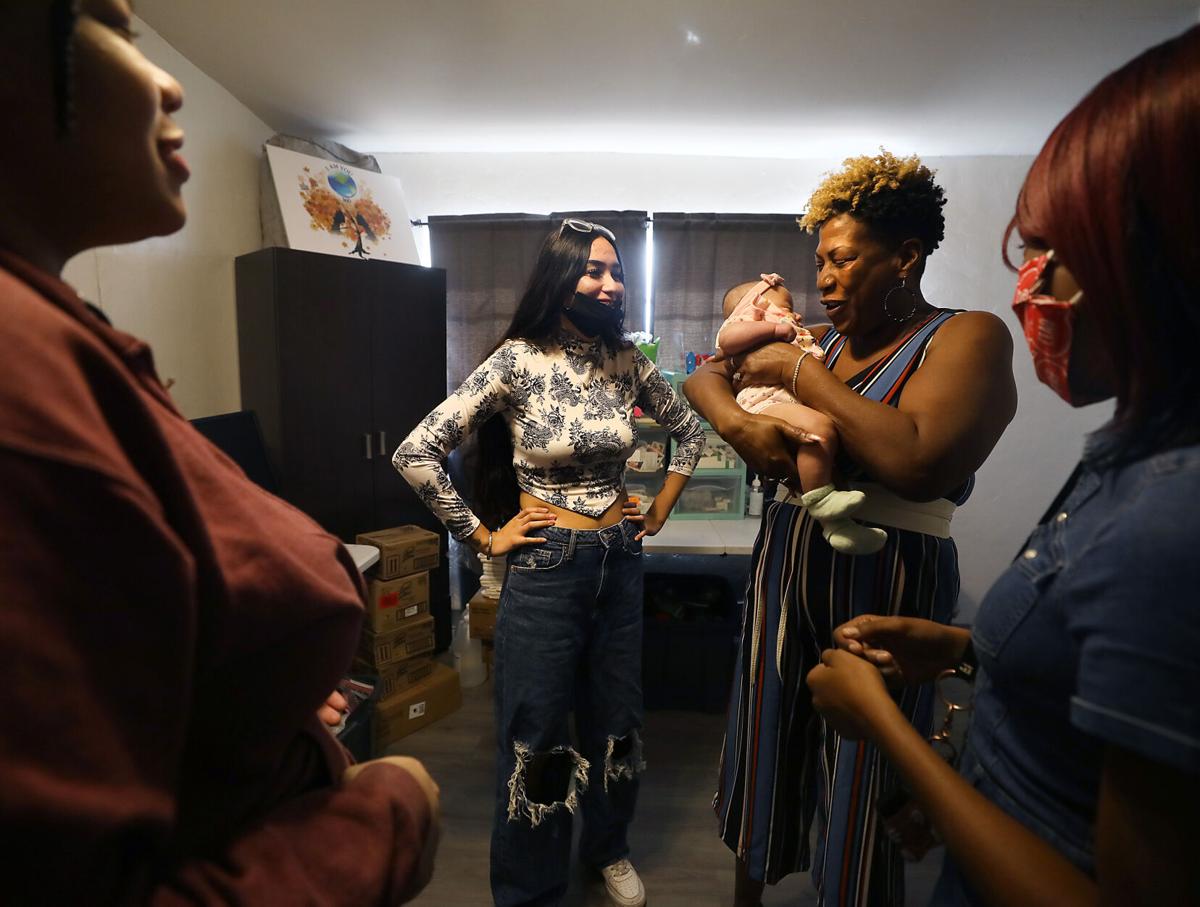 Desiree Cook shifted the heavy bag of lovingly prepared food that sat balanced on her hip as she unlocked the doors of her east-side office on the Monday before Thanksgiving.
Cook is the founder of nonprofit I Am You 360, which serves youths in foster care by providing customized personal hygiene products, mentoring, life skills training and most recently, short-term housing. She had put the call out to her "queens" and "kings" — all those served by the program — inviting them to the group's annual Thanksgiving celebration.
Hope Fitzpatrick and Giselle Valenzuela, two of Cook's queens and mentees who work at the office, busied themselves filling orders for foster kid hygiene bags. But they quickly stopped when their friend and fellow mentee, Deahzhanea Walls, walked in with her fiancé and twin babies in tow.
The girls exchanged hugs and fussed over Walls' babies, Minnivee and Jenavee Lopez, as Cook watched on like a proud mother. The babies' father kissed each of his girls goodbye as he headed off to work, nodding excitedly when Cook asked if he wanted her to save him a plate.
This family Cook has created, including those who weren't able to attend, is the driving force behind her efforts to generate sustainable housing for youths coming out of foster care, through a tiny house village that will sit next to I Am You 360's office.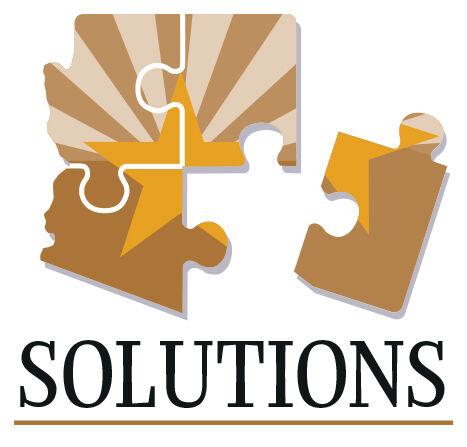 She has the land, and now, thanks to a recent appearance on "The Ellen DeGeneres Show," Cook has $50,000 to furnish the tiny homes. She just needs to raise the funds, and she's hoping the community will step in and help make her dream come true.
Drawing from
life experiences
Cook started I Am You 360 in 2014 because of her own experiences earlier in life. Cook was homeless and had substance use disorder issues, and her children spent time in foster care while she was incarcerated.
She was released in 2002 with a new lease on life, and has channeled all that she learned into helping others. First, through the hygiene bags for foster kids, customized based on the child or teen's age, gender and ethnicity.
"Once I started seeing that there are other families and children experiencing the same thing as my own kids, I felt I was obligated to do my part and really be a beacon of light and a beacon of hope," Cook said. "These kids I'm serving could have been my kids."
A stylist by trade, Cook understands the role that looking good plays in feeling good. And while I Am You 360 has expanded beyond the refillable personalized hygiene bags, they will continue to be a mainstay of the program.
"Within the foster care system, I believe a lot of these kiddos' requests are not heard," Cook said. "These bags honor their requests. They were intentionally created just for them and that gives them a sense of ownership."
Cook has expanded the program in the years since, providing training in life skill development to participants, paid mentorships, affordable temporary housing and soon, eco-friendly tiny homes that will provide its 18- to 22-year-old residents with a safe place to live, while helping them build equity.
Participants in the Small Home Experience will have to work, receive an education and participate in community service. A portion of the $1 per-square-foot rent they pay on the 450-square-foot home will be put into a savings account that the participant can use toward a down payment on a home of their own when they're ready to move out in about two to three years. 
What started with toiletry bags has grown into something so big, it eventually caught the attention of Hollywood.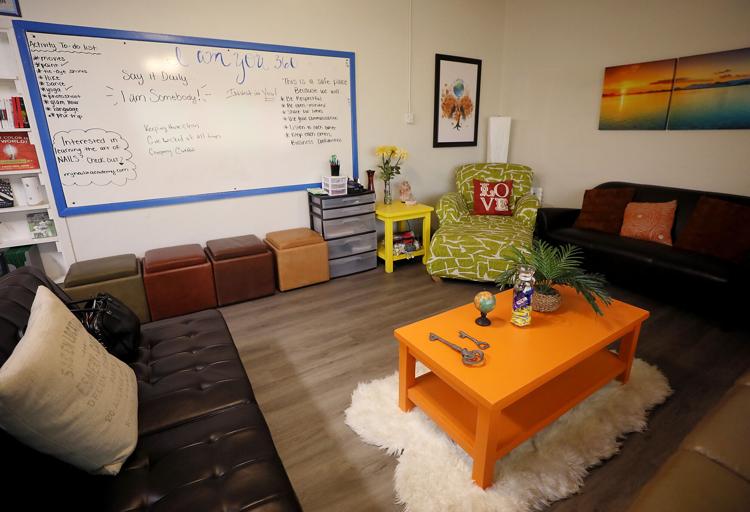 Needs to raise
$1.5 million
Cook's journey to "The Ellen DeGeneres Show" started three years ago, when a board member suffering from a bout of insomnia wrote DeGeneres a letter, feeling like she had to do something to help Cook's cause.
A few weeks later, Cook heard from staffers at the show, who vetted her for a potential appearance.
"Apparently I didn't make the cut," she said with a laugh.
She tried again to appeal to the celebrity, reaching out herself about two years ago. Then, in March, Cook saw actress Tiffany Haddish on an awards show and was moved by her story, as the comedian spoke frankly about her time spent in foster care and sleeping in her car.
Cook sent Haddish three messages telling her about I Am You 360 and her desire to build a tiny house village.
In October, DeGeneres' people called back.
Next thing she knew, Cook was on an all-expenses-paid trip to Los Angeles to film the show, with Haddish serving as guest host.
"It made sense to have that real conversation with Tiffany about it, because she gets it," Cook said.
DeGeneres was so inspired by Cook's story and energy that she selected her for one of six special episodes airing before the end of the year, with a crew visiting Tucson to interview Cook's mentees and film at the tiny house site.
"I'm so humbled and so honored," Cook said. "This has not been easy. Prior to Ellen reaching out back in October, I was tired mentally and emotionally. But I'm not fighting for me, I'm fighting for them."
Cook needs to raise $1.5 million for the tiny homes, saying the cost of supplies has increased since the pandemic.
A donor from San Francisco reached out after seeing her on TV, offering her a $75,000 dollar-for-dollar donation match to help build momentum.
Fundraising has been slow going, but she's hoping for a holiday boost.
"What Ellen did is wonderful, but I can't get the construction crew out until I have the money to pay them," Cook said.
Their own key
and apartment
In the meantime, Cook has 10 young adults living in safe housing in a renovated apartment complex that was given to Cook by a developer.
"He wanted to help, but he didn't have anything except property," she said, adding that the apartments will serve as I Am You 360's housing component until the tiny homes are built.
In June, Cook created a selection committee to read through the lengthy applications and pick teens to move into the apartments.
"We did multiple interviews with these kids. They kept showing up, even if it meant taking multiple buses," Cook said. "Right after the ribbon was cut, we gave them their key. Even to this day, the majority will tell you they can't believe it."
Cook said the recipients were in awe that she'd kept her word, and that they had their own key to their own lock in the door of their own apartment.
"It's so much bigger than just giving them a house," Cook said. "There's a plan and there's rules, so they can focus on themselves and cut out all the outside noise and distractions."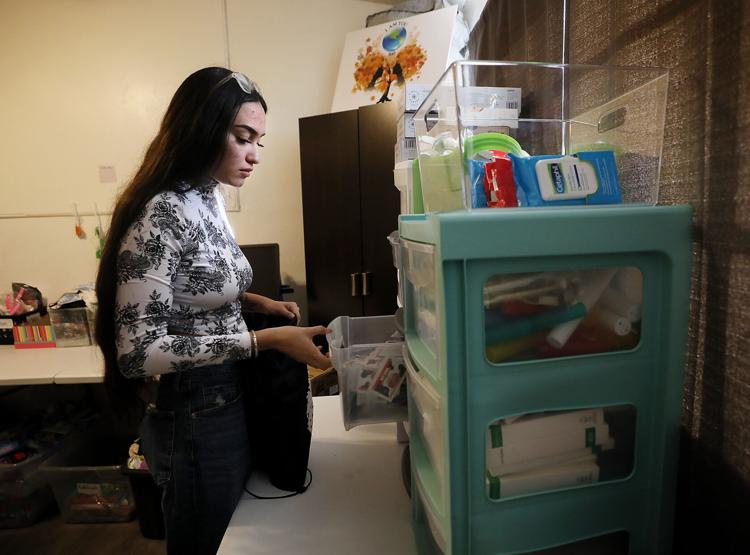 Cook said that by helping kids get on their feet, advocating for and mentoring them, generational cycles can be broken and true change can occur.
'You have to
invest in people'
Tucson Police Department Assistant Chief Kevin Hall met Cook years ago at a working group designed to address probation disparities for African American youths in certain ZIP codes. He was reintroduced to her later by TPD's community engagement coordinator, who had learned what Cook was trying to accomplish.
"She's a super cool and neat person, and what she'd done with the hygiene kits is amazing," Hall said. "There are lots of definitions of community outreach, but for meaningful community outreach, you have to invest in people and groups. We decided to invest in what she's doing."
Hall said he was moved by his experience helping select the apartment recipients, as similar types of trauma resonated through all of their young lives in the way they were raised and their family experiences.
"It was really impactful in that you almost feel like they never even had a chance and now at least Desiree is giving them a chance," Hall said. "They never had a chance to believe in themselves."
One of the things that's impressed Hall the most about Cook is her openness in sharing her own story and communicating the idea that where each person is at in this moment is a product of where that person came from. He also admires her resiliency and ability to overcome setbacks.
"There are barriers and challenges and there's been some times that we've talked and expressed frustrations, but she always bounces back and sees it as an opportunity to overcome," Hall said. "And she's already overcome so much in her life."
'We became
like a family'
Cook set out the trays of turkey breast, collard greens, macaroni and cheese and mashed potatoes on I Am You 360's dining table, while her queens gathered nearby.
Fitzpatrick, Valenzuela and Walls sat in the brightly colored living room, taking turns holding the twins and snapping photos on their smart phones. The trio hadn't been together in some time, with Walls giving birth only four months prior and Valenzuela having been sick for the past few weeks.
"I love being here," Walls, 22, said to no one in particular as she looked around the room.
Fitzpatrick, 20, said she can't pinpoint exactly when she first came to I Am You 360, but it was before the pandemic and while Donald Trump was still president.
"At first I didn't talk to anyone, but then we became like a family," Fitzpatrick said.
Valenzuela, 18, has a similar story. Six months ago, on her first day at I Am You 360, she was depressed and looking to go back to Mexico.
"But I came back the next day," Valenzuela said.
Walls watched her friends with her babies, smiling broadly and occasionally stepping into help. At one point, she guided Fitzpatrick's hand up her baby's back to support its head.
Walls echoed the other girl's story about finding I Am You 360, saying she was skeptical at first, but found herself coming back over and over.
She remembers fondly the day last year when she and her fiancé sat down to tell Cook they were pregnant. Walls said she felt like she was telling her mom, and that while she was nervous, she knew Cook would be there for support.
"You guys are like my sisters," Walls said to her fellow mentees. "You know, you don't let your babies around a lot of people when they're young. But you want them to get the right kind of love."
Cook looked on from the background at her queens, smiling at all the love in the room.
"Known and unknown, all these kids are worth it," she said. "I battle personally with my blood, sweat and tears to be a voice for them, and I do it with a smile."
Solutions journalism is rigorous reporting on responses to social problems. It intends to rebalance the news and focus not just on problems, but on potential solutions to those problems.
Contact Star solutions reporter Caitlin Schmidt at 573-4191 or cschmidt@tucson.com. On Twitter: @caitlincschmidt