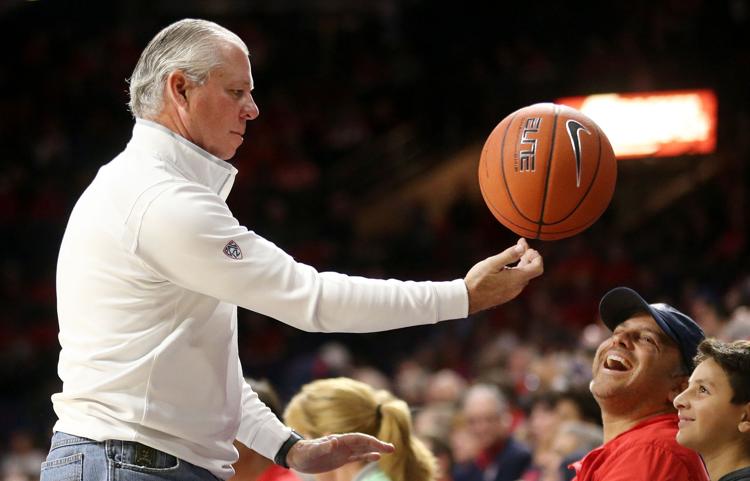 Arizona president Robert C. Robbins arrived at his McKale Center front row seat 30 minutes before last week's Arizona-Houston Baptist game. He watched the players warm up. It is a customary pose for the school's leader.
I've seen Robbins on the sideline at every UA football game this season, home and road. He has established a presence at athletic events, unlike any UA president since John Schaefer in the 1970s.
In his 18 months at Arizona, Robbins has approved the $6 million buyout of football coach Rich Rodriguez, publicly supported embattled basketball coach Sean Miller and sanctioned a payment plan for $66 million in athletic facilities.
Compared to past UA presidents, especially Ann Weaver Hart, Robbins is a godsend for a mid-level Pac-12 athletic department. He cares. He sees great value in the "front porch" provided by basketball and football teams.z
At 60, Robbins could go on to be the most high-profile president in school history, going deep into the 2020s. His twitter feed is abuzz with community and academic pursuits. He identifies himself as "President, chief enthusiast, advocate, and storyteller for the University of Arizona."
He has finally given the UA the backbone and ability to fight back against Arizona State and its president, Michael Crow, who has taken his school to a new level of relevance and financial empowerment.
Last week, Robbins' alma mater, Ole Miss, accepted the resignation of its president, Jeffrey Vitter. A search for Vitter's replacement begins now. It's no secret that Robbins grew up 200 miles from the Ole Miss campus, got an undergraduate degree at Millsaps College, barely 90 minutes from Oxford, Mississippi, and got his medical degree from Ole Miss.
It seems inevitable that Ole Miss will look Robbins' way and test his interest. It would be nuts not to.
This is one guy far more valuable than a football coach and a new softball stadium.
Contact sports columnist Greg Hansen at 520-573-4362 or ghansen@tucson.com. On Twitter: @ghansen711