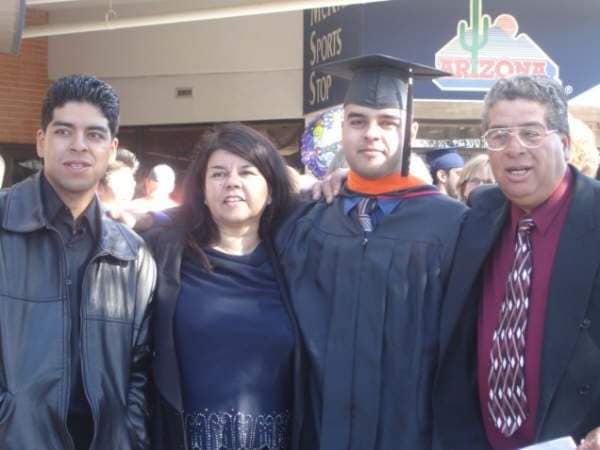 An Arizona immigration advocacy group has started a campaign to push for the release of a "dreamer" from Tucson who has remained in custody for months despite his deportation order being canceled.
Carlos Martínez, who earned a software engineering masters degree from the University of Arizona and was one of the first young people to qualify for Deferred Action for Childhood Arrivals in 2012, was detained after crossing to Mexico for about 45 minutes almost a year ago.
Martínez recently spent 19 days in isolation at the Eloy Detention Center after testing positive for COVID-19, his family says.
Martínez has been detained since he briefly crossed the border into Nogales, Sonora in August, saying he was frustrated about being unable to find a job and wanting to visit family in Mexico.
He has been held at Eloy's immigration detention center since then.
The Arizona Dream Act Coalition, a Phoenix-based organization that advocates for the rights of "dreamers," started a campaign Monday to pressure Immigration and Customs Enforcement officials to release Martínez.
"It is time to raise our voices to tell the people that we cannot turn our eyes and ignore what is happening," Karina Ruiz, executive director of the coalition said. "They are letting us die, because (those centers) do not have the essential measures to be healthy or maintain social distance."
The coalition held an information session on Facebook Live Monday night telling the community abut the case and to launch a phone campaign at ICE.
The goal, the coalition says, is for Martínez to finish recovering from COVID-19 at the family's Tucson home.
Ruiz said the group will focus this week on promoting calls to ICE to have Martínez and others there released.
Salvador Martínez, says his son recently spent 19 days isolated due to the spread of the coronavirus in the facility.
"They were just giving him two Tylenol in the morning and two in the afternoon, and they had him locked up alone in a cell. The food was brought to him there," Martínez said. He added that his son is better, "but not quite well. And morally he is broken."
An appeal filed a day late by an Immigration and Customs Enforcement prosecutor on the judge's decision is keeping Martínez detained.
On June 30, the Board of Immigration Appeals accepted the motion for late filing of the appeal. In it, the Department of Homeland Security indicated that its assistant chief counsel filed the brief one day later by "error."
In its motion the prosecutor says she mixed the filing deadline for Martínez with another case due a day later.
The situation has been desperate and frustrating, said Claudia Arévalo, the Tucson lawyer who represents Martínez.
"It was not a good reason," Arévalo said of the missed filing deadline. "And with lawyers, (the Board of Immigration Appeals) has a zero tolerance policy. They deny us everything, especially in this administration."
The deportation order was canceled by a judge based on testimony that included the impact it would have on the Martínez family; his arrival in the US as a 9-year-old; and his college achievements.
But the family's celebration lasted only a few minutes because the prosecutor announced her intention to appeal.
Martínez cited his clean record when he rejected the prosecutor's offer to voluntary deport to Mexico in November. When he asked to end the appeals and allow himself to be deported, a judge convinced him to stick with the process after reviewing his education and work history, Arévalo said.
Arévalo twice filed for humanitarian parole due to Martínez's emotional decline, but was denied. A third petition filed a few weeks ago based on the spread of the coronavirus at the detention center is pending.
Reporter Stephanie Casanova translated this story. 
Get local news delivered to your inbox!
Subscribe to our Daily Headlines newsletter.