One man dropped off his wife at the Tucson Convention Center after she'd tried unsuccessfully to register on their computer.
She waited in line five hours Friday to get an appointment, and now will go back Monday for her first COVID-19 shot. Her husband, over age 75, already got his first dose elsewhere.
Another woman's parents, both 75, drove down Thursday hoping for walk-in spots, realized how long the line was, asked about options and were told to come back early the next morning as walk-ins. They did, and found an even longer line that was now for appointments, not shots.
They left after her father's blood pressure went dangerously high.
These stories are among hundreds that poured out Friday on social media, and in calls and emails to the Arizona Daily Star, illustrating the confusion, fear and frustration many older residents in Pima County are experiencing as they try to get the vaccine that could save their lives.
There were also stories of success, people grateful and even ecstatic they finally got the first shot after trying, without success, to get an appointment scheduled online. Many heard about the TCC walk-in option through social media, the newspaper or word of mouth.
"The rollout of vaccine dissemination has been uneven and handled carelessly," said Tucson resident Lyn Ramirez, who is over 70 and heard of the TCC walk-in doses secondhand, and too late, from an acquaintance. "Extra doses are available, but it is by word of mouth to receive them. I have tried to get appointments but nothing is available."
Initially, the TCC plan for Friday was to make sure there were enough people there to use up the 1,200-plus appointments and vaccine, and so the city invited people over 70 to come as walk-ins. On Thursday, the TCC workers initially accepted those 65-plus as walk-ins until the line grew and grew, and so they bumped it up to 70-plus.
What happened Friday? The TCC's online appointments unexpectedly boomed Thursday night and, as of Friday morning, there were over 600 booked, far more than the typical 130 or so they'd seen daily earlier in the week.
But the offer of walk-ins was already out there and so, despite updates online, the site became swarmed with older people hoping for a shot.
Age "The driving force for bad outcomes"
While hospitalization and mortality rates are improving here, the number of people over age 65 who are sick enough to be hospitalized remains high.
Between Dec. 12, 2020, and Friday, Feb. 5, 1,016 people over age 65 were hospitalized for COVID-19 while, during the same period, 375 people under age 65 were hospitalized, county data show.
The older the person, of course, the higher the risk of hospitalization and death.
Since the pandemic started, 1,217 people over age 80 have been hospitalized while 1,855 people 65 to 79 have been hospitalized in Pima County. And there have been 824 deaths of residents 80 and older, and 698 deaths for people 65 to 79. In comparison, nine people ages 20 to 29 have died of COVID here and 48 ages 40 to 49.
Pima County officials said they understand the challenges older adults face when making these appointments and urge patience as they work to vaccinate the most vulnerable groups.
Pima County was focused on those 75 and older until Thursday, when it rolled the age back to 70-plus. Registration for this new group started Thursday, said Mark Evans, county communications director, but appointments are not available until Monday.
After the state adopted Centers for Disease Control and Prevention guidelines and started offering shots to those 65 and older several weeks ago, Pima County still restricted vaccinations to people 75 and older because, county officials explained at the time, they statistically have worse outcomes if they contract COVID-19.
The county also has been slow to move the age limit because more than 212,000 residents here are over age 65 and allowing them all to register at once would have crashed the registration system.
That happened Thursday night, Evans said, when registration opened for those 70 and older.
With the available number of vaccines unreliable, and the current phase including people not just by age but also by occupation, some think there should be more emphasis on the most vulnerable.
"I've always believed that vaccine prioritization should focus on the public-health issue which is that age, not occupation, is the driving force for bad outcomes," said Dr. Will Humble, executive director of the Arizona Public Health Association and former state health director.
Some see prioritizing key jobs before age as essential to keep society's gears from slipping, he added.
"I don't believe we're at risk for that and so I just disagree about adding essential workers (now). But that's just me," Humble said.
What's been hard on the counties, he said, is that the state is "taking vaccine 'off the top' for their state-run PODs (points of distribution) up here in Phoenix, which has the effect of shortchanging the county health departments that are rightly still focusing on the 75-plus population."
Humble said it's also been made more challenging for counties because "the state is vaccinating people between 65 and 74 years old. That vaccine is taken away from the 75-plus people that are at the highest risk in all counties, including Pima."
"From a public-health perspective it would have been a lot better to focus on 75-plus first," he said, "and then, when that market was penetrated, press on with (the next younger set)."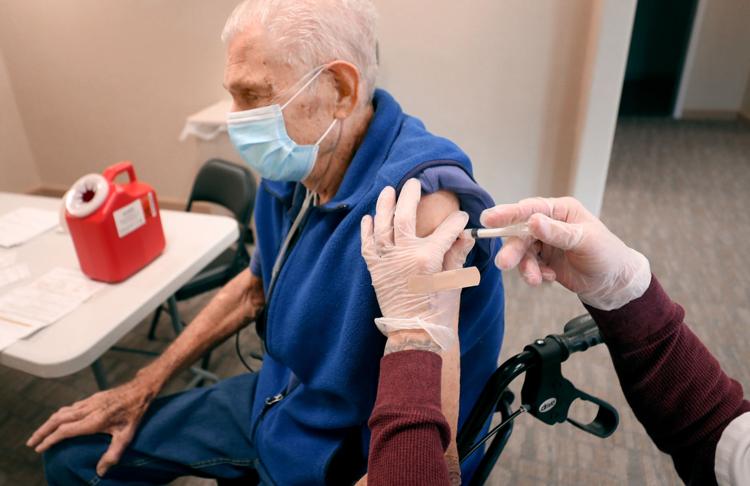 Older adults fear being left behind
For Tim Ingraham, a 72-year-old Pima County resident with severe underlying conditions, the vaccine rollout has been extremely frustrating.
While he waits for his chance to be protected against the virus, Ingraham said he's seen several people get vaccinated who are younger than him and not high-risk, including a chiropractor who no longer practices.
Ingraham was diagnosed with cancer in 2017 and had to go through extensive chemotherapy, which had a lasting impact on his immune system and heart. Even his wife, who is two years younger and doesn't have any underlying health conditions, was able to get the vaccine before him.
Even though they aren't over 75, Ingraham and his wife both pre-registered for the vaccine in January, and while his wife managed to get an appointment for her first dose two weeks ago, he's been waiting for an email from MyChart, Tucson Medical Center's patient portal, since Jan. 16.
When he heard that the Tucson Convention Center was accepting walk-up appointments, Ingraham drove down there and saw a line all the way around the building. He knew there was no way he would be able to stand in line that long. As of Friday, the TCC is no longer accepting walk-up patients.
"The lack of communication is probably the most difficult part," he said. "I've sent two or three emails and there's just no answer whatsoever. I did get through on the help line. The lady I spoke with was very nice, but said all she could help me do was fill out the preregistration form, which of course, I had already done. She said she would contact MyChart immediately and give them my information and they would get back to me. They haven't."
Additionally, many older adults face unique challenges when it comes to computer literacy and internet access. But in a pandemic that has claimed more lives of those 65 and older than any other age groups, the system developed to protect them was not made with these limitations in mind.
Similarly, 90-year-old Harry Kirshenbaum is also still waiting for a vaccine. His daughter, 60, and son-in-law, 74, said they had trouble navigating the county's registration system.
Because Kirshenbaum doesn't have his own email, they used his daughter's email to register him for the vaccine. They weren't aware that emails couldn't be used twice, and his daughter had already registered for the vaccine as a health-care worker.
Even with registration completed under a new email, Kirshenbaum and his family have yet to be contacted for an appointment.
His son-in-law, Don Cotton, said that while he understands there's limited vaccine doses available, the process was made even more difficult by a confusing registration system.
"I'm not really sure why it's so complicated getting a vaccine appointment set up for a 90-year-old," said Cotton. "It's a complete mess."
Dose limitations start at federal level
According to Dr. Theresa Cullen, Pima County's public-health director, the Health Department continues to release appointment invitations via email as more vaccines become available.
On Thursday and Friday, approximately 8,000 invites were sent out via email.
"We know that there are still about 10,000 to 12,000 people over 75 in that queue that need to be released to get their MyChart invitation," she said Friday, referring to the patient portal being used for shot appointments at certain sites.
The county has set up a call center to answer the public's questions regarding the registration process. On Jan. 27 alone, as an example, the call center handled 1,594 calls with an average wait time of six minutes.
In addition, the county is working to set up a number of mobile vaccination teams that will provide vaccines for homebound people, those in low-income senior housing and disadvantaged populations.
The mobile clinic pilot was expected to begin on Saturday, Feb. 6, with a pilot site staffed by employees and volunteers from Tucson Medical Center and the county's Health Department.
Cullen and Dr. Francisco Garcia, the county's chief medical officer, have said repeatedly during news conferences that Pima County needs more vaccine doses to make these processes work better.
Not being able to count on the vaccine supply makes planning much more complicated, they've said, and that was compounded when the county learned it will only be receiving 17,850 doses this week compared to the nearly 30,000 doses it received weekly for the previous two weeks.
"Our goal is to safely vaccinate as many people as quickly as possible, and we have been ramping up our vaccination efforts across the state," Holly Poynter, a spokeswoman with the Arizona Department of Health Services, said about Pima County receiving 40% less vaccine for the upcoming week.
"The current limitation on vaccine administration in Arizona is the number of doses made available by the federal government," Poynter said. "The number of doses we're receiving impacts all of our local allocators, including Pima County."