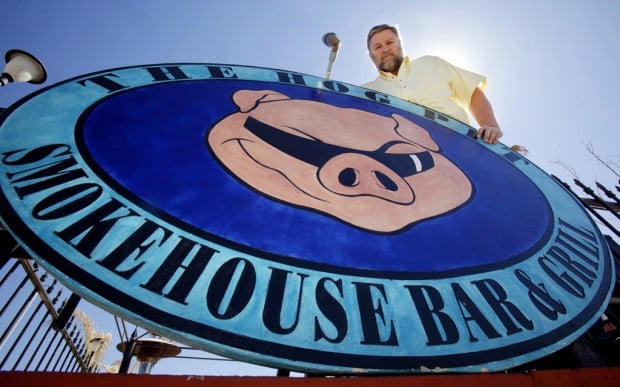 You won't have any trouble finding local businesses to complain about the sign code.
Tom Palomares loves to recount a run-in he had with the city over whether his sign, which read "The Hog Pit Smokehouse Bar and Grill," was a violation because the word "bar" was in it. He put a piece of white plastic over the offending word, although he ultimately was allowed to use it.
Christine Glanz tells about putting up her $5,000 sign outside her computer store at Houghton Road and Broadway in 2009, only to have a city inspector reject it because it was three centimeters too big. Even though the issue was resolved, she said, it was one more aggravation on top of the flagging economy and trying to attract customers to the center after the supermarket anchor in her complex closed.
Now operating out of her home, she's looking to start another business. And when she does, it won't be in Tucson, but in a place she considers friendlier, such as Marana or Oro Valley.
Chris Willhoite said that even though major corridors come with higher lease rates, he opted for space on Broadway for his months-old Hi End Tight Barber Shop. But when he put out signage to capture those eyes going by, he was told he was in violation of the code. Turns out he could probably work it out with the city, but just months into his business, he said he doesn't have time to fight what he fears will be a complicated battle.
With Mayor Bob Walkup handing over the keys to his office after this year, and with mayoral candidates from both parties saying the city has to work on a perception - if not reality - of an anti-business climate, the complex issue of how to regulate signs is ripe for debate.
When Republican Shaun McClusky gives his stump speech around town, he's been saying the code doesn't work for small businesses.
Nor does he buy the argument that in this day of websites and social media, physical signs are a relic of an old business model.
The Internet is great, McClusky said, "but I'm in the real estate business. We can advertise a property on 18 websites on a daily basis, but I get far more calls from dropping signs in front yards."
His GOP counterpart, Ron Asta, likewise said he'll call for a review. "I think it's arbitrary, and it hurts people," he said.
He said he'd start by looking at any variance approved during the last five years, to see if those could just be codified in the regulations. "You don't want signs in the desert," Asta said, "but I like to see signs in the city. That means there's commerce going on; there's a buzz going on; there's stuff happening."
Democrat Jonathan Rothschild, an attorney who has said one of the tenets of his campaign will be to make Tucson more business-friendly, said he's open to ideas. "I want to help small-business people with the issues they have with the sign code," he said.
Ernie Duarte, head of the city's Development Services division, declined interview requests. But if you're looking for a microcosm of Tucson's sign code at work, you could hardly do better than East 22nd Street near Rosemont Boulevard.
There, Johnny Lohrman, general manager of Thoroughbred Nissan, is still sore that the city made the company tear down a steel and aluminum sign that had been in place for 49 years.
After the dealership purchased a storefront formerly used for retail purposes and converted it to a body shop, the city determined the change in use meant that the sign, which didn't conform to updated code, had to go. The sign was 197 square feet and 36 feet tall - far greater than current caps of 50 square feet and 10 feet tall.
From Lohrman's perspective, the sign, with its big letters and neon features, was a meaningful example of an American architectural era. Since it was approved at the same time the building was built in 1960, he said, the two were meant to go together. He got the head of the local historical commission to agree.
From the neighborhood and environmental perspective, it was an eyesore. As Ron Spark of El Encanto Estates argued in a letter to the city, it would be a charade to classify "older, oversized, grotesquely ugly signage" as historical.
And from the perspective of his direct competitor, Bruce Daley, who owns Thoroughbred Paint & Body, it would give Lohrman's company an unfair advantage.
Daley has had his own sign code issues, which is part of the reason his building is bright pink, even though he'll be the first to acknowledge it's not the most eye-pleasing option.
He wanted a sign perpendicular to 22nd so cars don't pass right by and go to the competitor's shop, but said the 30-inch A-frame sign the city allowed "was never a viable option." Too small. Too much of a safety hazard.
So he bought a truck, painted his business name on the side and parked it out front, only to be told to move it from the right-of-way.
He then moved it inside his lot, only to be told he was violating the parking code by using two parking spaces.
Hence, the pink - as in, "You can't miss us. We're the pink building."
Palomares, of the Hog Pit, also has been at odds with the city over other signage, most recently a hot dog cart with banners on it that he used to advertise specials on the corner. He ended up paying $300 in fines, and the city is watching him as a repeat violator.
He's in Chapter 11 now, which he doesn't lay exclusively - or even primarily - on the sign code, pinning the economy as the main culprit. Still, he said, signs help in down times, and the city didn't help him fight back. When his restaurants were at the top of their game, he generated $32,000 in city sales tax revenues, he said. After last year, he'll turn over about $6,000.
"The city depends on sales taxes to survive and yet somehow, they have this sign code that's out of whack with reality. And when you try to make corrections in it, it's like pulling teeth."
Mark Mayer, a neighborhood activist who cut his political teeth culling billboards and has been a key figure in sign code discussions ever since, says he's concerned that the council has made too many concessions to business.
When the council recently tossed a proposal to put more restrictions on banners, he said, "they were just falling over themselves to say who was the most business-friendly."
There's a good reason to be concerned about aesthetics, Mayer said. "We live in the Sonoran Desert. The appearance of the community really matters for our own quality of life here, including economically."
The fact there are few suggestions for precise changes doesn't surprise Republican Councilman Steve Kozachik.
"It's easy to talk about the sign code and the land-use code and other hot-button issues, but when you get down to saying what specifically you should do, that's when you find out there's sound bites and there's reality."
Large companies, which have more political sophistication, are better able to navigate the bureaucracy, Kozachik said. It's the mom-and-pop companies, who are less familiar with the inner workings of the city, that need more help.
"The reality is that I don't want to go back to Life Magazine's 'Ugliest Street in America.' I do think you need a balance there."