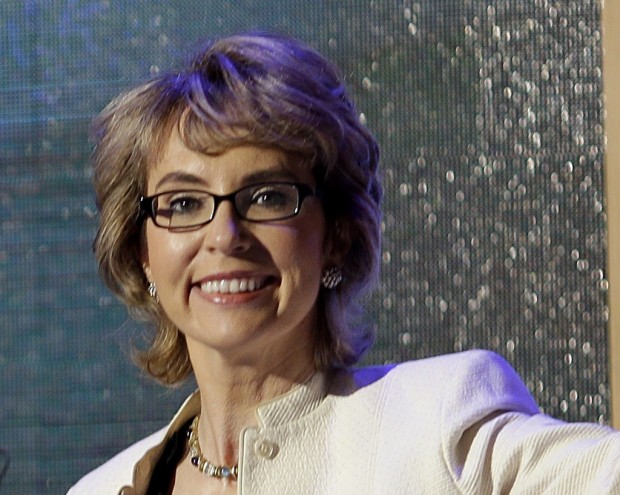 City Council meetings provide their own unique form of entertainment. Trust Notebook on this one.
Even so, local fiction writer Shannon Cain is introducing a new kind of performance art at Tucson's council meetings.
During the three minutes allotted for members of the public to speak their minds at the council meeting, she'll be reading from her as-yet-unpublished novel.
She (or a guest reader) will continue, she said, until she either finishes the manuscript, or it gets published.
Given the novel has 100,000 words, and she can read 500 words in three minutes, it will take six years to read it in its entirety.
Cain, who teaches creative writing, says she's demonstrating the potential for literature as a tool for civic engagement. Each week, she will describe what is wonderful or awful about the city.
We're not sure 100,000 words is enough.
GOP candidates are outdoing themselves trying to woo the gun lobby these days, particularly over in Congressional District 8. Republican hopefuls Andy Goss and Brian Miller have raffled off weapons to raise money. Jonathan Paton is boasting the support of Tucson attorney and gun-rights activist Sandy Froman. District 26 House candidate Terri Proud posed with a group of women holding firearms.
Jesse Kelly, meanwhile, doesn't seem to be bothered in the least by the Sarah Palin controversy earlier this year, when she released a list of targeted races in crosshairs, urging followers to "reload" and "aim" for Democrats. Critics said she was inciting violence.
He seems to be embracing his fellow tea partier's idea. Kelly's campaign event website has a stern-looking photo of the former Marine in military garb holding his weapon. It includes the headline: "Get on Target for Victory in November. Help remove Gabrielle Giffords from office. Shoot a fully automatic M16 with Jesse Kelly."
arpaio critics go to D.C.
U.S. Rep. Raúl Grijalva is taking five Arizonans to Washington to highlight Maricopa County Sheriff Joe Arpaio's hardline immigration tactics.
The five are scheduled to testify at a hearing Thursday about how the sheriff disrupted their lives. Grijalva plans to spotlight how the new law "might serve to further erode public confidence in law enforcement."
Each speaker, whose expenses are being paid by labor organizations, will have five minutes to talk about how they have been affected by the sheriff's immigration raids.
Grijalva doesn't exactly have to search high and low for people disgruntled by Arpaio. The Maricopa County jail is full of people who might have a bone to pick.
Meanwhile, Grijalva's critics plan a "blockade" in a few weeks in front of his congressional office on 22nd Street.
"The blockade of him from the Halls of Congress must continue until November," says a Facebook posting about the June 26 protest.
The blockade isn't going to be blocking much in a practical sense, though. His congressional office isn't staffed on the weekends.
But it's the thought that counts.
Democratic U.S. Rep. Giffords celebrated the big 4-0 yesterday.
Republican challenger Paton celebrates 39 tomorrow.
Bet we know what their birthday wishes were, and that they won't be sharing a jumping castle.
Turns out we could do a little six-degrees-of-separation-in-CD8 game with June birthdays.
Sheriff Joe, who is supporting Jesse Kelly in the race when he isn't grating on Grijalva's every last nerve, celebrates his on Monday.
Former CD8 GOP hopeful Tim Bee will have 41 candles on June 20, while the guy who used to hold the office, U.S. Congressman Jim Kolbe celebrates his June 28.