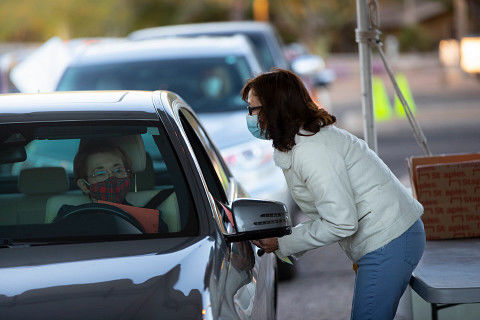 Pima County health-care workers and residents of long-term care facilities will begin to receive the first doses of the COVID-19 vaccine Thursday, Dec. 17, public health officials announced Monday.
The first 11,000 doses of the Pfizer vaccine, which was given an emergency use authorization by the FDA on Friday, will be received by the county this week, marking the start of a long-term plan to make the immunization available to all Pima County residents.
"It will be months before we have adequate dosing available for everyone in the community," said Dr. Theresa Cullen, Pima County public health director. "We will be following closely the recommendations for prioritization. These recommendations are designed to decrease morbidity and mortality."
In Pima County, and throughout the state, the vaccine will be distributed in phases. Phase 1, which will likely span through March, is divided into three sections — 1A, 1B and 1C.
The initial 1A section will include the county's 67,000 health-care workers and the thousands of people working and living in long-term care facilities. The next section, 1B, will include adults in assisted living facilities, law enforcement, educators, child care workers and other essential service workers. The last section of the first phase, 1C, will include adults over the age of 65 and adults of any age who have high-risk medical conditions.
The county's second phase of vaccine distribution is not expected to begin until late spring or early summer but will be given to any additional high-risk populations first before being accessible to the general public. Approximately 70% of county residents won't be able to receive a vaccination until Phase 3, which is not expected to start until summer.
"The timeline is dependent upon access to the vaccine, which we do not control right now," Cullen said. "What we know is that we are getting a delivery of the Pfizer vaccine this week, and we anticipate a delivery of Moderna once the CDC and FDA approval has occurred. We've been told that that timeline is somewhere between Dec. 21 and Dec. 23."
The first shipments of the vaccine are reaching the county as COVID-19 cases and hospitalizations continue to break records throughout the state.
Cullen said all local hospitals have been forced to activate their surge plan, opening up additional hospital beds for incoming COVID-19 patients.
The county's ICU bed availability has been in the single digits for most of the last 10 days, and hospital officials continue to express concern over staffing levels and an overwhelming number of patients.
"We are in an accelerated transmission phase," Cullen said. "Despite the fact that the vaccine will be here this week, the impact of the vaccine will take months to achieve in terms of a community based response. In the meantime, we plead with the community to stay committed to the activities that we know will help mitigate the transmission that we are currently seeing."
Vaccines are also unlikely to help with transmission right away because they require someone to take two doses before achieving immunity. It will take 21 to 28 days from the initial dosage before someone can be considered immune.
"We can't emphasize enough that vaccinations are just one part of a broader tool kit to mitigate the effects of the virus," said Dr. Joshua Lee, Banner-University Medical Center physician executive. "From a scientific perspective, although these have been proven to reduce COVID-19 disease, it'll take much longer to know whether the vaccines actually reduce transmission."
Vaccine distribution plan
Tucson Medical Center and Banner-UMC will serve as points of distribution centers for the Pfizer vaccine and will begin immunizations for qualifying health-care workers Thursday, according to the county.
The health-care workers who have direct contact with COVID-19 patients will be given access to the vaccine first. All local health-care agencies will be given more information about registration later this week.
For long-term care residents and workers, the vaccine will be distributed through an on-site partnership with CVS and Walgreens. This process will be led by the Arizona Department of Health Services.
Spencer Graves, the lead for health logistics at the Pima County Health Department, said the county is working closely with TMC and Banner-UMC to ensure the vaccine is distributed to residents as smoothly and safely as possible.
They conducted several mock run-throughs last week and have been training hospital officials on how to handle, store and administer the vaccine.
The Pfizer vaccine in particular has very specific handling requirements, including a storage temperature of minus-70 degrees Fahrenheit. Both Banner-UMC and TMC have freezers capable of storing the vaccines as required.
Both hospitals will also have plans to monitor people who receive the vaccine for adverse effects and will have EMTs on standby just in case.
"We're going to be starting slow," Graves said. "We want to crawl before we walk before we run full speed. So we'll be starting slow this week on the 17th with TMC and Banner. After that, we'll increase to full capacity probably in three to four weeks once we know our process is working and we can ensure as much throughput and safety as possible."
Once the Moderna vaccine is received by the county later this month, it will be given to other community health-care partners who will help distribute to frontline workers.
"We're looking at some partners in the community who have really good access to the 1A community and who are used to handling vaccines. That way, we should be able to broaden who we're able to access and also take some of the burden off of our TMC and Banner distribution sites."
Is the vaccine safe?
Vaccinations are voluntary, but public health officials said they are encouraging all county residents to get immunized to protect themselves and the community.
While there have been a couple of cases in which patients had an allergic reaction to the vaccine, the CDC and FDA have said they are effective and safe.
The most common side effects reported by Pfizer and Moderna were pain at the injection site, muscle aches, fatigue, chills and fever. These side effects are not uncommon when it comes to vaccines.
Crystal Rambaud, Pima County's vaccine-preventable disease program manager, said the Health Department is hoping the community will feel confident about the vaccine, despite its rapid approval. While there was acceleration in the manufacturing phase, she said, this did not impact the clinical phase when the vaccine was tested.
"I know there are a lot of concerns about safety due to the really rapid timeline surrounding this vaccine," Rambaud said. "They did not skip any steps for the approval. It went through the same rigorous testing and safety trials that all other widely accepted vaccines go through. There was really broad cooperation on this and a lot of financial backing and a lot of interest, they were able to streamline this process."