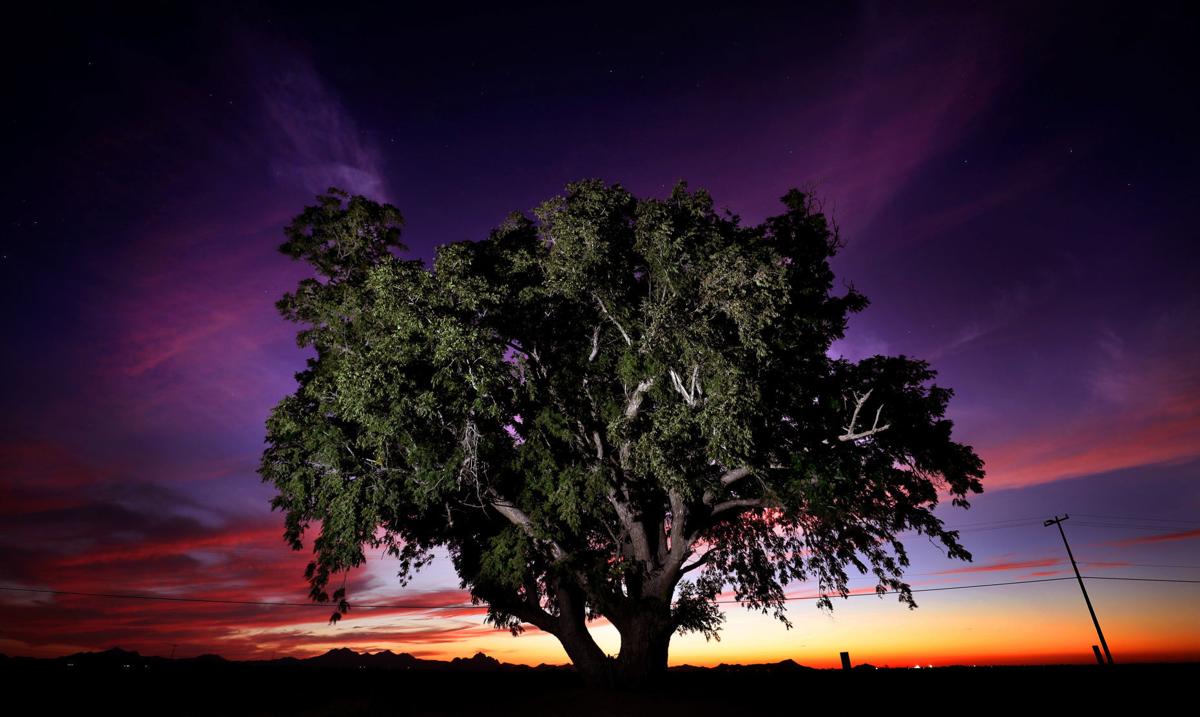 Along a wash west of Oracle Road near Catalina State Park, a soaptree yucca juts from the desert floor like a 30-foot-tall toilet brush.
This distinctive-looking plant is more than just big. It is the largest known yucca of its kind anywhere in the United States, according to the people who keep track of such things.
The nonprofit conservation group American Forests added the plant northwest of Tucson to its list of national champions in 2016.
Arizona is now home to 70 such champion trees, including nine in Pima County.
Tap or click any tree in the map below. 
Only Florida has more entries on the current National Resister of Champion Trees list.
Arizona generally ranks near the top, thanks to its diverse landscapes and the number of species found nowhere else.
"We have a lot trees and plants that are only endemic to Arizona and Mexico," said Jon Orona, an urban forestry specialist with the Arizona Department of Forestry and Fire Management. "That makes it nice for us."
Potential threats include fire, disease, chainsaws
Orona's other job title is — get this — Arizona's Magnificent Trees coordinator.
Since taking the job last year, the White Mountains native has personally visited 30 to 40 champion trees around the state, including a Utah Juniper north of the Grand Canyon that requires some dirt road driving and a trustworthy GPS device.
He said he hopes to make it to all of the champs eventually, but that's "quite an undertaking."
"We have trees from Yuma to Jacob Lake and down to Portal in the southeast," he said.
Also, the list keeps changing. Some trees get replaced by larger specimens or drop off altogether because they die or can't be found.
"We have to go back every 10 years and remeasure the trees and make sure they're still alive," Orona said. "These trees are old and not as vigorous as they used to be. I'd say fire has gotten a lot of champions."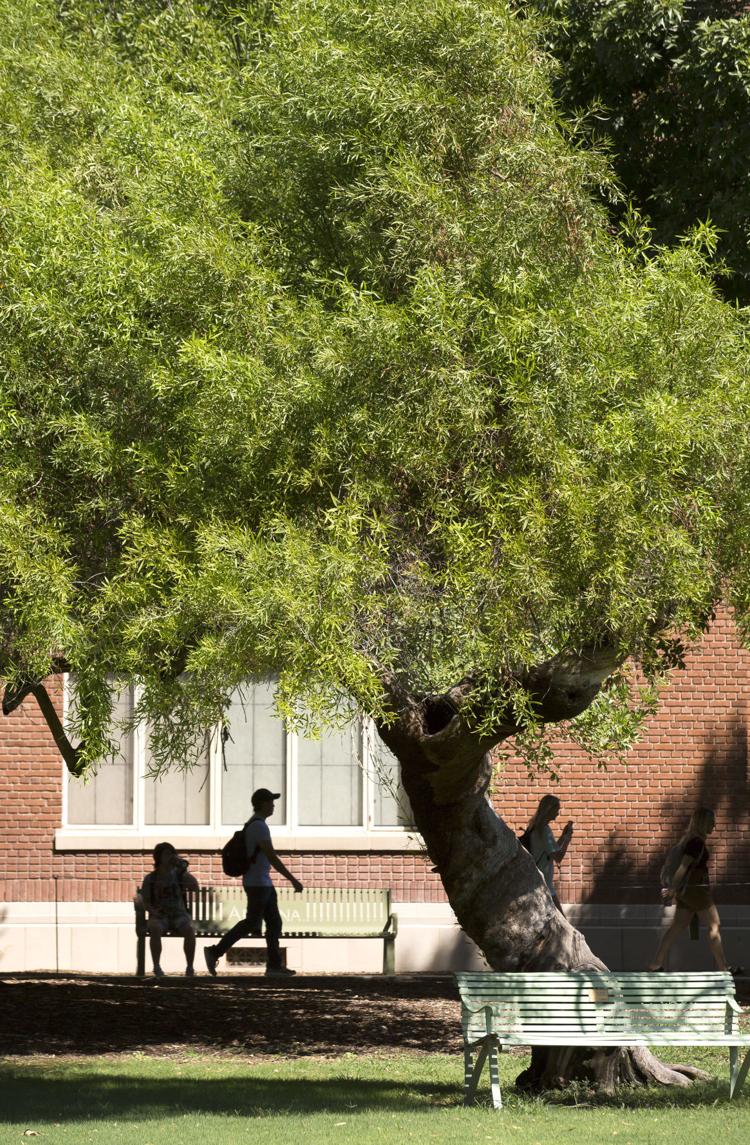 They have also fallen victim to insect invasions, drought, disease or simple neglect.
Orona said two of Arizona's current champions have been confirmed dead and will have to be removed from the list: a type of acacia known as a Huisachillo in Phoenix and a castorbean tree that was growing in front of a home in Avondale until someone cut it down.
Seeking new champions, fresh tree hunters
American Forests has been compiling and updating its list of giant trees since 1940. The 2019 list includes 760 champions and co-champions.
The point of all this, of course, is to raise awareness and appreciation for the environmental, economic and spiritual benefits of trees.
Champion trees are not merely tall. The largest of the species is determined based on height, trunk width and the spread of its "crown" of branches.
Points are awarded for each measurement — one point for every foot of height; one point for every inch of the trunk's width 4½ feet above the ground; one-quarter of a point for every foot of crown spread.
All woody plants, including cacti, are considered for the list, so long as they grow at least 13 feet tall with a single trunk at least 9 inches in circumference.
That's why the list includes a champion saguaro — two of them, actually.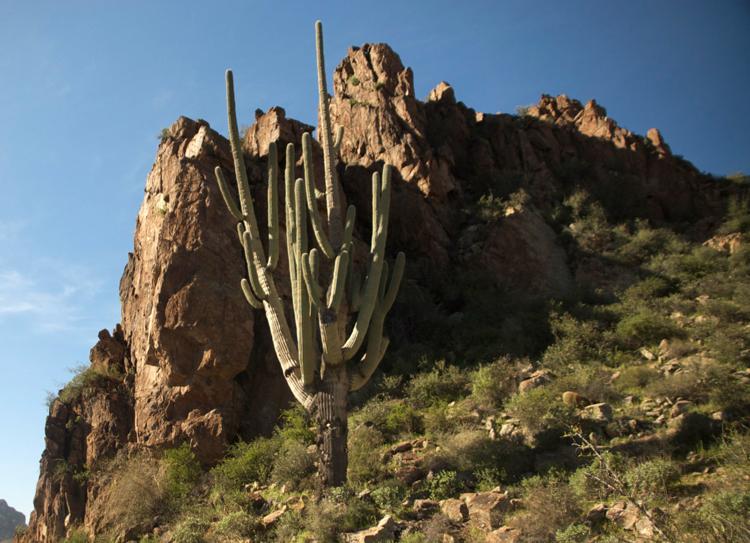 Champion-sized plants within three points of each other are considered co-champs. Since 2014, the title of the nation's largest saguaro has been shared by two old giants in — gasp — the Phoenix area.
If someone in Tucson wants to go out and identify an even bigger saguaro, Orona would welcome the nomination.
He said participation in the program has fallen off in recent years, leaving him with a crew of about four regular volunteers to verify new submissions and recheck old champions.
In the coming years, he hopes to recruit more tree hunters, including a new crop of youngsters to carry on the tradition in the future.
Orona also wants to start using drones to capture hyper-accurate measurements — along with some dramatic photos and videos — of the state's champion trees.
As it is now, trees are cataloged using a simple measuring tape or such specialized forestry tools as a Biltmore stick, a clinometer or, most accurate of all, a laser hypsometer.
Longtime tree hunter considers a comeback
Patagonia resident Ken Morrow bagged his first champion in 1995, a sugar sumac in the Superstition Mountains east of Phoenix that now shares the title with a slightly taller specimen in Yavapai County.
The Phoenix native and former tree nursery owner now has six champs to his name, fourth best among the state's top tree hunters.
"This isn't something that hundreds of people are doing," Morrow said. "If someone wants to get out there and hunt for trees, there's opportunity for success. You don't need to be an expert."
But no one is likely to catch the man in first place. David Thornburg has nominated or co-nominated a whopping 23 of Arizona's champion trees.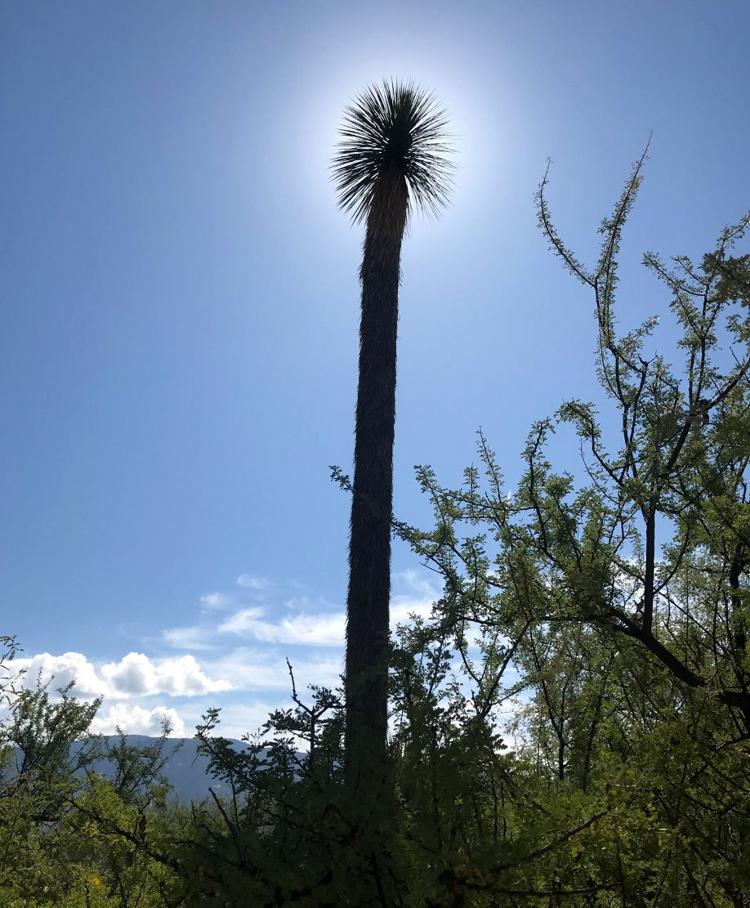 Tree hunter Mike Hallen is currently in second with eight listed trees to his name, including one of the co-champion saguaros.
Morrow said Hallen used to be his hunting buddy back when he lived in Phoenix. For several years, the two of them would go out every other weekend or so in search of champion trees. "Mike and I looked at an awful lot of saguaros," he said.
You don't necessarily need a partner, but Morrow said it's nice to have someone to hold the other end of the tape measure for you.
Work and other pursuits have kept Morrow mostly out of the tree hunting game for the past decade, but the 65-year-old is planning a splashy return as he approaches retirement.
He said he is in the process of nominating a new champion velvet mesquite that could bump off Arizona's very first national register entry from 1949.
Morrow said his tree, on land owned by the Nature Conservancy near Nogales, would make "a worthy replacement" for the original champ in Santa Cruz County, which was about 90% dead the last time he saw it.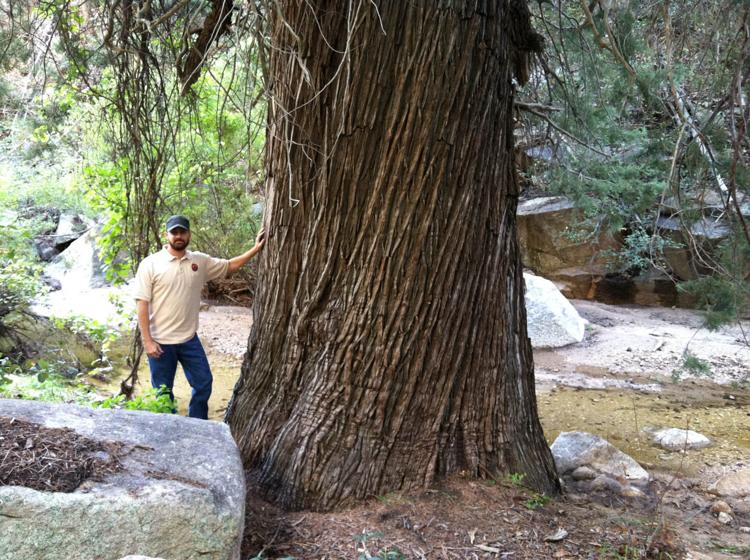 Planning a pilgrimage to "champion of champions"
Morrow's favorite champion isn't one of his. It's an Arizona rosewood tucked between two boulders at the bottom of Alamo Canyon in Organ Pipe Cactus National Monument.
Most people know the rosewood as a low, drought-tolerant shrub, he said, but this one has grown into a tree some 47 feet tall.
"It's thrilling when you see a plant that's reached its full potential," Morrow said.
As an added bonus, this champion was nominated for the list by Morrow's late friend and mentor, Bob Zahner, who previously served as coordinator for what was then known as the Arizona Registry of Big Trees.
"He was the guy who started it all," Morrow said.
There's one Arizona giant Morrow hasn't seen in person yet: the national champion Fremont Cottonwood in Skull Valley, west of Prescott, which was added to the list in 2012 and still ranks as the most massive tree in the state.
He and his wife plan to check that one off their list this fall. Once the leaves begin to change, Morrow said, "we're going to make a little road trip up there."
Orona said they're in for a treat. That particular cottonwood ranks as the 10th largest tree in the nation, with a trunk so massive that it takes nine average-sized men to encircle it hand in hand.
"That's one that will take your breath away," Arizona's Magnificent Trees coordinator said. "It's the champion of the champions."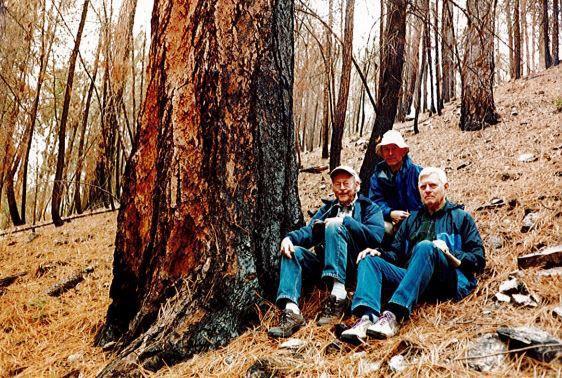 Contact reporter Henry Brean at hbrean@tucson.com or 520-573 4283. On Twitter:
@RefriedBrean.