Adia Barnes is not a poker player.
Still, she knows when to play it close to the vest and when to bet the house.
And she definitely knows when she is holding a winning hand.
This year's Arizona Wildcats boast Pac-12 defensive player of the year Aari McDonald, Pac-12 defensive team member Sam Thomas and Cate Reese, and anything seems possible. The Wildcats have added transfers to the mix, too: Canadian National Team member Shaina Pellington and the ACC's sixth person of the year, Trinity Baptiste, figure to contribute to a team that was headed for the NCAA Tournament in March before the coronavirus hit.
It's no wonder Arizona was ranked No. 7 in ESPN's way-too-early poll.
While Barnes doesn't put much stock in the polls, she did listen to Annie Duke, former professional poker player and author of a book called "Thinking in Bets."
"I had no idea, but there are lots of parallels between coaching and poker," Barnes said. "It was something that I never thought of. She was brilliant and related a lot to poker. I'm not a poker player so I never thought about it, but it was so informative."
Duke was a speaker on a series of calls set up this summer by Arkansas women's basketball coach Mike Neighbors. The calls were a way for Neighbors, Barnes' former boss at the Washington, to fill the void left during the pandemic. He missed talking about books and other things in hotel lobbies and bars while on the road.
Attendance on the calls grew from eight to 100 during the summer. Coaches watched, and so did executives from companies like Nike and Walmart.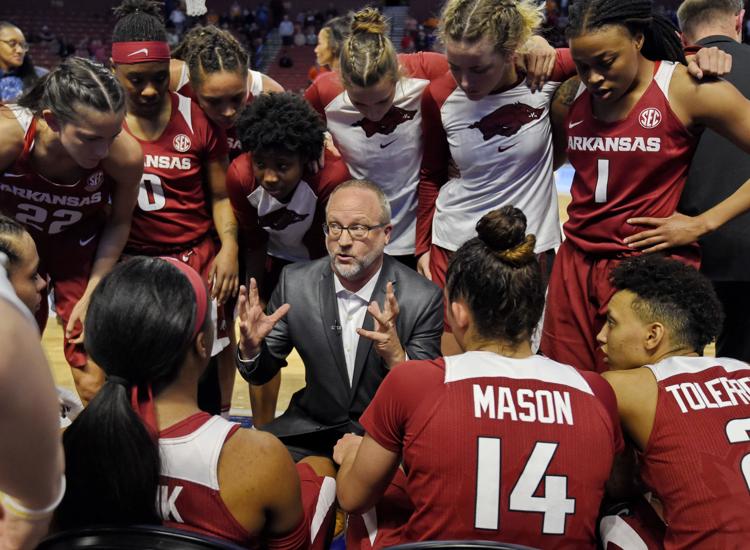 The name of the series — "The Zoom Where it Happens" — is a play on the song from "Hamilton," "The Room Where it Happens."
Barnes said Neighbors is "so connected and so good at putting stuff together."
"He has a different approach to stuff. He thinks outside of the box with everything," she said. "He's the best at growing the game and sharing knowledge. He loves to do it and I love that about him."
While on the calls, Barnes learned from former Boston Celtics and Los Angeles Clippers assistant Kevin Eastman and author Joshua Medcalf.
Eastman shared NBA stories, focusing on leadership and what it takes to be the best — and how to coach them.
Medcalf, who was a mental training coach for UCLA's women's basketball team, taught that you have to train to be clutch.
However, it was Duke's talk that really resonated with Barnes.
"She makes decisions not knowing a lot of information, which is similar to basketball," Barnes said.
"One of the first things she said was, 'life is like poker, not chess.' Poker is luck with imperfect information. That is similar to coaching. As a coach, we always make decisions with limited information. Every decision in life is poker-like. Your beliefs lead to your decision. Betting and percentages go into making your decisions. In your program you bet on future availability.
"In addition, people react to losing in two ways — some people become conservative (while) others analyze. This is interesting. What I didn't know is that it is all guessing — like a (basketball) game. Things change all the time and you don't know what's going to happen."
Barnes and the other participants on the calls didn't just listen to the speakers. Many held follow-up calls to discuss how these lessons apply to their teams.
"They don't mind sharing and being vulnerable," Neighbors said. "They asked questions that they might not be comfortable in other places. They asked good questions and hard questions that drove discussions to places we all benefited."
Barnes hosted calls, too — one including coaches from the UA's softball, volleyball, golf and tennis teams and Jim Rosborough, a Pima College assistant coach and former assistant to Lute Olson at the UA.
Barnes and UA assistant coach Salvo Coppa also had an X's and O's call with Ettore Messina, a former San Antonio Spurs assistant coach who now runs Olimpia Milano of the Italian Lega Basket Serie A.
"We talked about defense and strategy," Barnes said. "We showed him film on some stuff we struggle with and he gave input and explained why he thought we had a tough time in certain situations. It was awesome."