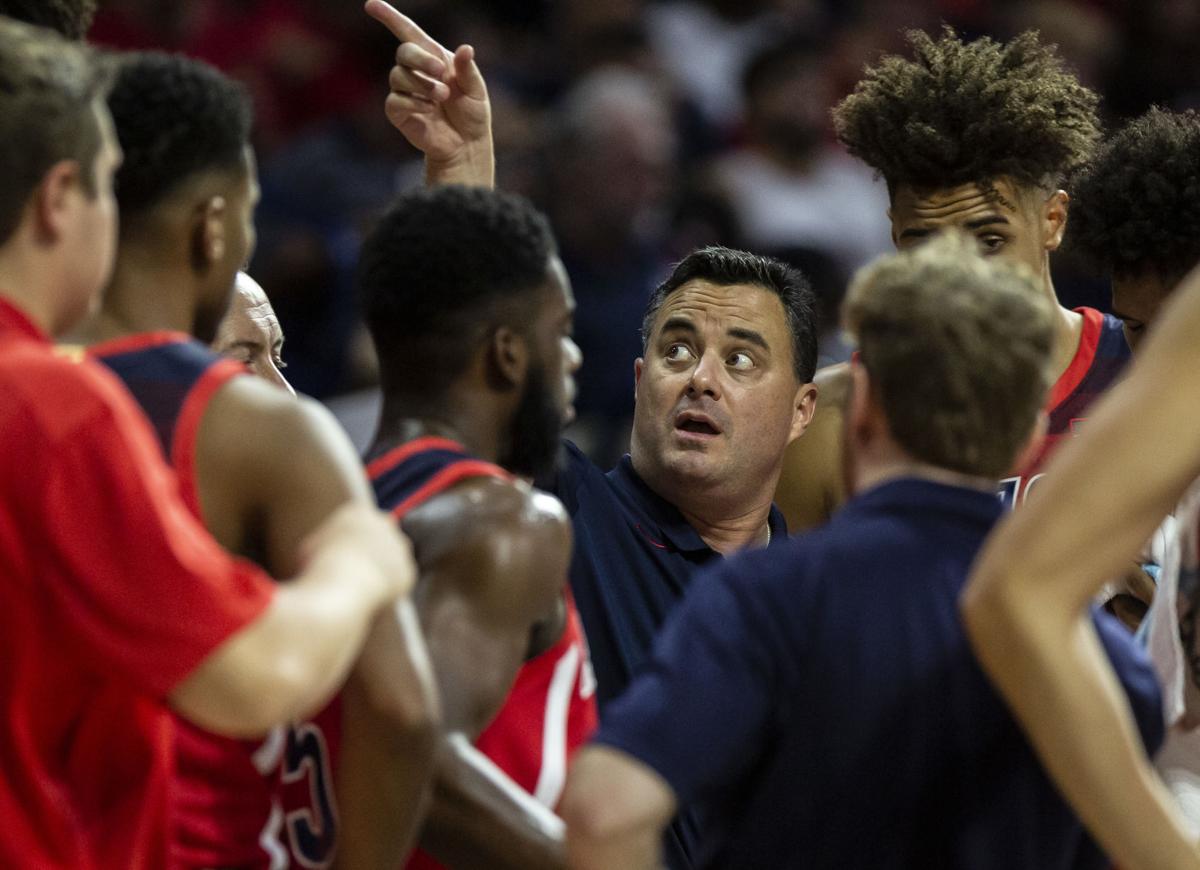 Two weeks ago, country music's Chris Stapleton released "Starting Over," a song that begins:
"This might not be an easy time,
There's rivers to cross and hills to climb."
If Sean Miller could lip-sync any song that typifies Arizona's 2020-21 basketball season, "Starting Over" would be most fitting.
"Starting Over" is the continuation of a theme that has become something of a musical anthem. In 1979, famed song-writer Carole Bayer Sager released "Starting Over," with entirely different lyrics than Singleton's new song.
In between, John Lennon wrote "Just Like Starting Over." Donna Summer wrote "Starting Over Again." Dolly Parton made it famous.
There will be no singing when Arizona opens the 2020-21 basketball season at McKale Center on Friday afternoon, but it would be appropriate if the lyrics of Lennon, Singleton, Summer and Sager were combined for a mash-up of "Starting Over" to characterize the state of Arizona basketball.
"The road rolls out like a welcome mat
To a better place than the one we're at."
Miller's basketball program has been off-key since it was upset by Xavier in the 2017 Sweet 16. It opens Friday against Grambling State with 10 new players on the roster, a club picked to finish a distant fifth in the Pac-12 standings, spinning its hopes around transfers from Georgetown, Seattle and Nevada, and a group of first-year players from Europe.
Starting over is usually a basketball theme relegated to Cal or Arizona State, but there is no escaping that it describes the trajectory of the Wildcats.
Arizona last started over in November 1983. That's when Lute Olson, a 49-year-old master builder from Iowa, picked up the pieces from a 4-24 program that was in such broken condition the Wildcats drew a record-low 5,983 fans on opening night at McKale Center, and, believe it or not, lost at home to Cal State Fullerton and Texas-Pan American in December 1983.
The composition of Arizona's '20-21 roster is considerably more talented than the one Olson deployed 37 years ago. How much better? Let's just say Arizona didn't get a single vote in this month's AP preseason Top 25 poll, but UNC-Greensboro and the Richmond Spiders did.
"Clearly, I don't know what's going to happen," Miller said in a Zoom conference a week ago. "We don't have the luxury of great returning experience. So if there would ever be a year that I think you could benefit by having a group of guys that have been through the battles of the Pac-12, that are older and experienced, this would be the year."
For more than a quarter-century, Arizona belonged to a small group of elite college basketball teams that did not start over. The Big Four — Duke, North Carolina, Kentucky, Kansas — have simply reloaded.
Arizona was so good for so long that you could have made a case that the Big Four was the Big Five, but that is no longer so. The Big Four have endured troubles, but nothing that threatened to take down the program and put the head coach's future in doubt; Miller's contract expires next season.
Duke did not qualify for the 1995 NCAA Tournament because coach Mike Krzyzewski required back surgery, missing the last half of the season. The Blue Devils have not missed an NCAA Tournament since.
Under John Calipari, Kentucky missed the 2012-13 NCAA Tournament, but that was a season after UK won the national title and the NBA raided Calipari's roster. UK reached the Final Four the next two seasons.
North Carolina won the 2008 national title and similarly missed the 2008-09 NCAA Tournament, a brief blip in an impressive seven-year period when the Tar Heels went to two Final Fours and two Elite Eights.
Kansas last failed to qualify for the NCAA Tournament in 1989.
Chatter about Arizona belonging to a "Big Something" cooled after the 2017 season, in part by an FBI Investigation into college basketball, in part because Miller's roster management fell apart when he couldn't successfully navigate the one-and-done game, and in part because Gonzaga and Oregon surfaced as the West's top basketball schools.
Now comes the dreaded news that Arizona State has become relevant, trading places with Arizona in the scope of national relevance.
When the Sun Devils played Villanova in a Thanksgiving Day TV showdown on Thursday, it shed light on how the Wildcats and Sun Devils have traded places.
Nova was the seventh top-10 nonconference team the Sun Devils have played in Bobby Hurley's six seasons at Arizona State. By comparison, Arizona has played just four top-10 nonconference teams in the same period.
Those November-December spectacles were the launching pad for Arizona to national prominence. Get this: In just three seasons, 1987-88 to 1989-90, the Wildcats played 10 non-conference teams ranked in the top 10.
And it wasn't just a fluke early in the Olson years. From 1999-2000 to 2002-03 — just four seasons — Arizona played 12 nonconference teams ranked in the top 10.
How things have changed. On Thanksgiving, Gonzaga played Kansas in a made-for-TV special on Fox.
There was a day — many, many days — that game would have been Arizona vs. Kansas.
But Arizona is starting over. If all works well for Miller, it'll be a beginning and not an end.
Contact sports columnist Greg Hansen at 520-573-4362 or ghansen@tucson.com.
On Twitter: @ghansen711