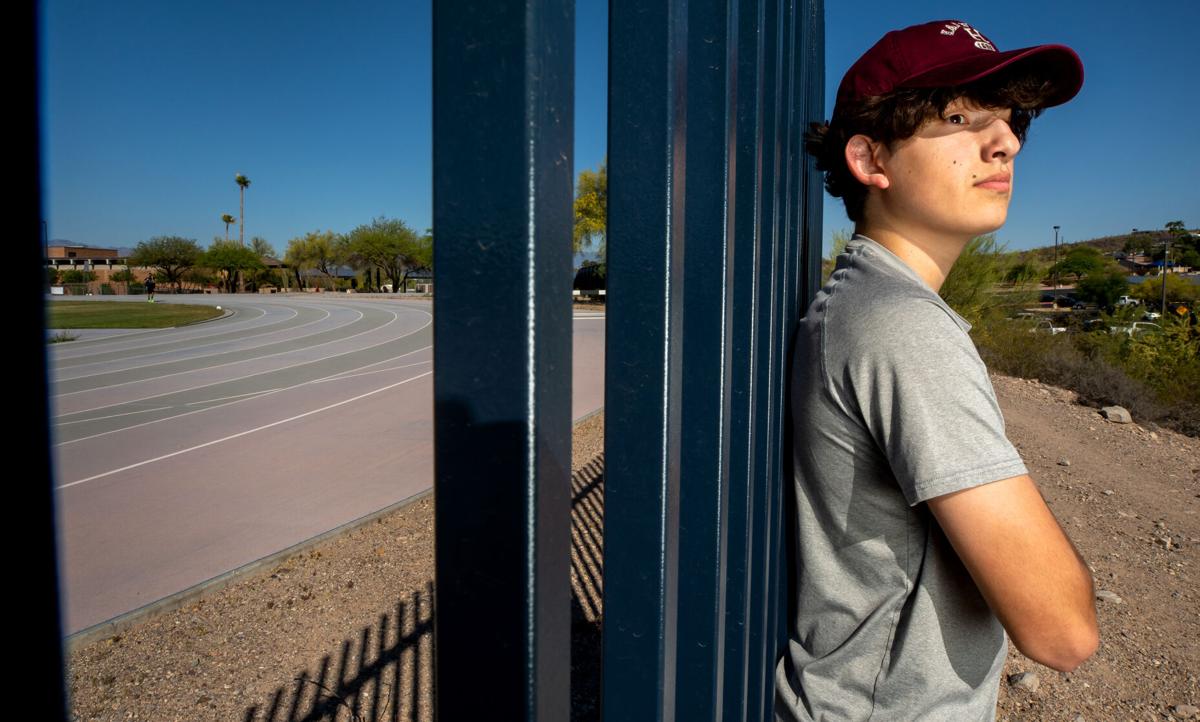 Omar Sotelo attended his his first college fair as a fourth grader.
It became an annual event, with his mother, Diane, watching as recruiters asked her son if he was there with an older sibling.
"No, I'm here for me. What can you tell me about your school?" Omar Sotelo would ask the recruiters without flinching, listening closely as he weighed his options for the future.
Many years and plenty of hard work later, Omar Sotelo narrowed his college search down to some of the best in the country. In January, he applied to Harvard, Penn, Duke, Vanderbilt, USC and the University of Arizona.
After the applications were in, the 17-year-old Tucson High School senior did what he loves most: went for a long run. And he put the pending applications in the back of his mind.
"You feel free, like a bird"
Sotelo, a senior and three-year member of the Badgers' cross country team, has been running since he was a kindergartner at Drachman Montessori K-8.
Sotelo competed in cross country his freshman through junior years. He also ran track his sophomore and junior years, competing in the mile and 800 meters, before COVID-19 took him out of the game.
Sotelo has two younger siblings at home and parents who are both essential workers in the public sector. Sotelo's family didn't feel a return to sports was safe. So he sat out his senior year.
"It was a little weird, since it's usually a big part of my life from August to November," Sotelo said. "But I still do runs on my own."
That's exactly what he did while he waited to hear back from Harvard and the others.
"I like that it sort of clears your mind and you're not really doing too many other things besides running. You feel free, like a bird," Sotelo said of running. "A lot of people feel like that with art."
Running runs in the Sotelo family, with Omar Sotelo's father and namesake serving as his coach. Omar's 11-year-old brother and 9-year-old sister both run cross country at Drachman.
Without his usual track and cross country seasons, and unable to participate in the many clubs and extracurricular activities he used to, Sotelo spent the months between the January college application deadline and April acceptance dates online learning and running on his own.
Last month, Sotelo heard back from Harvard. He was in.
Taking his chance
Sotelo was cool and calm during his two interviews with Harvard, telling the panel about his love of cross country and science.
A member of the Pascua Yaqui Tribe, Sotelo also shared stories of his three years on the Tribal Images Youth Council and Joint Science Education Project, his involvement with Future Business Leaders of America and the summers he spent as a junior counselor at the Flandrau Science Center's Fusion Camp.
Sotelo also spent considerable time volunteering prior to the pandemic. His last and perhaps favorite volunteer work involved a week-long, in-person gig with the Southern Arizona Research, Science and Engineering Foundation.
A science enthusiast, he also took part in SARSEF's annual competition, entering a project about droughts.
Even with all his accomplishments, Harvard seemed out of reach. A record 57,000 students applied to Harvard this year, and only about 5% were accepted.
"I guess you could say it's a dream, but it's always been a dream that seemed out of touch," Sotelo said. "I always thought I'd love to go to Harvard, but I also thought it'd never happen."
Diane Sotelo said her son considered not applying, knowing the odds were long.
"I told him, 'If you don't do it, you'll spend the rest of your life regretting that you don't know if you're good enough for Harvard,'" she said. "For me, I never had the opportunity to go anywhere else. It was either go to the UA or don't go anywhere."
"Affable" Omar
After his first college fair, Diane and grade-school-aged Omar got to work researching different schools. Diane Sotelo is a first-generation college graduate; she recalls having to figure it all out on her own when the time came to apply.
"When he was born, I said, 'I'm not going to make him figure it out,' " she said.
They became experts in navigating the college application and admission process, teaching a class together at TUSD's "Parent University" about 10 things you need to know about the college search.
During the pandemic, the Sotelo family watched as members of the Pascua Yaqui Tribe took care of one another, dropping off food boxes to elders and checking in on each other. It tied in to Omar Sotelo's concerns about Native American communities being underserved and not having the resources they need, including access to clean water and air.
"A lot of what (Omar) is doing right now is listening. He has that mindset of 'Things are not quite right now, and how do we change it?' " Diane Sotelo said. "I have so much hope for the next generation. A lot of it is about just seeing the world the way it is, and not the way we tell them to see it."
During that time, Sotelo also took on a leadership role with the Badgers, running workout routines for younger kids.
"He's really affable, and a great teammate. He really supports other people on the team. He's the first person to say, 'Good job.'" said Tucson High girls cross country coach Bridget Barber. "Omar works really hard. Whatever he's involved in, he's diligent."
Tucson High boys cross country coach Santiago Galaz said Sotelo's commitment to the sport extends beyond competition and all the way into practice.
One afternoon, while racing against one of the team's top runners at a nearby park, Sotelo took a corner so fast that he ran into a tree.
"He busted his head and had a pretty big cut," Galaz said.
On the way to the see the athletic trainer, Galaz called Sotelo's dad to let him know his son had been hurt.
"I told him Omar cut his head because he hit a tree," Galaz said. "And then I had to stop talking because he was laughing about the situation."
Sotelo ended up needing stitches, but first the trainer had to remove a piece of bark stuck inside the wound. After that, Galaz started calling Sotelo "Groot," saying he was part tree.
"Even in practice, he gave it his all. In races, he gave it his all," Galaz said. "Wherever his endeavors will be, whatever profession he becomes, he's going to give it 100%."
Galaz said he's missed having Sotelo on the team, as he got along with everyone and served as a role model for younger runners.
"If you think of somebody that you want more than the fastest kid, you want the kid who's dedicated and who has a lot of grit," Galaz said. "That really explains Omar right there. He's dedicated and the grit that he has, the tenacity to keep preserving, is incredible."
While he won't be a member of the Crimson track and field team, Sotelo thinks he'd like join the legendary Harvard Running Club once he gets settled.
Sotelo hasn't spent much time on the East Coast, outside of a few trips to New York.
"I really have no experience running in the cold at all," Sotelo said.
But like everything else in his life, Sotelo is up for the challenge.