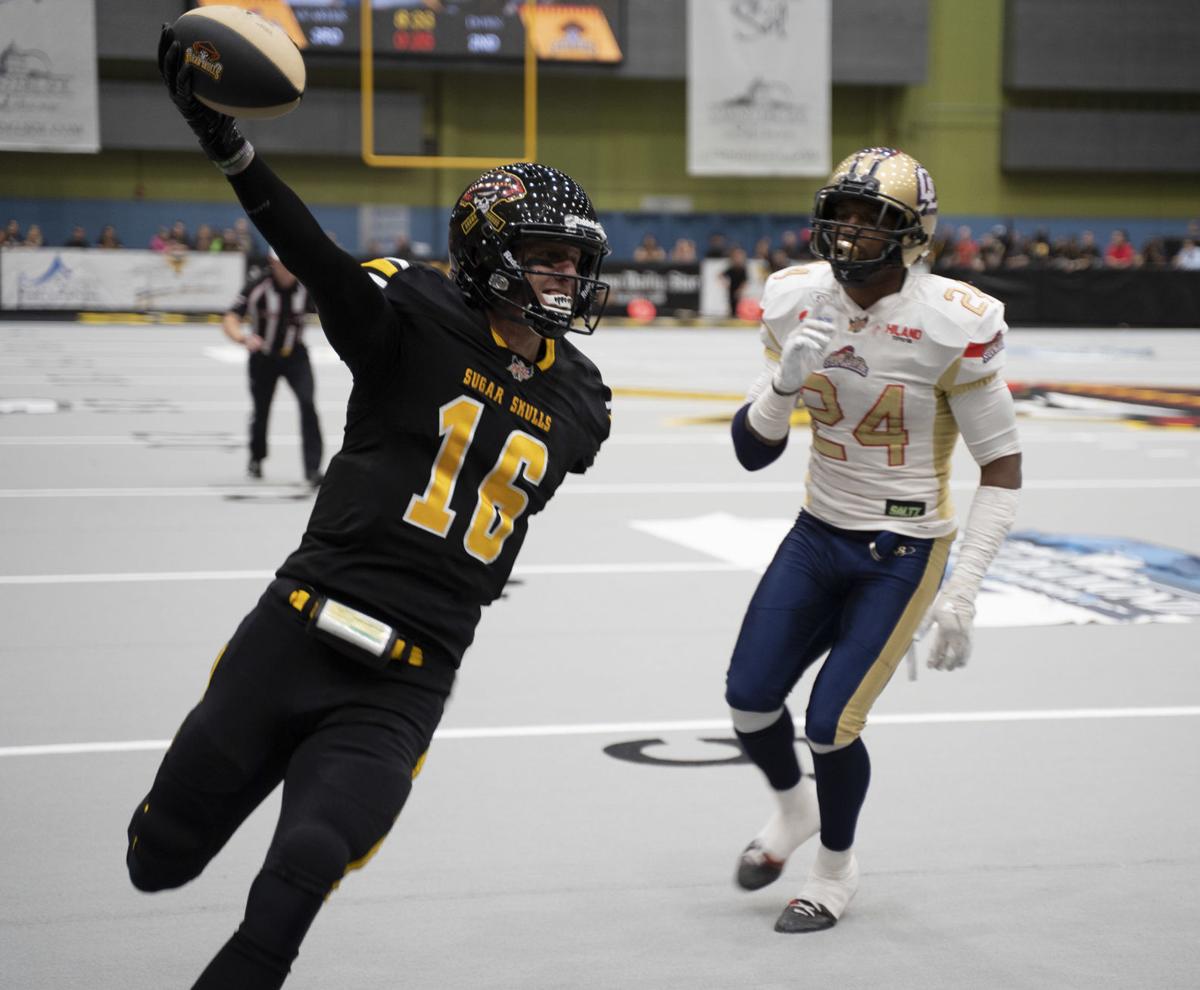 The Tucson Sugar Skulls had "championship or bust" expectations entering its second season as an Indoor Football League franchise.
But due to the global spread of the novel coronavirus, which halted the sports world, the IFL announced on Monday that it will cancel the remainder of the 2020 season after just two games.
IFL owners met on a video conference call and after deliberation, the best resolution for the league was to cancel the rest of the games left in 2020 and move on to the 2021 season.
"The bottom line is we don't know what's going to happen. We want to and we hope things start opening up, but realistically speaking, everyone had the same consensus," Sugar Skulls co-owner Cathy Guy told the Star.
"Based on everything we heard from other sports leagues, even if they open up other venues, it'll be a while before they allow big crowds together."
IFL commissioner Todd Tryon said the decision was "the result of extended, thoughtful discussion" by the IFL's board of governors. Tryon said on March 21 that the IFL had "every intention in playing the 2020 season," but scheduling games would depend on a cemented date for the United Bowl championship in mid-August.
"The unknown is when we'll start," Tryon said at the time.
Three weeks later, the IFL shut down operations until further notice.
"Because there are so many critical unknowns that are out of our control, we feel, as a league, we would be best serving the health and stability of the IFL community by taking a proactive approach and focusing our talents and our resources toward preparing for a breakout 2021 season," IFL Commissioner Todd Tryon said in a press release. "The health and safety of our players, coaches, staff, and fans is our top concern."
There was the possibility of the IFL possibly playing games without allowing fans in attendance, which would've meant the Sugar Skulls playing home games in an empty Tucson Arena.
"It would not have been our first choice, because the game is made for fan engagement. And we also need other partners to play against," Guy said.
The 2020 IFL season, which kicked off on March 7, was set to feature four new teams: The Oakland Panthers, Duke City (Albuquerque) Gladiators, Spokane Shock and Frisco Fighters.
The Sugar Skulls' season opener was scheduled at Cedar Rapids on March 19, followed by the home opener against Duke City on March 29, which was supposed to be a "red-out" and a chance for the Sugar Skulls to debut new red jerseys.
The Sugar Skulls were supposed to be four games into their season by now and preparing for a road trip to Spokane.
Considering the offseason acquisitions, Tucson was supposed to be one of the premiere teams in the IFL this season.
After hiring two-time IFL Coach of the Year Dixie Wooten following his resignation from the Iowa Barnstormers, the Sugar Skulls signed MVP quarterback Daquan Neal, All-IFL wide receiver Ryan Balentine, re-signed All-IFL running back Mike Jones, and made other notable offseason acquisitions.
Especially after a season when the Sugar Skulls became the first expansion team in IFL history to make the playoffs in its first year, Tucson's IFL team were focused on bringing a championship back to the Old Pueblo.
"In the IFL, it's about winning now or losing now. Second place doesn't get you a ring, so at the end of the day, it's all about winning a championship and nothing else," Wooten told the Star in March.
So now that the focus is moved to next season, the IFL Board of Governors approved extending the regular season to a 16-game schedule for 2021, which was initially 14.
"Since we cannot have a full season, we want to offer something more to our partners. Offering a 16-game (schedule) is a start so instead of having seven home games, we'll have eight," Guy said.
"It's disappointing. We made a lot of changes and then we planned to have a great season. But moving forward to 2021, this just gives us time to prepare. … All these ideas and all these plans that we had in place are not going to come to fruition. But we're just gonna put them off until next season.
"We need to make some decisions and start planning for 2021. Those are our next steps. We want to be downtown Tucson next season."
Be the first to know
Get local news delivered to your inbox!