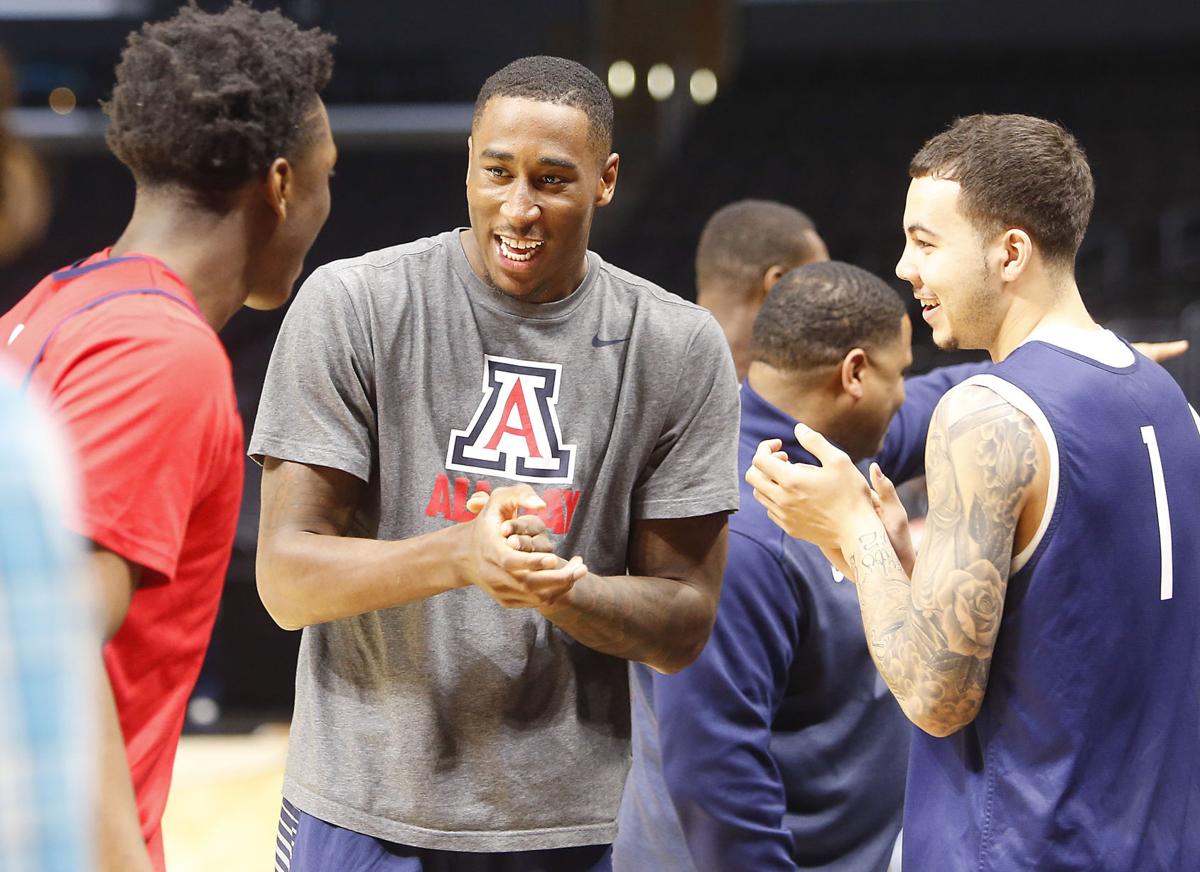 Shortly after he moved from Philadelphia during his nephew's sophomore season at Arizona in 2014-15, Erik Hood established a club basketball program in the Phoenix area.
Then Hood and that nephew, Rondae Hollis-Jefferson, kept noticing how the best Tucson players typically signed up with top Phoenix-area teams so they could play in more visible events.
Hood hopes to change that, announcing last week that his TeamRHJ Basketball Club will establish Tucson-area teams at several different age groups starting this spring.
"We always talked about building in Tucson," Hood said. "Everybody always says 'Well, the talent isn't there' and this and that, but it makes sense to build it in Tucson. (Rondae) was like 'Yo, we have to do something in Tucson. Let's figure it out.' "
TeamRHJ already has teams competing in the Prep Hoops Circuit's "Premier 32" division, which is something of an independent alternative to the big shoe-company sponsored circuits, and his roster includes Sabino High School junior forward Travis Reynolds. Hood said 12 of his players have received scholarship offers so far over the past several seasons.
Eventually, Hood says he hopes to fill out 12U to 17U teams solely of Tucson players as well as his Phoenix-based teams. He said the club will be involved with charity efforts such as food and toy drives, too.
"We want to get them when they're young and develop them," Hood said. "I believe kids and parents want real platforms but unfortunately they haven't had that there" in Tucson.
But it may not be easy. The club basketball world is full of recruiting battles for top players, something Southern California-based club and event operator Dinos Trigonis knows all too well.
"He's got some good players and he's got a good spirit to him," Trigonis said of Hood, whose teams have played in Trigonis' events. "It's easier said than done, that's probably the biggest thing. Lot of competition for those kids."
Nnaji establishes foundation
Former Arizona forward Zeke Nnaji announced he has established a "Nnaji Family Foundation" to build basketball facilities and vocational schools in Nigeria.
"Our mission is to positively impact the lives of young people throughout Africa and the United States through education and athletics," Nnaji said in a tweet.
USC debuts in Top 25
USC made its first appearance in the Associated Press Top 25 in four years, landing at No. 20 after beating UCLA 66-48 on Saturday to pull into a first-place tie with the Bruins in the Pac-12 standings.
The Trojans are the Pac-12's only ranked team although Colorado sat just outside with the 26th most votes after beating Arizona 82-79 on Saturday in Boulder. UCLA picked up the 29th-most votes.
Mobley wins Pac-12 honors
USC's Evan Mobley became the first player this season to win both the Pac-12 Player of the Week and Freshman of the Week awards Monday after leading the Trojans in wins over Stanford and UCLA.
Mobley had 23 points and 11 rebounds, plus two blocks in the final 78 seconds against Stanford and had nine points, nine rebounds, four blocks and three assists against UCLA.
Arizona nominated Azuolas Tubelis for both awards after he averaged 17.5 points, 4.5 rebounds and 1.5 assists in the Wildcats' losses at Utah and Colorado. Other players nominated for the Player of the Week award included Colorado's Evan Battey, who had 21 points on 7-for-9 field-goal shooting and 7-for-7 free-throw shooting in the Buffs' win over Arizona, including four free throws in the final 15 seconds.
Buffaloes blast Beavers
Two days after holding off Arizona in a three-point win, Colorado steamrolled the Wildcats' next opponent, Oregon State, in a 78-49 win on Monday at the CU Events Center in Boulder, Colorado.
The Buffaloes held OSU to just 32.7% shooting while shooting 55.8% themselves and outscoring OSU 40-20 in the paint.
Jeriah Horne had 16 points and seven rebounds to lead Colorado.
Colorado improved to 15-5 overall and 9-4 in the Pac-12. Oregon State (10-8 and 6-6) is scheduled to travel directly to Tucson to prepare for a game with Arizona on Thursday at 6 p.m. UA beat OSU in Corvallis 98-64 earlier this season.