---
Here in Tucson, you can't do October without eating an octopus ball. 🐙 We've been counting down the days until the annual Tucson Meet Yourself festival this Friday, when the whole world stops to eat a savory snack.
In addition to those doughy Japanese takoyaki balls, this year's festival boasts 55 other food vendors serving delicacies from Poland, Colombia, Laos, Turkey and more.
What's new? Look out for Chilean food, empanadas and humitas from La Fondita Chilena. Nearby, Oaxacan-native José Toledo will dish out Oaxacan mole at his Holy Toledo Catering booth. And then there's Koshary, the national dish of Egypt made from rice, legumes, pasta, onions and more. You can find the spicy vegan platter at a booth called Masri, where it's adapted from a family recipe.  
Also on our plates this year: The Culture Kitchen food demo stage will return with demonstrations exploring culinary tradition. And for 2018, the Southwest Folklife Alliance is teaming up with UNESCO City of Gastronomy to present the first Food Justice Expo with information from local food organizations. 
Tucson Meet Yourself has gotten so big that it had to move out of El Presidio Park due to weight concerns with the underground parking garage. But don't worry, you won't miss it downtown. It will stay on Jácome Plaza and stretch along Stone Avenue, Church Avenue and Pennington Street. The free festival runs throughout the weekend, from 11 a.m. to 10 p.m. Friday and Saturday Oct. 12-13, and 11 a.m. to 6 p.m. Sunday, Oct. 14. Go to tucsonmeetyourself.org for more information and a detailed map of the vendors. Salud! 
European and Middle Eastern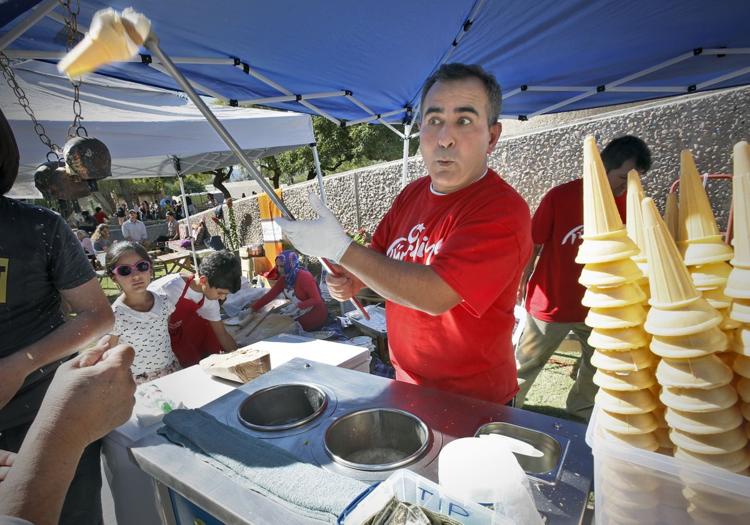 • AHEPA/Daughters of Penelope: Greek food at booth C9
•  Lajkonik: Polish food at booth F6
•  Café Francais: French cuisine at booth F18
•  Arslan's Grill: Bosnian food at booth F17
•  Sema Foundation: Turkish cuisine at booth F21
African food
•  NEW — Masri: Egyptian foods like Koshary, the national dish of Egypt at booth F39
•  NEW — Nur Market and Restaurant: East African and Somali cuisine at booth F15
Asian and Pacific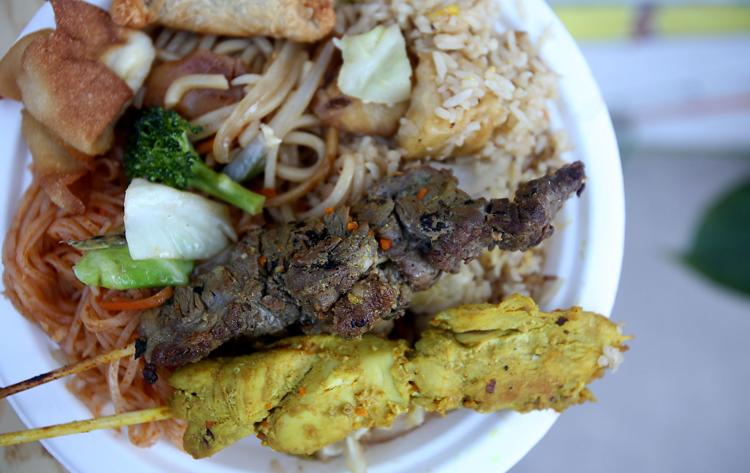 •  Saffron Indian Bistro: Indian food at booth F10
•  New Delhi Palace: Indian food at booth C8
•  Thri Ratana Buddhist Temple: at booth F14
•  Wat Buddhametta: Thai food at booth F3
•  Takoyaki Balls: Japanese octopus snacks at booth F48
•  Laos Academic Organization: at booth F46
•  Vietnamese Students Association: at booth F40
•  Filipino American Students Association: at booth F23
•  Filipino American Sampaguita: at booth F43
Latin American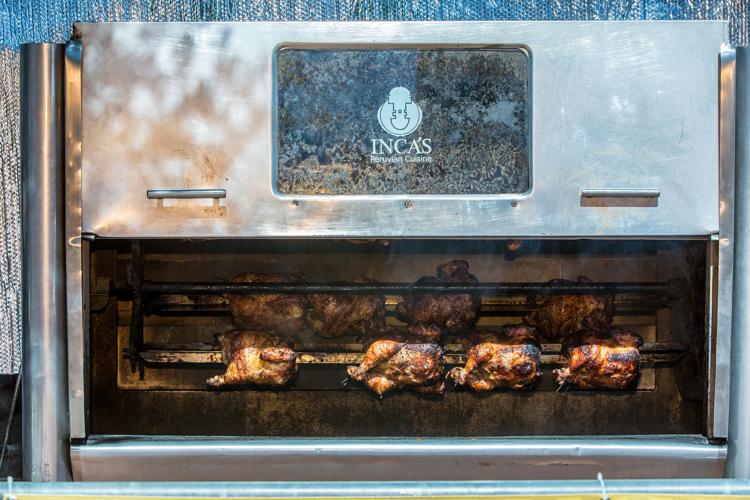 •  NEW — La Fondita Chilena: Chilean food at booth F16
•  Inca's Peruvian cuisine: at booth F19
•  Ricuras de Venezuela: at booth F53
•  Club Costa Rica: at booth F4
•  Club Colombia:at booth F7
Caribbean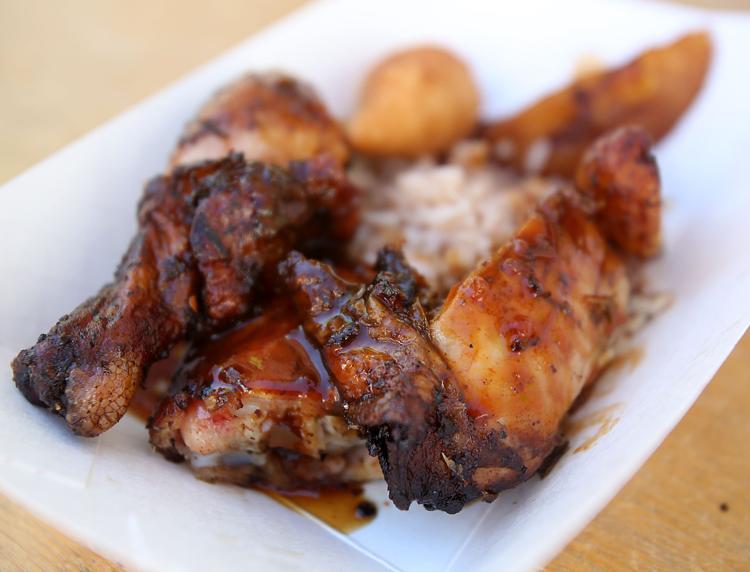 •  CeeDee's Jamaican Kitchen: at booth C6
•  D's Island Grill: Jamaican food at booth F12
•  Safe Mission: Jamaican food at booth F45
• Patricia's Cuban Kitchen: at booth F8
•  Caribbean Soul Cuisine: Virgin Islands cuisine at booth F38
Mexican food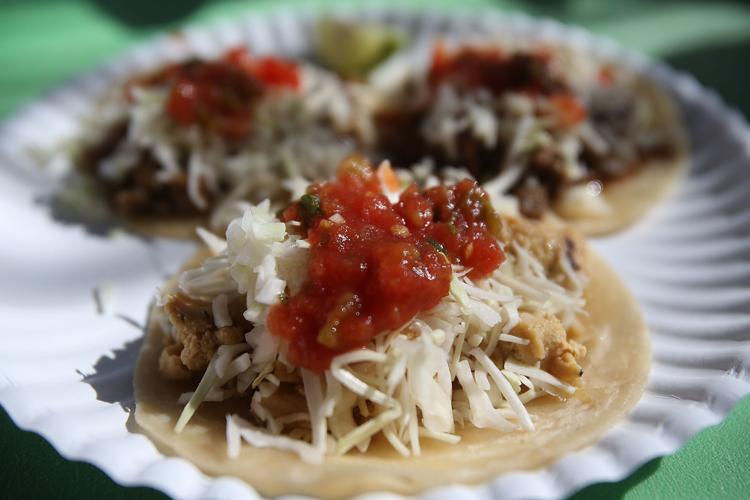 • NEW — Holy Toledo Oaxacan mole: at booth F44
• NEW — Mariscos Chihuahua: at booth C10
• NEW — BK Tacos: at booth C4
•  El Taco Rustico: at booth F13
•  Matilde's Sonoran Kitchen: at booth F26
•  Santa Cruz Church/Little Mexico: at booth F5
•  Los Chiquilines: Aguas Frescas at booth F49
Native American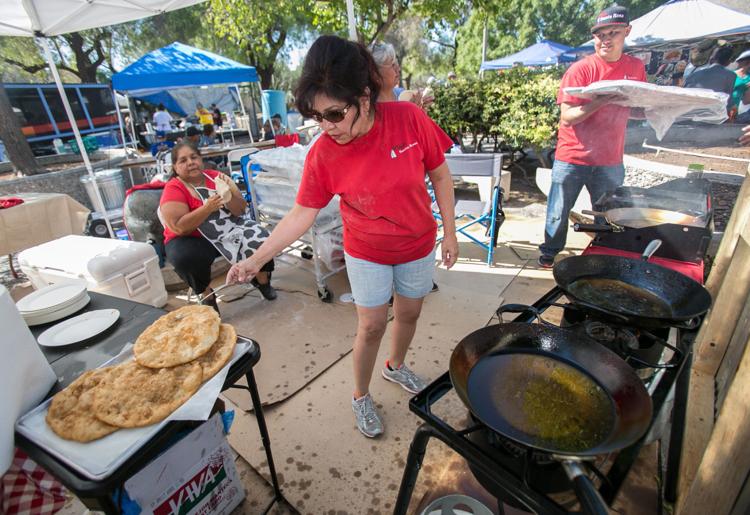 • NEW — San Xavier Co-op Farm: cholla bud salsa, mesquite cookies and more at booth F35
• Café Santa Rosa: at booth F50
• Yoeme Barrio Libre: at booth F11
• The O'odham Ladies: at booth F25
• San Ignacio Yaqui Council: at booth C7
African American soul food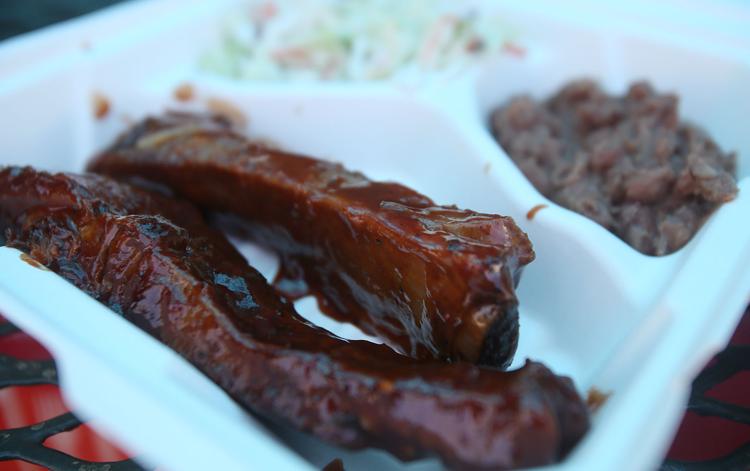 • Gethsemane Cogic Women: at booth F36
• Mama Carey's Catering: at booth F24
Regional American food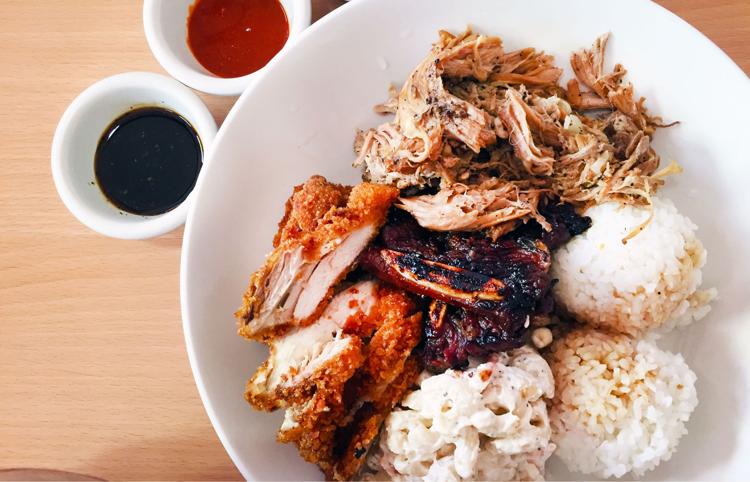 • NEW — Solid Grindz: Hawaiian food at booth F9
• NEW — Off The Hook Seafood: New England and Southern food at booth F37
• Tucson Invitational Games: Ballpark Foods at booth C5
• Mr. Tri Tip: Santa Maria Style at booth F1
World street snacks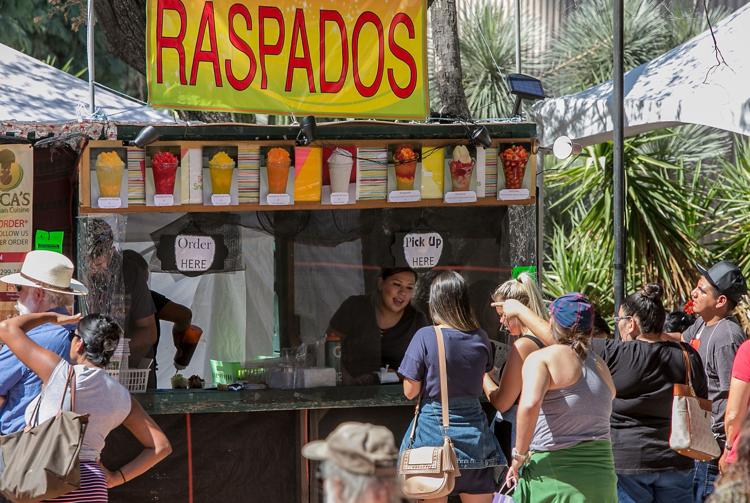 • Sonoran Sno Cones: raspados at booth F34
• The Corn Roasters: at booth F51
• Frost Gelato: at booth F54
• KoolTwists: soft serve ice cream at booth F52
• Hawaiian Shave Ice: at booth C1
• J's Kettle Corn: at booth C3
• Just Churros: at booth C2
• Fruitshack Smoothies: at booth F55
• Lil' Orbits: donuts at booth F20
---
The 45th annual Tucson Meet Yourself Folklife Festival — Oct. 12-14, 2018 in Jácome Plaza and the streets surrounding the downtown library — features all this delicious food PLUS amazing performers, folk artists, exhibits, and activities for all ages.