If you can get a table, there's a universe of ramen to explore at Tucson's first ramen house. Raijin Ramen opened this Tuesday on Speedway, and the place has been packed ever since.   
With nine varieties of ramen on the menu including white miso and black roasted garlic tonkotsu, it's easy to see why Raijin has become an instant hit. The casually intimate space that once was Saga Sushi is now a full-service restaurant. The sushi bar has been knocked down and more tables sit in its place; There's no sushi on the menu here ... just ramen and fried bites like calamari and takoyaki octopus balls.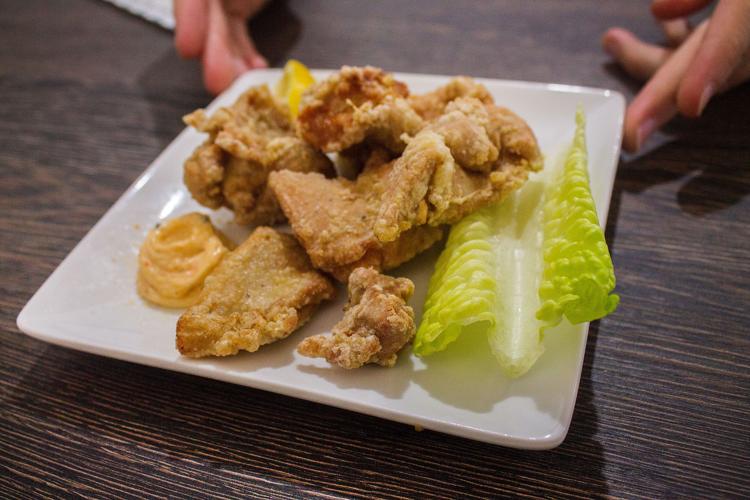 Raijin Ramen is owned by Jun and Diana Arai of the east-side izakaya Ginza Sushi. Jun began his ramen journey at a ramen restaurant in the Nagano Prefecture outside his former home of Tokyo. At Raijin, which he named after the Shinto god of thunder, he wants to explore regional ramen varieties that you can't get anywhere else in Tucson. 
We hit the place up for lunch this week and tried a few of the ramen bowls on the menu. The main draws here are the pork tonkotsu and miso varieties, which come in both regular and spicy varieties.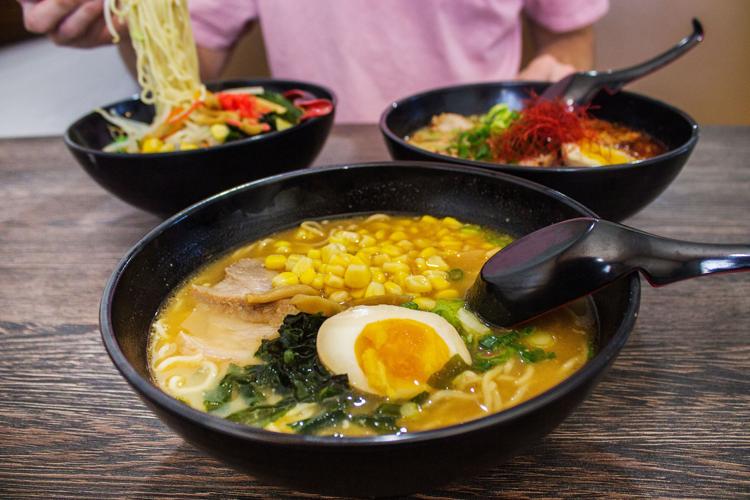 Underneath the ramen eating instructions — "1. Chopsticks only. Forks are for amateurs!" — you'll see more varieties such as shoyu ramen, chicken and seafood. Look closely at the bottom right corner of the menu and you'll see a list of extra ingredients like bamboo shoots, chashu pork and spicy garlic. Just say "Kae Dama" and you can even get a refill on your noodles ($2.50). 
Folks who like bold flavors will be instantly drawn to the spicy tonkotsu with that signature peppery broth with a milky consistency that comes from boiling down pork bones. (Pictured up top.) It's interesting to note that Raijin has two different styles of ramen noodles: a curly bouncy variety and a thinner straighter version that you'll find in the tonkotsu. Our server told us that Raijin is working toward making its own fresh noodles in the future.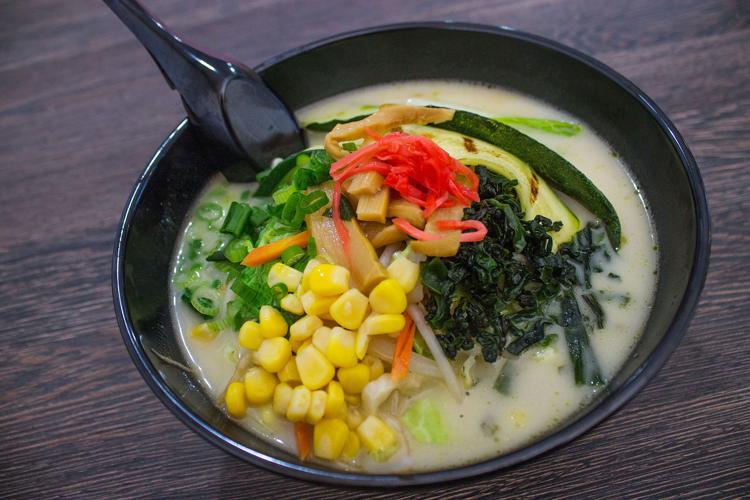 Surprisingly, the veggie ramen turned out to be one of our favorites. (Yes, it's vegan!) The broth was unusually savory despite its lack of meat. We later found out that it gets its cloudiness from soybeans, which impart a flavor reminiscent of milky tofu. The vegetables retained a bit of crispness, giving the soup a clean, fresh taste that was satisfying without being too heavy. 
Raijin Ramen also has a small list of small donburi rice bowls that vary from the crowd-favorite karaage fried chicken to more obscure salmon and spicy cod roe. The restaurant also serves beer, wine and sake as well as Ramune and Calpico juices, soda and more. 
Raijin Ramen is located at 2955 E. Speedway. 520- 795-3123. Hours are 11 a.m. to 3 p.m. and 5 to 9 p.m. Tuesdays through Saturdays, and 4 to 9 p.m. Sundays. Closed Mondays.