When we first scheduled our fall coverage of new restaurants, we were initially waiting for The Delta (The Parish's sister restaurant) to open downtown. While they report on Facebook that they are opening in the next few weeks, a bevy of new restaurants opened in the meantime! We couldn't delay any longer.
There are still a number of highly anticipated new restaurants on the horizon, from By The Bucket to the Mt Lemmon Coffee Bean. As we wait, here are 16 exciting new places to check out!
8 Degrees
Tucson has ice cream weather year-round. Yet, I can count the number of local ice cream joints on my hands! We can always use more.
8 degrees adds its own twist to the ice cream parlor model by baking their own cookies on site, from classic peanut butter or chocolate chip to innovative flavors like churro, birthday cake or pumpkin. For $7.50 they'll make you an ice cream sandwich big enough to share!
Location: 4320 N. Campbell Ave.
Hours: Monday-Tuesday, 12-10 p.m. | 12-11 p.m. Wednesday-Friday | 11 a.m. to 11 p.m. Saturday | 11 a.m. to 10 p.m. Sunday
For more info, check out their website.
Acai Paradise
While much of Tucson is polka-dotted with acai bowl joints, Acai Paradise is bringing the superfood to the south side.
Remember when I included acai bowls as one of my favorite Tucson foods under $8? Here they have a few more options under that price point than most acai places, including two acai bowls, a mango bowl and a robust smoothie list. Most options, though, are between $8-10, including pitaya bowls and the more elaborate acai offerings.
Location: 3253 E. Valencia Road
Hours: Monday-Saturday, 7 a.m. to 9 p.m. | 9 a.m. to 9 p.m. Sunday
For more info, check out their website.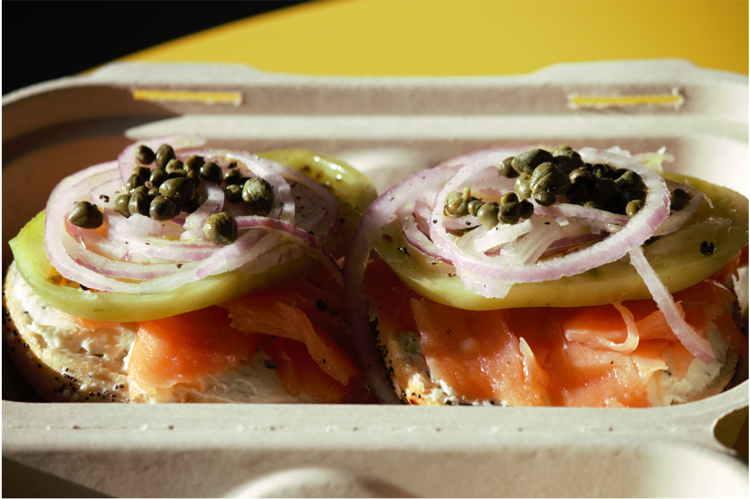 Bubbe's Bagels
I have already raved about Bubbe's Bagels. As one of many east-coast expats in Tucson, I cried tears of gratitude the first time I bit into their bagel with lox (and the works, from then-perfectly ripe tomatoes to capers and red onions).
Their fermented bagels have an idiosyncratic grain impossible to find at most chains and grocery stores, with a marvelously toothy bite. With the absence of The Bagel Joint as they look for a new location, Bubbe's has become the go-to for many bagel lovers in Tucson.
Location: 1101 N. Wilmot Road
Hours: 7 a.m. to 2 p.m. daily | Closed Monday
For more info, check out their website.
Buendia Breakfast and Lunch Cafe
Asian Sofrito closed at the end of August, and Buendia Breakfast and Lunch Cafe quietly filled the space, opening on Nov. 2. While Tucson is blessed with a bounty of Mexican restaurants, Buendia is bringing Mexican flavors to a brunch setting.
The brightly-colored decor is almost as fun as their secret spice "Alegria!" bottled in opalescent rainbow shakers. Standouts from their social media include a "Pastel de la Galleta" (Mexican cookie cake), Cafe de la Olla made with EXO Roast coffee, and the impossibly bright green salsa on their roasted poblano pepper.
Location: 2530 N. First Ave.
Hours: Tuesday-Saturday, 8 a.m. to 3 p.m. | 8 a.m. to 2 p.m. Sunday | Closed Monday
For more info, check out their Instagram.
Davison Meats
Davison Meats started as a small, family-run butcher shop in southeast Arizona, processing local ranchers' beef into custom cuts. Cattle ranchers themselves, the Davison family recently expanded their butchery to a storefront on Ina.
Their mission is to offer prime (highest-grade) beef and pork products at an affordable price. They offer three bulk butcher boxes ranging from a $137 Weekend Griller with four ribeyes, four "YaYa" burgers, four handmade bratwurst, and a rack of ribs to a $600 Freezer Filler, whose price does not include the new fridge you'll need to store 24 steaks and 20 pounds of ground beef, just for starters.
Location: 3840 W. Ina Road Suite #100
Hours: Monday-Friday, 9 a.m. to 7 p.m. | 9 a.m. to 6 p.m. Saturday | 10 a.m. to 5 p.m. Sunday
For more info, check out their website.
Ding Tea
Ding Tea is a new milk tea bar on Speedway, offering drinks from fruity Yakult probiotic slushes to classic brown sugar milk teas. Everything is customizable, from the specific creaminess and sweetness of each drink to a wide array of toppings, from smooth bricks of rainbow jelly to umami cheese foam.
While Ding Tea is an international chain, the franchisees running our new location are lifelong Tucsonans with a passion for milk and bubble tea, who sampled products from every chain before landing on Ding.
Location: 2739 E. Speedway Blvd.
Hours: Sunday-Thursday, 11 a.m. to 9 p.m. | Friday-Saturday, 11 a.m. to 10 p.m.
For more info, check out their website.
Fiesta Filipina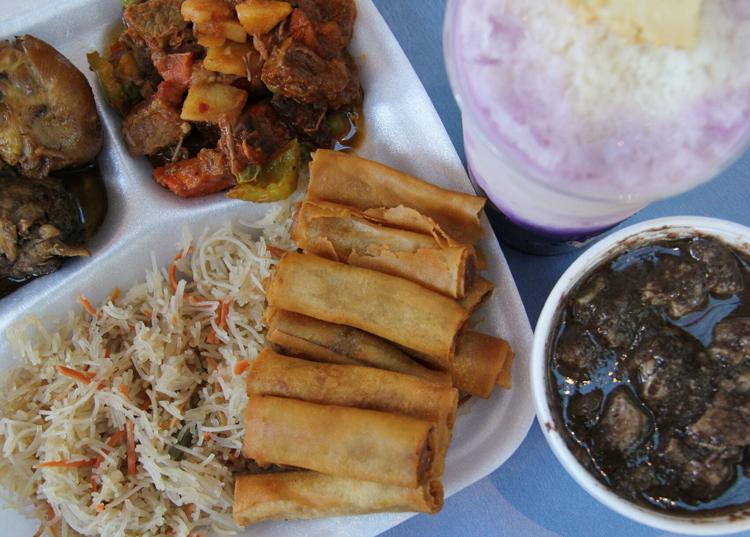 My editor, Gloria Knott, had a blast writing this article about Fiesta Filipina. Growing up with a Filipino grandmother (lola), Gloria has always been on the lookout for good lumpia in town and was truly ecstatic to find some in Park Place Mall, of all places.
While New York and other metropolitan cities have upscale food courts that they rebrand as "food halls," I love that Tucson's malls are reclaiming the food court for our people. Thanks to local proprietors like Thelma Ward, everyone can stop by Park Place and try a cuisine that's hard to find around town. How cool is that?
Location: Park Place Mall
Hours: Monday-Thursday, 11 a.m. to 7 p.m. | Friday-Saturday, 11 a.m. to 8 p.m. | 11 a.m. to 6 p.m. Sunday
For more info, check out their Facebook.
Flaps and Racks
In case you're wondering, the eponymous flaps and racks refers to Buffalo wings and barbecue ribs. The double-entendre refers to airplane parts, a nod to the Puerto Rican owners' connection to Tucson (they both worked at the Tucson International Airport after immigrating from the Caribbean). Decadent!
From the model they use to advertise for new job openings (and their twin locations), it seems like Flaps and Racks is the more indulgent sister restaurant to Acai Paradise. Between the two, they cover the full spectrum of treats. Whether you're in the mood for a fresh-pressed juice or to slather your face in barbecue sauce, they have you covered.
Location: 3253 E. Valencia Road
Hours: 10 a.m. to 9 p.m. daily
For more info, check out their website.
The Jackrabbit Lounge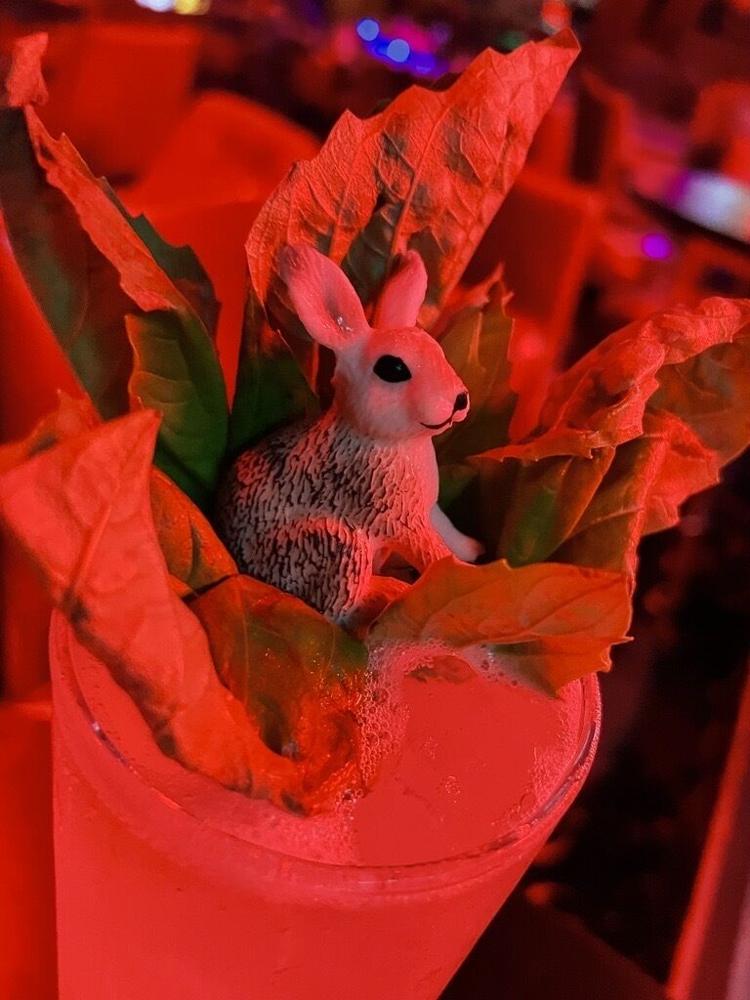 When I saw The Jackrabbit Lounge's address on Oracle, I assumed it was the bougie part near The Parish and other Oro Valley institutions. Visiting in person, I realized the bar has a different aim: bringing back the roaring 60s of the Miracle Mile-adjacent Oracle.
The interior is replete with red leather. They offer tables with safety guards and silver poles for dancing. Custom neon abounds, from galloping rabbits on one end of the bar to a dancing lizard advertising Fernet-Branca near the pool tables.
One wall is plastered in posters of retro pinup girls, all local servers at bars on Fourth Avenue. The bathrooms, meanwhile, are covered in vintage liquor ads, which also frequently picture beautiful women. So it's Instagrammable, even without the hallway of circle lights and fun patterned wallpapers.
The food and drink menus recall tiki bars like Trader Vic's, without the appropriative memorabilia. The cartoon-sky blue Blue Hawaiian tastes like a tropical vacation, though I prefer the perfectly herbal and refreshing signature Jackrabbit, made with basil vodka and topped with fresh herbs and a Children's Book of Bible Verses bunny figurine.
If your value criterion is style, you're going to fall for this place.
Location: 2000 N. Oracle Road
Hours: 4 p.m. to 2 a.m. daily
For more info, check out their website.
Little Love Burger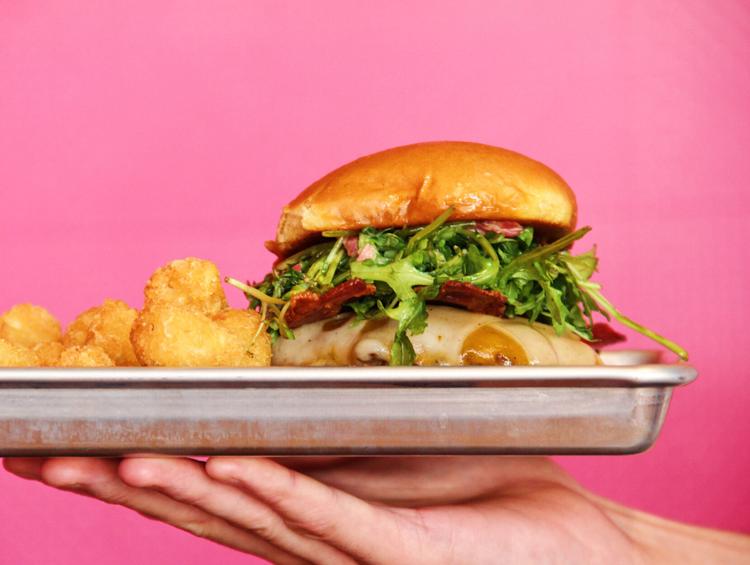 This all-day burger joint also offers breakfast and chicken sandwiches, each with a cutesy, love-themed name. (The kids' menu is, memorably, called "puppy love.") It's run by the masterminds behind the Hub empire downtown, and is the precursor to Love Burger, a 16,000-square-foot property under construction just off Fourth Avenue.
Pro tip: Little Love Burger is owned by the same group that just reopened Good Oak Bar, right next door. Dinner and a drink, anyone?
Location: 312 E. Congress Street
Hours: Sunday, Tuesday-Wednesday, 8 a.m. to 9 p.m. | Thursday-Saturday, 8 a.m. to 10 p.m. | Closed Monday
For more info, check out their website or our past coverage.
Mali Thai
After decades of being deprived of Thai food, Oro Valley gained two spots in 2021. While Tuk Tuk Thai expanded a second location of its street food to Oracle Road, Mali Thai brings a more conventional Thai menu to Rancho Vistoso. I haven't been able to get up there yet, but I'm always on the lookout for a great Thai place. From their Google photos, their soups and generous garnish look especially promising.
Location: 12142 N. Rancho Vistoso Blvd. #120
Hours: 11 a.m. to 3 p.m. daily | Sunday-Thursday, 5-8:30 p.m. | Friday-Saturday, 5-9:30 p.m.
For more info, check out their website.
Perche' No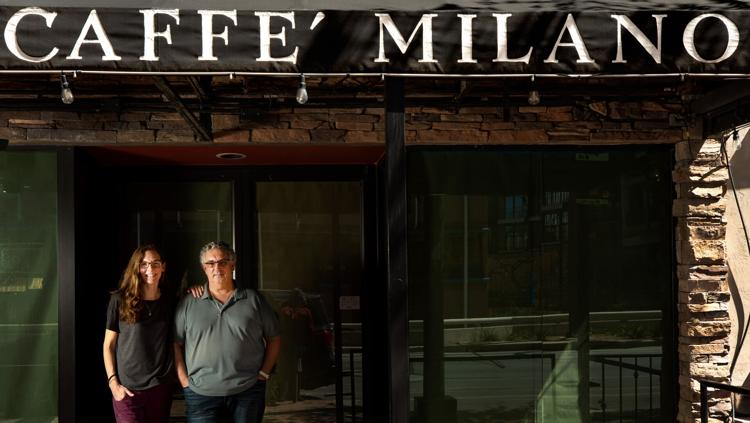 The classic Italian bistro is a post-retirement project of a seasoned restaurateur from the Pacific Northwest. Its name comes from the Italian phrase for "Why not?" a phrase that inspired the project. It fills the downtown space emptied by the loss of Caffe Milano last year.
When researching for this article, I was caught off guard by Perche' No's all day happy hour. (A slight misnomer, it runs from 11:30 a.m. to 2 p.m. and from 4-6 p.m.) The bistro offers many of their soups, salads, flatbreads and a pasta dish for at or under $8. I didn't understand how they could make a profit. Their dinner menu is priced more sanely, but if I worked near Congress Street, I'd take advantage of their lunch specials regularly.
Location: 46 W. Congress Street
Hours: 11:30 a.m. to 2 p.m. and 4-9 p.m. daily | closed Sunday-Monday
For more info, check out their website.
Sito's Fresh Market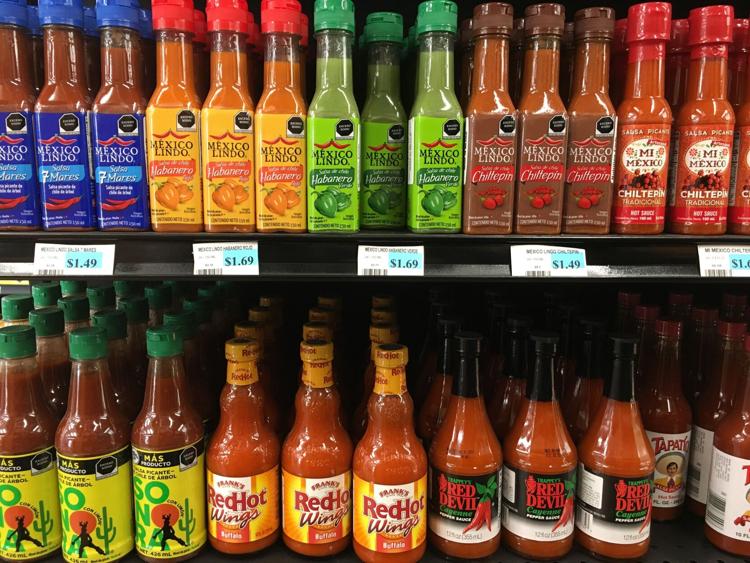 At Sito's Fresh Market, every item on the shelves is cultivated with care and love for Mexican ingredients. They offer three brands of flour tortillas — the ones the owner likes best. They come from Don Juan and Bryan's tortillerías on South Fourth, as well as ANY Tortillas from Douglas.
The hot sauces and spices are similarly hand-selected: petite bottles of hot sauce represent any chile you can think of (especially chiltepin). The wall of El Guapo and El Jalisciense spices is the most prolific I've seen. Do you know what sulfur and diabetin are used for? What about a spice mix called Seven Blossoms? I don't, but I'm sure the incredibly kind people behind the counter would be happy to help.
On weekends, they'll grill the carne for you! And they offer homemade breakfast burritos starting at 7 a.m.
Location: 2545 E. Speedway Blvd.
Hours: weekdays, 10 a.m. - 8 p.m. | weekends 6 a.m. to 8 p.m. | They're still finalizing their hours, so call to check.
For more info, check out their website or call 520-389-3597
Tacos del Rancho
While tacos are the name of the game at Tacos del Rancho, from their promotional pictures, it seems like their entrees are true standouts. From their creamy Chile en Rajas to this mystery menu item (perhaps the arrachera or paquete del rancho), I'm desperate to head over and check out their full menu!
Their location near The Parish offers a polished yet stripped-down interior, exactly what you'd picture when you think "a taco shop, but in Oro Valley."
Location: 6421 N. Oracle Road
Hours: Monday-Friday, 8 a.m. to 10 p.m. | Saturday-Sunday 7 a.m. to 10 p.m.
For more info, check out their website.
Thunder Bacon Burger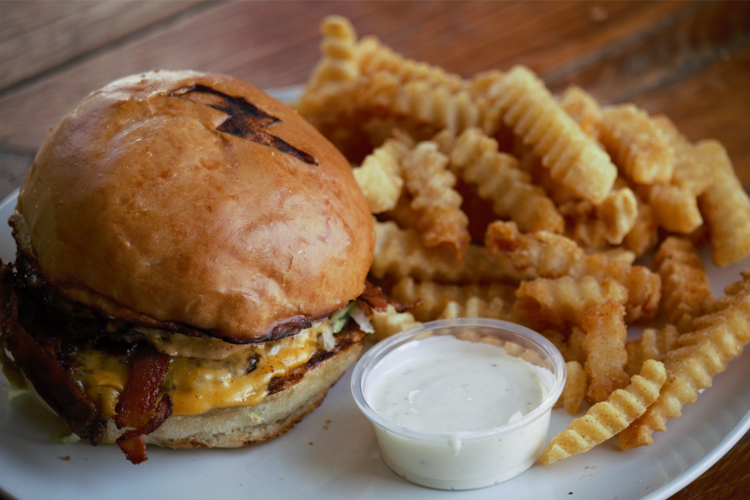 Okay, I need to come clean about something. I don't really like bacon that much. I find it to be overused to kick mediocre menu items up a notch.
But just because I don't have a soft spot for the candy of meats does not preclude me from appreciating when bacon is done right, and Lindy Reilly does it right. The bacon is perfectly crispy and cooked down until the fat has practically caramelized. No trace of the stringy chewiness I dislike about bacon remains.
Every one of the imaginative burgers at Thunder Bacon Burger — Lindy Reilly's burger joint on Fourth Ave. — features this precious ingredient. I imagine you could ask for a burger without it, but why would you?
In the torrential downpour of new restaurants this fall, it's easy for even a special place to fly under the radar. Get out there and show this Tucson institution some love!
Location: 621 N. Fourth Ave.
Hours: Tuesday-Thursday, 11 a.m. to 9 p.m. | Friday-Saturday, 11 a.m. to 10 p.m. | 11 a.m. to 5 p.m. Sunday
For more info, check out their website or our past coverage.
Wow Wow Lemonade Stand
When I first heard about a lemonade stand franchise opening in Oro Valley, I was suspicious. Lemonade stands are synonymous with upscale suburbs and chirpy elementary schoolers learning the value of a dollar. Why would anyone in Oro Valley deprive their neighborhood kids of this experience?
Then I researched the restaurant and saw Wow Wow's roster of creative acai bowls. I was almost instantaneously convinced. From the magenta pitaya bowl to the mossy Tropikale or cotton candy Blue Hawaiian, these bowls look as nourishing as they are downright Instagrammable.
In addition to acai and lemonade, they also offer a selection of healthy-ish toasts and flatbreads.
Location: 7705 N. Oracle Road
Hours: Monday-Saturday, 8 a.m. to 7 p.m. | 8 a.m. to 6 p.m. Sunday
For more info, check out their website.