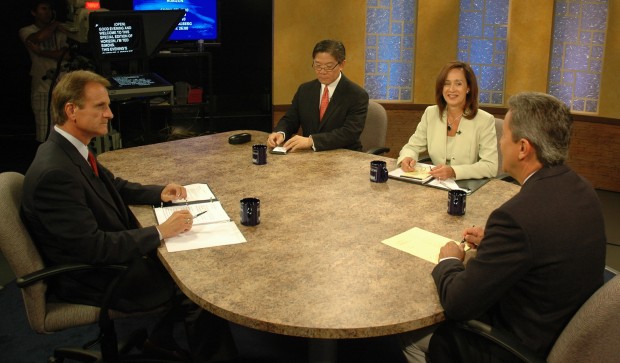 PHOENIX - Two of the Republicans who want to be state utility regulators are giving a cool reaction to a proposal by a third to deny electric, gas, telephone and water service to illegal immigrants.
"I think what we need to do is seal our borders, stop them from coming here, and we won't have that issue to begin with," said candidate Brenda Burns.
And Gary Pierce, an incumbent on the Arizona Corporation Commission looking for another four-year term, said he fears that utilities will demand higher rates from everyone else to cover the cost of checking the credentials of those who want services.
But Barry Wong, hoping to get nominated for the two seats up for grabs on the five-member commission, refused to back down from the idea he first proposed late last month.
"We have to send a message to the illegal population: If you come to Arizona, you may not have utility hookup," he said during a televised debate Tuesday evening. "Maybe that'll discourage some of them from coming here."
Burns said the idea is flawed, especially if Wong wants it implemented by the commission.
She pointed out the commission does not have authority over all utilities. Those run by municipalities are exempt, as is the Salt River Project.
"It's unworkable," Burns said.
Pierce had similar objections. He said if illegal immigrants are to be denied services, the Legislature should set that policy so it applies both to utilities regulated by the commission and those that are not.
Without that, Pierce said, having the commission impose such a mandate on only the companies they regulate would set up "sanctuary utilities, where some in the state have one guideline, others in the state have other guidelines."
Pierce also envisioned some financial drawbacks to such a plan.
One is that utilities regulated by the commission are entitled to recover their costs from ratepayers. And he said the companies, to avoid appearances of racial profiling, would have to check the documents of each customer.
He said those costs eventually would be built into the rates of everyone else.
Wong, however, said he believes a case can be made that illegal immigrants drive up costs, as utilities have to either build new facilities or buy power from others.
"The illegal population does have an impact on rates," Wong said.
He said the ideal plan would deny new power hookups to those who cannot produce documentation proving legal presence in the country. The possibility of forcing utilities to go out and demand such information from existing customers is "a tougher question," Wong said.
After the debate, he said he is not trying to have the Corporation Commission create its own version of the immigration law known as SB 1070. "(This is) not to turn over anybody to law enforcement, not to catch anybody and give them to Immigration and Customs Enforcement or give them to local police," Wong said.
SB 1070, set to take effect later this month unless blocked by a judge, includes some mandates on police to check the status of suspected illegal immigrants.
Wong, who previously served on the commission for six months as a replacement to fill a vacancy, also said there is no need to wait for the Legislature to set some sort of statewide policy. He said the commission has inherent constitutional authority to deal with anything that affects rates.
The two Republicans who get the most votes in the primary will face off against the two Democrats who win their party's nomination. There are two seats up, one which Pierce currently occupies and the other being vacated by Kris Mayes, who cannot seek a third four-year term.
Coverage of the Democrats' debate in the Corporation Commission race.