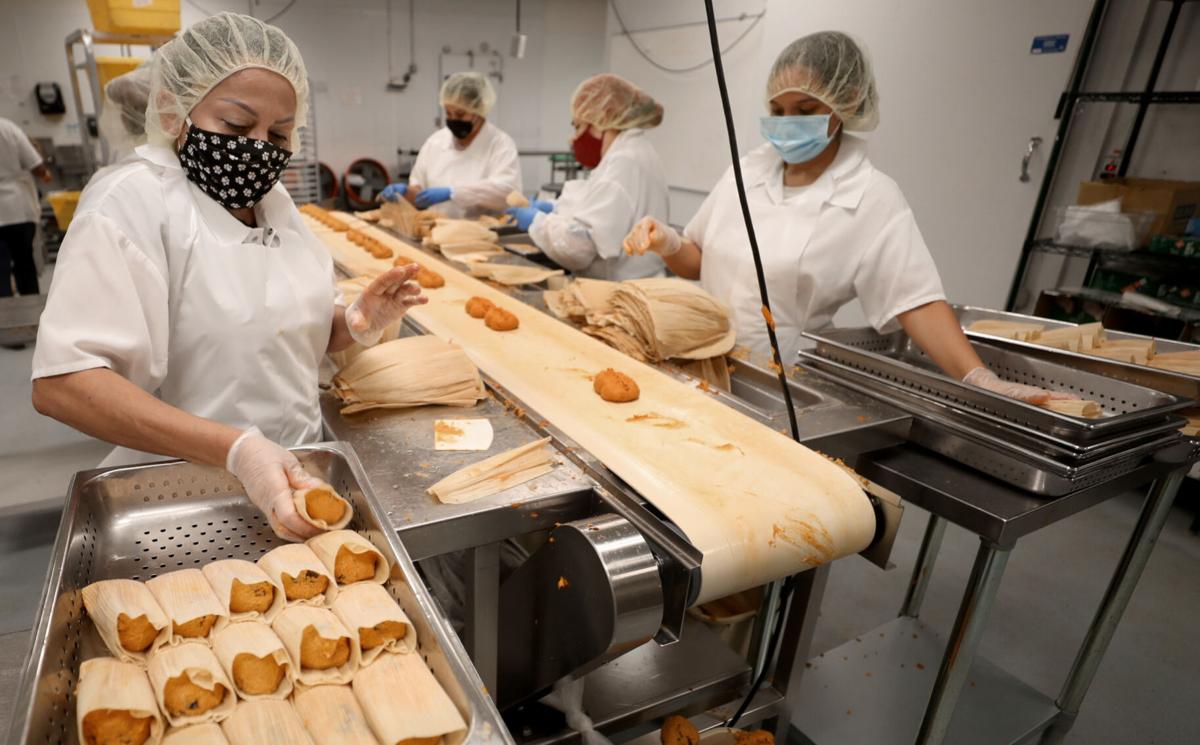 Todd and Sherry Martin have been shipping tamales around the country for years.
An upcoming shipment for the couple's business, Tucson Tamale Company, will place their top-selling green corn tamales in front of buyers for Walmart for a chance to land on shelves of the big box store.
Twelve years after opening their first restaurant in the Old Pueblo, Tucson Tamale Company has been invited to pitch to Walmart buyers as part of the Open Call program, which seeks to boost job creation and U.S. manufacturing by partnering with small- and medium-sized businesses.
Winners will secure deals ranging from being placed in a handful of local stores to supplying hundreds of stores and Sam's Clubs, as well as walmart.com.
Landing a distribution deal with Walmart would help the Martins continue to expand their business, something the couple has been doing rather successfully within the last several years following a calculated plan that called for slow, intentional growth.
"From the beginning, we had a goal of being a nationally branded product, but our approach was different than many national products, which go out and raise money to get distribution quickly," said Todd Martin.
The couple dedicated the first two years to figuring out whether they had the right recipes and ingredients in place.
They also took the time to learn about the importance of product positioning, changed up their packaging, updated branding and servings. They also connected with seasoned business advisors.
It wasn't until 2015 that Tucson Tamale Company opened a production facility in midtown Tucson, and that's when business really revved up.
"That's when we started the national push," Todd Martin said. "From there we went from being in 30 stores four years ago to 3,000 today."
You can find the company's frozen tamales in Sprouts, Natural grocers, Safeway and Kroger.
"It's awesome," said Sherry Martin. "It feels like we're ambassadors for Tucson because our tamales are in every state, even Hawaii and Alaska. We're also in the Dominican Republic. Before COVID, we were getting ready to go into Canada, but that's been delayed."
Now, Tucson Tamale Company is one of 14 Arizona businesses — and one of nearly 850 nationwide — selected to participate in Walmart's Open Call program. They were selected out of about 4,800 companies that applied.
It's an opportunity that the Martins say they wouldn't have been ready for out of the gate.
"We've tried to measure our growth and put the necessary pieces in place," Todd Martin said.
Typically, Open Call participants would fly into Walmart's headquarters in Bentonville, Arkansas, getting the opportunity to network with hundreds of other businesses, pitching their products to buyers live and taking part in various workshops.
This year's Oct. 1 event will be virtual due to COVID-19. Aside from the top prize, the Martins are looking forward to gaining insight from the corporate giant that is Walmart through workshops and Q&A sessions, before they make their 30-minute pitch.
"It's really about learning how a company like Walmart operates," said Todd Martin. "It's a whole different level."
The couple hopes to learn more about how Walmart is expanding its e-commerce presence, how to be a good supplier and how to stand out amongst thousands of products online.
Meeting changing needs and buying habits is something Tucson Tamale Company has experienced first-hand during the COVID-19 pandemic.
Though the wholesale business has grown, business has slowed significantly at Tucson Tamale Company's two restaurants, 7159 E. Tanque Verde Road and 7286 N. Oracle Road.
Like many businesses, Tucson Tamale has pivoted, still doing a lot of takeout, but also increasing its frozen takeout offerings.
Reheatable menu items in the works include Mexican soups like chicken tortilla, posole and chili; red and green chili sauces; mac and cheese with a Mexican flare — think jalapeño and green chile; roasted chicken with a Yucatan flavor; and enchiladas.
When customers come to pick up orders or frozen meals, they'll also find a market, with local items like hot sauces, Mexican chocolate and other snacks.
"It's pretty exciting because everyone had to shift and get creative because of COVID and customers are really liking the availability of items," Sherry Martin said.
For the Martins, despite how big of a reach they now have, it always circles back to Tucson.
They're greatest feat during this unprecedented time has been keeping their employees — about 45 at their production facility and about 20 between their two restaurants — on the job and without any coronavirus incidents.
The boxes on store shelves share who the tamales were handmade by with employee signatures.
"I can say with confidence that this is the best team we've ever had," Sherry Martin says. "We look out for each other — there's a sense of responsibility, more so now, of keeping each other safe."
That connection extends to the community.
"We chose the name Tucson Tamale because of our affinity for Tucson," Todd Martin says. "We wanted that connection and to celebrate who Tucson is and for the rest of the nation to see that."