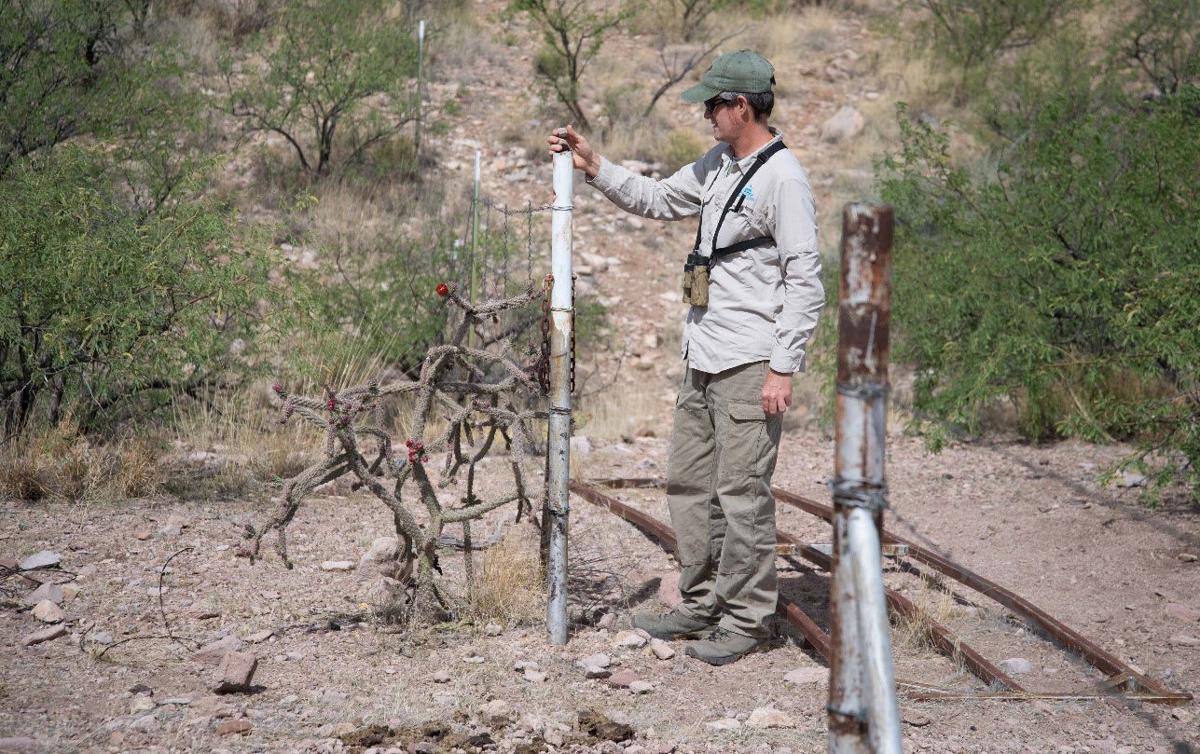 U.S. Fish and Wildlife Service employee Emily Clark said she never really noticed the pipe problem until she started researching its tragic impact on birds and other animals.
Now she sees the death traps everywhere she looks, from the open roof vents on pit toilets to the parking lot bollards at a local park.
"Any open vertical pipe is a potential source of mortality for birds and other wildlife," Clark said. "It's a terrible death."
The openings attract curious birds, especially cavity-nesting species. But once they're inside, they can't grip the walls to climb back out or spread their wings to fly. Unless they are rescued somehow, they will struggle at the bottom of the pipe until they die of thirst, starvation or heat exhaustion.
Clark is the communications and partnerships specialist for the Sonoran Joint Venture, a coalition of nonprofits and government organizations dedicated to protecting birds and their habitat in the southwestern U.S. and northwestern Mexico. She and others are trying to get the word out about the problem of open pipes.
"It's still a hidden issue. A lot of biologists and conservationists are familiar with it, but a lot of other people haven't heard about it," Clark said. "One of the biggest things is trying to let people know that it is an issue."
Potential threats include fence and sign posts, bollards, irrigation pipes and the vents on septic tanks and building roofs. Any vertical pipe with smooth walls and an opening between 1 inch and 1 foot wide can trap birds and other wildlife.
At least a million birds nationwide die in uncapped pipes each year, according to the American Bird Conservancy, a nationwide nonprofit that has been raising awareness about the problem and pushing for action since 2012.
Ian Murray, who manages Pima County's ecological monitoring program, said he once found six dead birds in a single pipe.
"It's a widely unappreciated source of mortality in birds," the conservation biologist said. "People don't realize it's even a problem."
But anyone who drives around Southern Arizona's vast range lands can see how ubiquitous the threat is, Murray said. Most ranch gates have two metal pipes on each side, and many of those pipes are uncapped.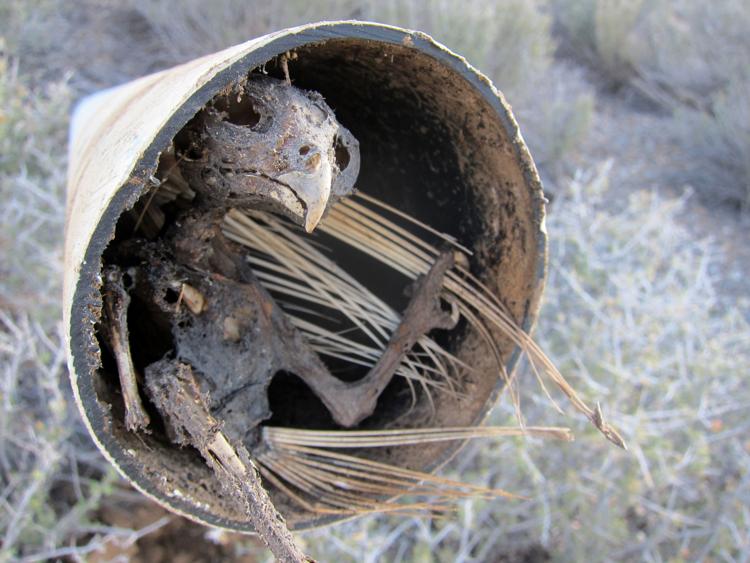 "That's a lot of death traps," he said.
In Nevada, the primary threat comes from hollow plastic pipes used to mark mining claims. By some estimates, several hundred thousand such uncapped pipes still dot the Silver State, despite state laws outlawing their use and allowing people to knock them down on public land. Wildlife officials there have found several dozen bird carcasses in a single pipe.
Mine markers aren't as big a problem in Arizona, but they still pose a threat, Clark said.
"In Pima County alone, there are over 5,000 active mining claims. If only half of those are (marked with) open PVC pipes, that's still a significant number," she said.
Open ventilation pipes on pit toilets are also a hazard — so much so that a bird rescue organization in Wyoming has designed an easy-to-install screen it distributes to land and forest management agencies across the country. Since 2013, the Teton Raptor Center has distributed 15,445 screens to 583 partners in all 50 states, Canada, and the U.S. Virgin Islands, according to Jess Schonegg, a rehabilitation assistant and the coordinator for the rescue group's Poo-Poo Project.
In an email, Schonegg said his group has sent screens to a number of sites in Southern Arizona, including Coronado National Monument, Saguaro National Park, Fort Bowie National Historic Site, Chiricahua National Monument and the Bureau of Land Management field offices in Tucson and Safford.
Clark said the most common victims of open pipes in Southern Arizona include ash-throated flycatchers, brown-crested flycatchers, Bewick's wrens, northern flickers and other woodpeckers, western bluebirds, western screech owls and American kestrels.
Reptiles, small mammals and insects also get trapped in open pipes.
About two years ago, Clark was walking her dog along the Arroyo Chico Wash when she noticed a large number of uncapped bollards. It was too dark to see anything inside the hollow metal pipes, she said, but in a riparian setting like that, it's probably safe to assume that at least a few birds met their deaths there.
Clark said the Regional Flood Control District deserves credit for its quick response to the problem. She guessed there were more than 100 open pipes in the park, and flood district crews had all of them capped within a few weeks of her reporting them.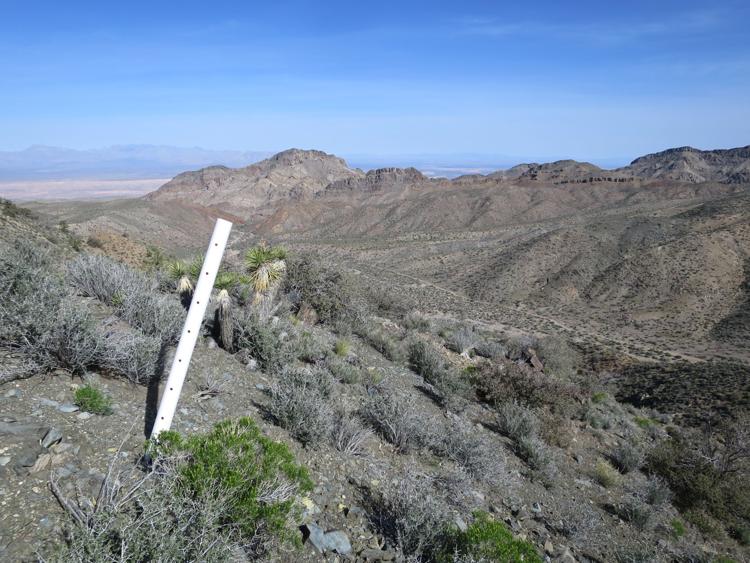 Murray said county workers aren't being sent into the field specifically to search for open pipes, but they try to cap or fill the ones they come across on county-owned land. "Hopefully over time we'll chip away at them one by one, but there are a lot more of them out there, and private land is private land," he said.
No one has a definitive estimate for how many of these hazards remain in Southern Arizona, but here's the good news, Clark said: Once you know what to look for, the fix is as simple and controversy-free as attaching a cap or filling in the pipe with a handful of rocks.
"Unlike a lot of the bird conservation issues that we face, this one has an easy solution," she said. "Nobody wants to see birds and other wildlife needlessly suffer in these open pipes."
Contact reporter Henry Brean at hbrean@tucson.com or 520-573 4283. On Twitter: @RefriedBrean