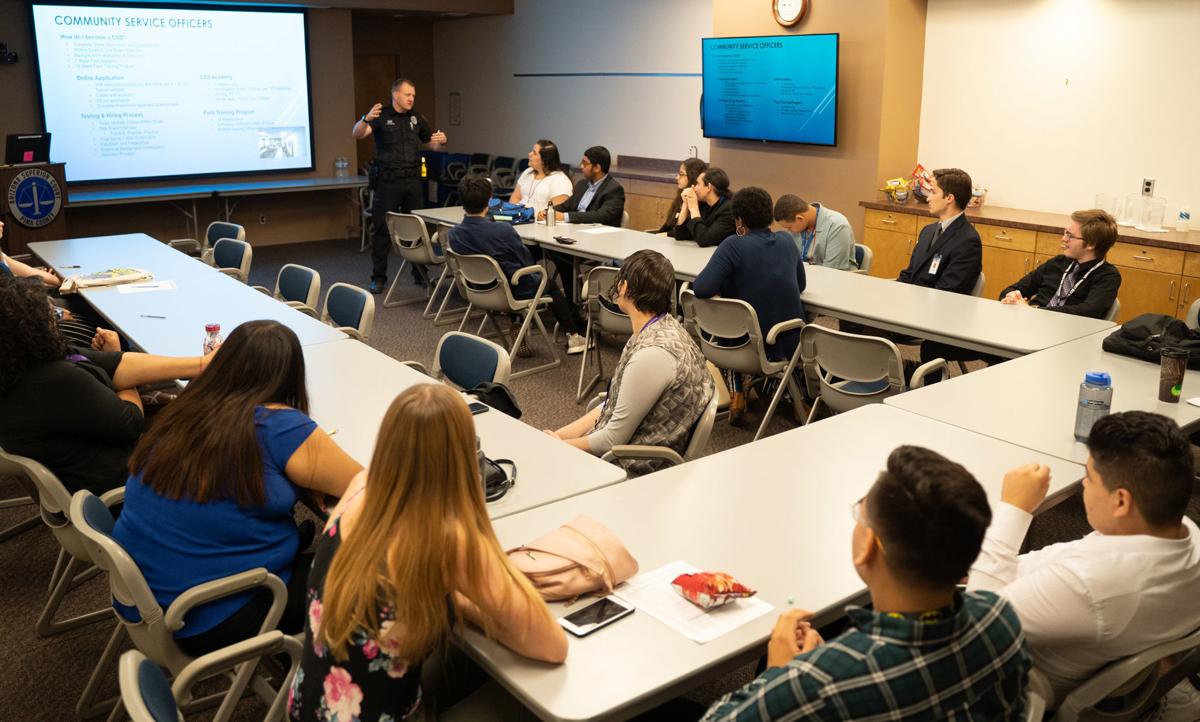 With school out and summer here, it is not uncommon for teenagers to get summer jobs. But instead of flipping burgers or folding jeans like many of their peers, 29 Tucson-area students will spend the next few weeks learning the ins and outs of the legal system through the Courts Are Us program.
For the past 26 years, roughly 30 young people have been appointed as interns in the program, spending 30 hours a week learning while earning minimum wage. Students range in age from 14 to 22.
Students may participate in the program for up to two years and there is generally a waiting list to take part, said Krisanne LoGalbo, community relations coordinator for Pima County Superior Court.
Courts Are Us is run by the county. Students apply through Pima County One Stop.
This year, 28 of the interns are assigned to either Superior Court, the Clerk of Courts Office, Pima County Consolidated Justice Court, Tucson City Court or the Public Defender's Office. One intern, who has worked two previous summers, now works with the program's coordinator, Diane Brown.
While each student is assigned to a specific department where they work under court professionals, the interns come together at least once a week for field trips or other learning opportunities.
The appointment of six interns to the Public Defender's Office is a change of pace for Courts Are Us, which had not placed students there for the past five or six years, according to LoGalbo.
Assistant Pima County Public Defender Margo Cowan said she has her interns doing more than just filing papers. They're attending trials and reading cases. Cowan said her goal is to have them graduate from the program with a real understanding of how courts work and the role that public defenders play in the system.
"The people we represent are everybody's neighbors," Cowan said. "So there's a really leveling experience about that. There's no them and us. There's just us."
Citlali Lopez, an 18-year-old incoming Arizona State University student who is working in the Public Defender's Office with Cowen this summer, had some personal experience with the legal system before entering the program.
When she was 12, she was placed in the foster-care system during her father's trial. Even after they were reunited, her experience in court made her want to go into law.
"It just sparked my interest," Lopez said. "My personal family lawyer, she was always there for me and she always looked for what was best for me."
Though she has only been in the program for a few weeks, Lopez said working with Cowen has already changed her views on immigration, making her see it as a large and complex problem. Lopez volunteered with Keep Tucson Together, an immigration legal-aid clinic that Cowen runs.
Pima County Superior Court Judge Charles Harrington has worked with the program for seven years. He said many students come into the program with a fear of the legal system and leave it with a better understanding.
Basi Levy, a 16-year-old Shearim Torah High School student, is working in the Clerk of Courts' Office this summer. She said that before the program, she expected the legal system to be "boring," but has since changed her mind.
"I didn't really realize how much goes on in a courthouse. I thought it was just like the lawyers, the judge, you say everything and bye-bye," Levy said. "But I just realized how many people play a role in making it work smoothly. … And it's not boring."
The idea for Courts Are Us began in 1992, the same year as the Los Angeles riots in response to the Rodney King verdict, in which three policemen were acquitted of beating King, a black man. Pima County Superior Court Judge Norman Fenton felt the need to demonstrate that the legal system could still be fair.
Fenton, who retired in 1992, developed the program a year later as a way for students, particularly those from disadvantaged backgrounds, to learn about the legal system, an opportunity they might not get in school.
While many of the interns may express an interest one day in obtaining a law degree, not all who join the program necessarily are on that path. It can also help students who are on the fence about a legal career decide whether it is really for them.
"I think they learn a lot from it. I think they grow a lot," LoGalbo said. "You see people at their worst sometimes, and you see people at their best, so I think it gives them a broader spectrum of what actually goes on in the 'real world' and what they might want to do or not want to do when they graduate from high school or college."
Each summer, the program ends with a mock trial where the students play the roles of judge, bailiff, prosecutors, defense attorneys and jurors.
Joseph Siml, a 20-year-old Pima Community College student assigned to the Clerk of Court's Office, said he is looking forward to the mock trial because of its realism.
"I originally came to this program because I wanted to learn more about the courts and what being an attorney would be like, and so, as a mock-trial attorney I can really get into the court to see it in a way nothing else really will let me," Siml said.
Vanessa Ontiveros is a University of Arizona journalism student and Star apprentice.