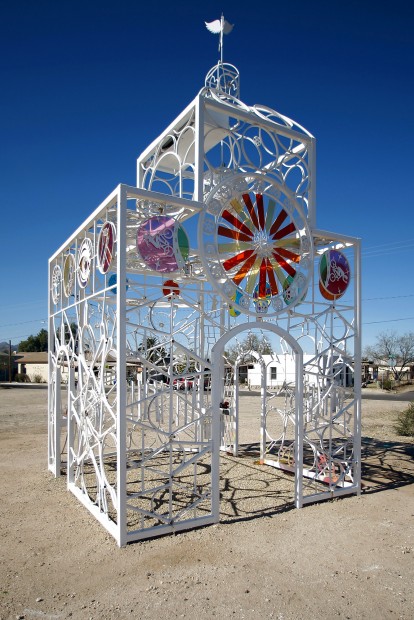 The sculpture on Granada Avenue near Barrio Anita should be viewed up close.
The Bike Church, as it's called, is a walk-in metal sculpture made of bike parts, stained-glass windows and musical chimes, details that at a glance may not be noticed by passers-by.
Although it's called a Bike Church, it's a nondenominational celebration of bike culture featuring traditional religious architecture.
"We borrowed a little bit from a lot of religious iconography," said Joseph O'Connell, one of the artists behind the Bike Church.
The sculpture's stained-glass windows resemble those of church; the top is similar to those on Islamic temples; and there are two Stars of David on the sides and a mold of a Pascua Yaqui dancer, O'Connell said.
It serves as a permanent memorial for cyclists killed on the streets, but it's also a place for celebration.
Last summer, a couple got married there, and sometimes at night some people lie down inside and look up at the sky through the top of the sculpture.
The hundreds of bike frames, wheels and rims are arranged to make a white high-ceilinged structure that sits on city-owned land at the southwest corner of North Granada Avenue and West Davis Street, near West St. Mary's Road.
The 22-foot-tall sculpture can be seen from surrounding streets in the neighborhood and is illuminated with solar power.
During the day, the stained-glass windows, which are made of metal and colored acrylic, contrast with the white structure.
O'Connell and Blessing Hancock of Creative Machines created the sculpture with the help of eight students in 2009. The Ward 1 City Council office, with a $50,000 grant from the Pima Association of Governments and support from cyclists in the region, employed the students for eight weeks to work on the project.
The Bike Church was completed on Aug. 14, 2009.
There's also a memorial area on the metal sculpture that allows visitors to attach pictures or mementos with magnets to remember bicyclists who've died.
The artwork lies along the route of the proposed El Paso and Southwestern Greenway, a project that includes a six-mile bicycle and pedestrian path.
"If you see it from a distance, it just sort of blends in," O'Connell said of the piece. "But when you get up close, then it really looks like an oddity."
Is there something you've noticed while driving around Tucson that has piqued your curiosity to the point that you wish you could find out more about it? Drop us a line, and we'll look into it.