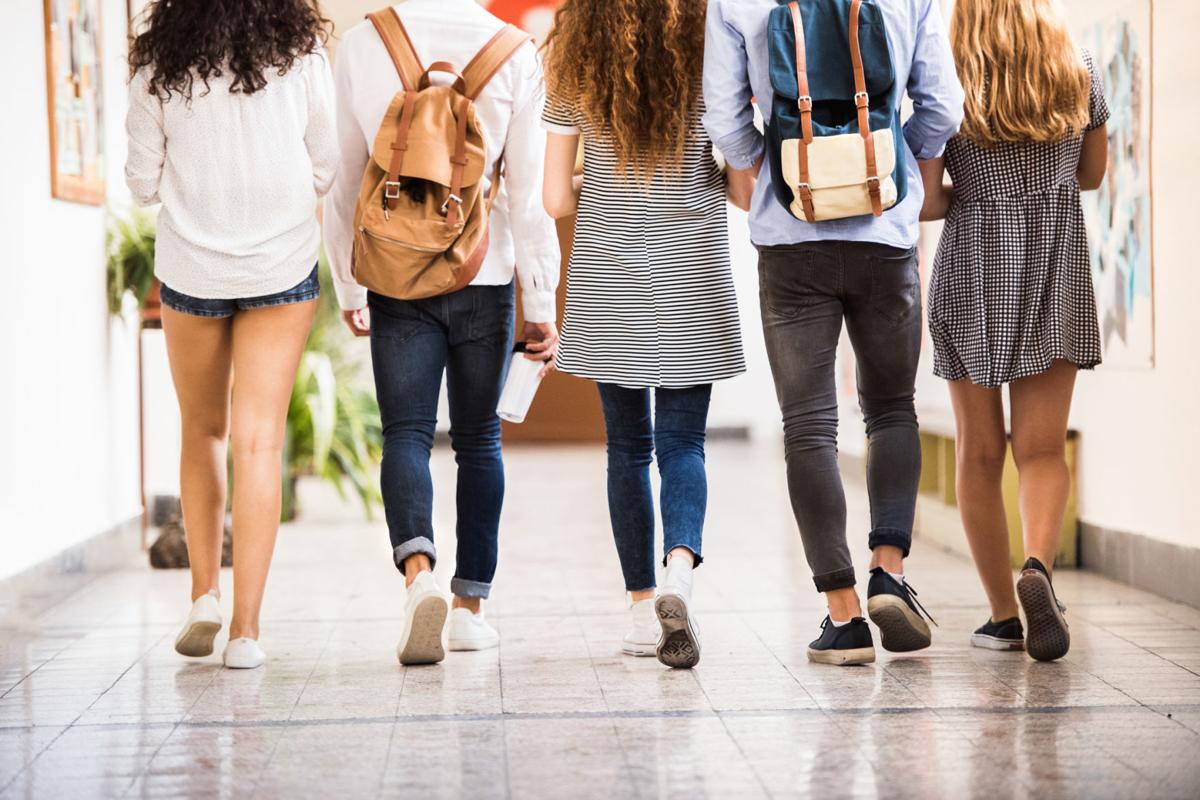 Sexist language targeting female students has been struck from the dress code of Tucson's largest school district.
The change was welcomed by a group of six students from Tucson High's Human Rights Club, who are sick of teen girls being on the receiving end of the dress code's sexist double standard, they told the TUSD Governing Board last Tuesday.
"The adults who are supposed to keep us safe need to stop sexualizing the female body," Human Rights Club member Cecilia Alfie told the board and Tucson Unified Superintendent Gabriel Trujillo.
The new code differs from the former in a few ways. Most notably, it has scrapped language saying articles of clothing usually worn by female-identifying people — like tube tops, spaghetti straps or short skirts — violate the dress code.
Under the new code, clothing must do two things to be compliant: it must cover a student's chest and torso, buttocks when standing or sitting and any undergarments, and it can't be see-through.
The updated code also bars students from wearing clothing emblazoned with images, symbols, slogans, words or phrases that are considered hate speech, homophobic, "religiously or racially discriminatory" or that perpetuate "gender-based discrimination or defamation."
It is important to note that every TUSD school generates its own site-level dress code, in addition to the one mandated by the district. Under the new districtwide policy, these site-level dress codes will also be required to use gender-neutral language.
Other local districts operate similarly to TUSD in that they employ broader, districtwide dress-code policies on top of codes that vary by school.
Some district codes use language pulled from policy suggested by the Arizona School Boards Association, a nonprofit that provides training for school boards across the state.
The only local district that doesn't mandate a districtwide dress code is Vail, the Star found, though Sahuarita Unified has separate dress codes for its K-8 and high school students.
The ASBA model policy identifies specific, gender-coded items of clothing as being in violation, as many of the district-specific dress codes do. Per ASBA, "bare midriffs, halter tops, and spaghetti straps are not acceptable past third grade."
Sunnyside Unified's code mimics that language, word for word, while Amphitheater Public Schools' code bans "muscle shirts, spaghetti strap tops (and) tank tops with shoulder straps less than two (2) inches wide."
Some local districts, like TUSD, use more gender-neutral language in their dress codes. Catalina Foothills' code doesn't single out specific items of clothing — instead, it states that wearing "immodest or indecent attire is not acceptable."
"YOU SHOULDN'T HAVE BEEN WEARING THAT"
Students spoke about their own experiences with the previous TUSD dress code during the meeting's call to the audience on Tuesday.
Alfie talked about a time when a teacher was distracted by a student wearing a low-cut top.
Another Tucson High student, Cosmo Brusa Zappellini, told the Star about a time one of his female friends was dress-coded for wearing a tank top while he — also wearing a tank top, at the time — wasn't, even though they were both technically in violation.
Another student, Halle Bauer-Bedrick, said the old dress code codified the idea that the female body, uncovered, is distracting in educational settings.
Pandering to this norm hurts teenage girls, Bauer-Bedrick said, because it is untrue, rooted in sexism and places the education of boys over that of girls.
"The only thing interfering with our education is the sexualization of our bodies," she said during the meeting. "Sexual harassment happens whether I'm showing my skin or not."
Chelsea Cannon, another Tucson High student, mirrored Bauer-Bedrick's sentiments.
"If my body is distracting from the learning — and especially the teaching — process, that's not my problem," she said to the board. Board member Adelita Grijalva nodded, brow furrowed, after Cannon finished her remarks.
MOVING FORWARD
Grijalva, who brought the dress code update to the board, said she was extremely disturbed by the students' testimonies.
"School is supposed to be a safe environment for everybody," Grijalva said after the call to the audience. "We have to seriously address those kinds of comments immediately. … It does start to ebb away at your confidence."
Trujillo said he takes the students' opinions and allegations surrounding the dress code "very seriously."
"We will get immediately in contact with the THS administration to address these concerns," he said after the students spoke.
The students from Tucson High's Human Rights Club said they were surprised at how the board and Trujillo responded to their comments.
"I personally am not used to being taken that seriously on this issue," Alfie said. "Most of the time when we talk about it, the adults — their response is, 'Well, you're showing too much skin. It's your fault if you get harassed.'"
But the students' Governing Board visit on Tuesday won't be their last, if the districtwide and campus climates surrounding the dress code and sexual harassment doesn't change, Human Rights Club sponsor and Tucson High science teacher Marea Jenness told the Star.
"There's something concrete (these students) want here," Jenness said. "We want a better dress code. We want a dress code that doesn't sexualize them."