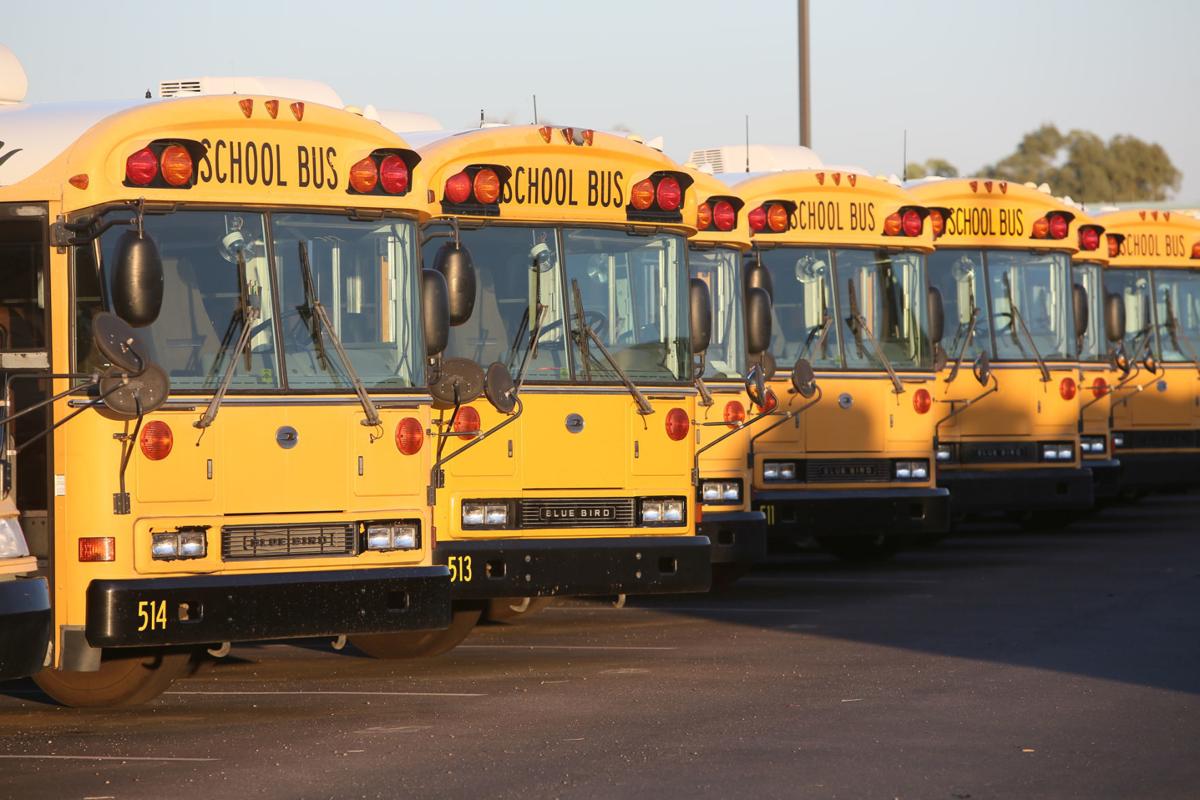 Tucson Unified School District hopes to begin restoring bus routes soon with the help of 25 bus driver applicants currently being processed for hire.
Superintendent Gabriel Trujillo offered no timeline during a Tuesday night school board meeting, but said the district would start to add bus routes to the 8,000 students who use the service "as quickly as possible."
The new drivers are in varying stages of the application process, which takes six to eight weeks from the time of application to the conclusion of training and certification, a district spokesperson said.
Last week, a day before students returned to school, TUSD notified families that neighborhood bus service would be canceled for all but a small portion of the student body — students experiencing homelessness and students with special needs.
The district is offering a transportation reimbursement to all families eligible for bus service who opt to drive their students to school and ask for the reimbursement, and as of Aug. 11, 150 families had requested the reimbursement. Some families of students with special needs are taking this option, which will also free up bus drivers for either an increase in hub service routes or restoration of neighborhood routes.
In place of regular bus service, the district created hubs, dedicated locations where kids can catch their bus, but some families say the hub is farther away than their school.
Parent Maggie O'Sullivan first found out through an email the night before the first day of school that neither of her children — who go to two different TUSD schools — would have bus service to school the next morning. The two hub options the district gave her were both very far from her and much farther than the schools, she said.
O'Sullivan can't drive the kids, and her first worry was that they would have to miss school. But her mother, who's retired, canceled a vacation so she could drive her grandchildren to and from school.
"Why did you wait until the very, very last minute to lay this catastrophic mistake on us, and then expect us parents not to be scrambling, freaking out about what to do?" she said.
Cutting drivers from some of the hubs that aren't getting much use is a third way the district plans to begin adding neighborhood or hub routes.
As well, affected families should be expecting a call from TUSD to address individual concerns.
The district formed a 60-person call team, which "is calling each and every single family personally to walk them through their options, to help them address challenges, to help get them to the appropriate route," Trujillo said Tuesday night, referring to the hub routes. "To date we've called 2,500 of those families out of the 8,000, and it's only day four."
Parent Laura Farrell-Wortman has been getting her daughter to school an hour before the bell rings to avoid the worst of traffic around the school, which Farrell-Wortman attributes to so many more parents driving to school.
Her daughter was going to take the bus, and she found out there wouldn't be service from a robocall 1½ days before school.
She was able to shift her work schedule to accommodate the last-minute inconvenience. And her husband can pick up their daughter and bring her to work with him at the end of the day.
"We have two reliable cars," she said. "We have bosses who have been understanding and flexible. But, we've had bosses who have been understanding and flexible for a year and a half, with this pandemic. We are really starting to test the balance."
Not having buses has caused an excess of traffic around some schools. And the city bus has been packed with students as well, said Tucson City Councilman Steve Kozachik.
"Students are piling onto our buses, and normal city bus riders are kind of freaking out because you got jam-packed buses, and some of them are wearing masks and some of them not," he said. "And with the delta variant happening, people are concerned about feeling like sardines in a bus right now."
Although the district recently raised its bus driver starting wage to $16 an hour in hopes of attracting more applicants, it was still short 70 drivers on the first day of school, after losing 120 drivers over the last two years, many resigning.
While the bus driver shortage is an issue throughout the state and country, other Tucson school districts were able to maintain service to families, despite the fact that many pay less than TUSD.
As well, three companies the district hires to help transport students also have a shortage of drivers and notified TUSD "at the last minute, weeks before the opening of school," Trujillo said, leaving more than 660 additional students the district had to find transportation for.
Also, offering longer summer school sessions, which meant an extra month of bus service, delayed critical aspects of new school year planning, such as new-driver orientation sessions, candidate interviews and new bus driver training classes, Trujillo said.
He also said families were late in enrolling for school, with thousands of parents unsure whether they would send their children in person during another tumultuous time in the Covid-19 pandemic.
As far as why families were notified so late — "We worked longer and harder and later to try to find a magic solution that quite simply wasn't there. And in doing that and using every single available moment, we went too long, ran late, which led to late communication and last-minute notification and communication to parents," Trujillo said.
Going forward, the district will establish a transportation advisory group, employ surveys and focus groups and hire a consultant to assess the district's decision making throughout the situation and provide feedback, which the district will share publicly.
"We're going to take some better steps around better transparency and communication," Trujillo said. "We're going to be very, very clear about our commitment to reroute or to restore neighborhood routes, and we're going to view this as an opportunity to learn. And we're going to recommit ourselves to service."