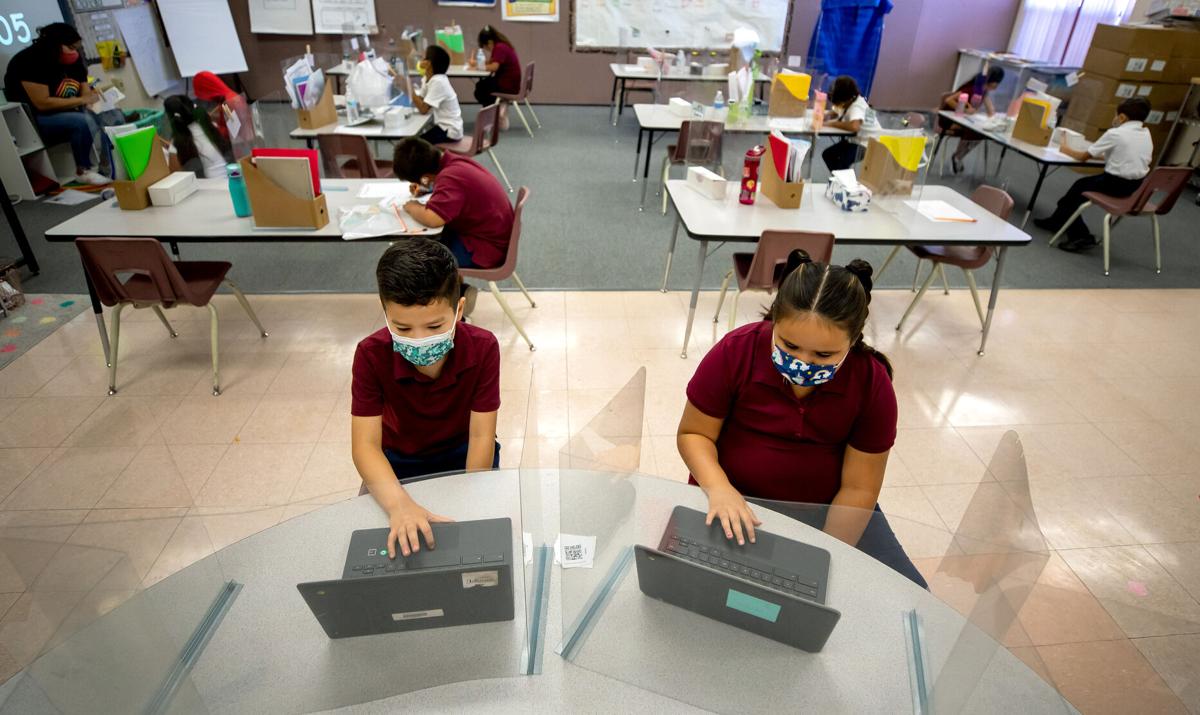 COVID-19 cases are significantly increasing throughout the county, as the health department begins forming a plan for third doses of the vaccine.
On Thursday, 401 COVID-19 cases were recorded in the county, which is very high, said Pima County Health Director Theresa Cullen during a news conference.
Anything over 100 cases per 100,000 people means a region is a state of high transmission. Pima County currently has about 168 cases per 100,000 people, which is a significant increase from about four weeks ago, Cullen said.
The county is also seeing a rapid fluctuation in the positivity rate, which is the percentage of tests that come back COVID-19 positive. This is between 8% and 11%, depending on the day. As well, the number of tests is increasing, with between 1,500 to 3,000 people testing daily.
Crowded hospitals and pediatric cases
On Wednesday, there were only 11 ICU beds available throughout the county. This number fluctuates and at times this week was as low as five or six available beds. The county also had 56 med/surg beds available Wednesday, which are extra beds brought in to deal with overcrowding.
In ICUs throughout the county, 15% of patients have COVID-19, which is the highest since March 2. And nearly 200 patients in hospitals in the county have a COVID-19 diagnosis, although there could be more who haven't been reported.
As well, the number of pediatric patients in hospitals who have been confirmed COVID-19 positive was in the high single digits on Wednesday, Cullen said.
"We have seen severe cases of COVID in our pediatric hospitalizations, meaning we have cases where people have ended up in the ICU," she said, adding there have been no deaths among those cases.
As well, there have been reports from pediatricians that they are seeing more cases now, which are not ending up in the hospital, Cullen said.
COVID in schools
The number of cases reported in schools increases by the hour. As of Thursday morning, there were more than 836 cases and 31 outbreaks, with about 88% of those cases in children.
"We are doing everything we can to keep schools open," Cullen said. "We believe students need to be in school."
But the health department has had to shut down classrooms. When there is an outbreak in a classroom, meaning two or more cases that were likely transmitted in the school setting, the health department evaluates what happens in a classroom, including whether people have the ability to social distance.
Layered mitigation — including universal masking, hand washing and adequate ventilation — is key to keeping classrooms open, Cullen said.
"Right now, especially if we can encourage and get compliance with masking, I would hope that we do not need to go back to hybrid," she said.
Third vaccine dose
Right now, the county health department is recommending that people who are immunocompromised get a third vaccine shot, available anywhere offering the vaccine throughout the county. No proof of being immunocompromised is required.
This is specifically for people who got a Pfizer or Moderna vaccine. There isn't currently a recommendation for additional doses for those who got the Johnson and Johnson vaccine, but Cullen anticipates there will be recommendations on that in the next four to six weeks.
For the general population, Cullen says the speculation is that people will need a third vaccine dose eight months after being fully immunized.
There will have to be about 20,000 vaccines a week for a multiple-month period to get fully vaccinated people a third dose, starting Sept. 20 with people who were in the first round of vaccines, Cullen said.
The county health department is hoping to work closely with hospitals and pharmacies as well as putting up mobile and pop-up clinics.
"We will be working to develop an aggressive plan," she said.