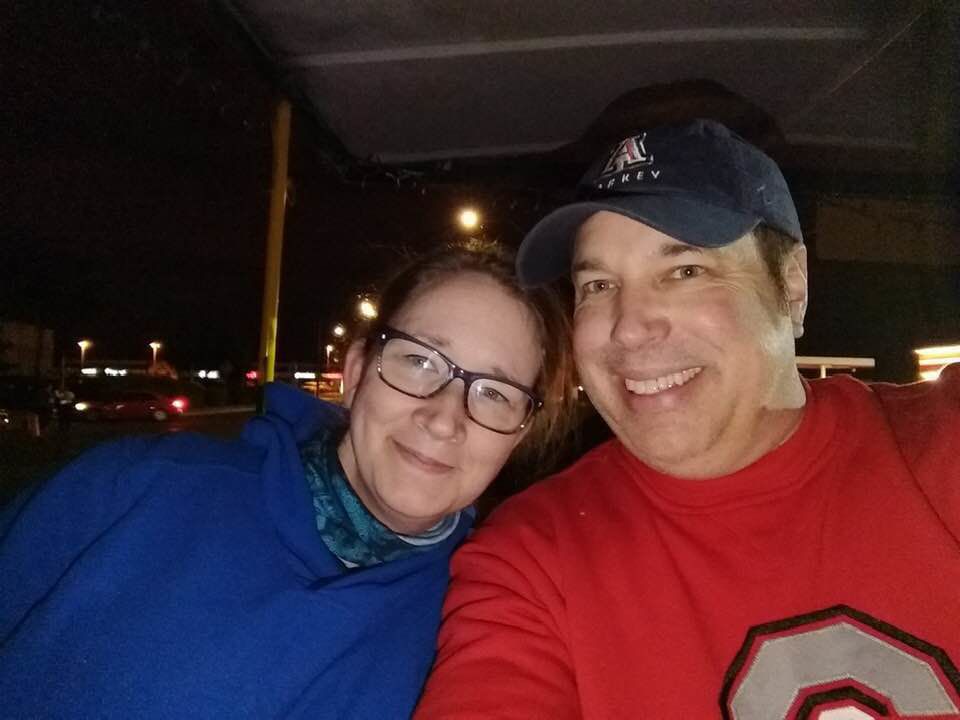 My husband died on Friday.
The first people who heard me say those words were three Rural/Metro guys who came to the house Sunday night because the carbon monoxide detector was chirping again.
When it happened the first time, on Thanksgiving night, Rural/Metro responded and all it needed was a new battery. It was my first night at home since I took Tim to the emergency room on Nov. 9 and my second night away from his room at the hospital.
Tim had survived a very risky heart surgery that he desperately wanted and on that Thanksgiving night I had hope. The doctors called him their Thanksgiving Miracle.
By Friday night, peace had become the miracle he needed.
My husband, Timothy Gassen, died Nov. 29, 2019. He was 58.
Tim was many things — subtle or uninterested not among them. He was a force, a will, on an unending mission to create. He couldn't abide with "it's good enough."
Tim believed there was an answer to every question. When he noticed a slight wheezy noise coming from somewhere in his car, he narrowed it down to the right-side mirror and made adjustments with the seal, driving north and south on I-19 to figure out at what speed it was audible and what affected the noise.
I never would have noticed it if he hadn't pointed it out. I strained to hear it. There it was.
After two days he'd solved the mystery and fixed the problem.
It's the scientific method, he'd tell me.
I've never been quite able to adequately answer the question, "What does your husband do?"
Tim created worlds. He made something out of nothing. And then he made more.
From his dear friend, Allan Waite:
Tim was a leader, a ringleader, a fun-instigator, a stand-up comic, an artist, a musician, an author, a film-maker, a hockey fanatic, a hockey announcer, a singer, a music promoter, a band manager, a record collector, a dream chaser, a cat lover, a dachshund dad, and above all a tireless worker.
When you were with Tim, there was no question you were on his boat, he was not on yours. He rubbed some people the wrong way. Getting on board Tim's boat afforded me many opportunities and yielded unforgettable memories.
Tim pushed through obstacles. He was exacting, often infuriatingly so. He could see and hear the potential of a creative endeavor and wouldn't — couldn't — stop until reality matched what he saw and heard in his mind.
And it was always worth it.
Music propelled Tim. He created music as a songwriter, vocalist and performer for more than 30 years in his bands Jacket Weather, The Marshmallow Overcoat, The Purple Merkins and The Noble Krell. He loved explaining with a straight face what merkin means — it's a pubic toupee. Why purple? Why not?
He was the chronicler of the garage rock and psychedelic music scenes as a journalist and author of The Knights of Fuzz anthologies. He was a zealous advocate of the music and the people he loved.
I know that no list I compile of Tim's work and accomplishments could ever be complete — he was always working on something, something he wouldn't talk about until it was finished and released to the world.
I don't think I appreciated the full scale of his creative determination until now, when it's too late. The absence of him keeps growing.
We had a decadeslong friendly competition to see who could get the most creative phrases into our writing — his description of Peeps as "revered confectionary poultry" is forever the winner.
Tim embraced our family of animals. He sang songs to our guinea pigs and desert tortoise, and made signs welcoming the various hamsters, mice and rats who found a needed home in our living room. In the hospital someone with a form to fill out asked him if he had children, and if so, how many? "One wiener dog." Olivia the wiener dog is camped out at the front window, looking for him. We both are.
My husband cared deeply about civil rights and social justice. He was quick to call out abuse committed by people and institutions who wielded power against those with less. He detested bullies and refused to be silent when he witnessed them in action.
Tim grew up going to Indianapolis Racers hockey games with his fellow super fans and best friends, Dave and Bill Pickering. The Racers were part of the World Hockey Association, a professional league that rivaled and eventually merged with the other pro league in the 1970s.
Tim was captivated by the WHA story, its chutzpah and resilience. I don't think he ever got over his heartbreak of the Racers folding as part of that merger. He wrote books, created museum exhibits, and we traveled to Canada several times to do interviews for his documentaries about the WHA. He created the WHA Hall of Fame to honor its people, its stories and its fans.
If you've been to a University of Arizona hockey game in Tucson you've probably seen Tim as a fan, waving a rubber chicken at the opposing team's penalty box — or as the equally enthusiastic but chicken-free media director leading his crew of students as they broadcast the games.
It was Tim's continuing disappointment that I could never quite understand his utter devotion and sense of connection to his college alma maters, the UA Wildcats and The Ohio State Buckeyes. My contribution to watching football was to make nachos designed to help defeat opposing teams (for example, extra avocados when teams played Cal).
Looking through Tim's work I found a column he wrote for the Arizona Daily Star almost a year ago about a Purdue football fan who was dying of cancer but holding on to see his team through:
"We love sports, I think, because deep down they fulfill our fantasy that we can create victory over death.
Each touchdown, each overtime goal, each buzzer-beater basket from our favorite team tricks us into believing we can win it all. In fact, no one ever wins it all. Our mortality proves otherwise.
But sports help us feel alive, right now, in the moment."
I think I'm finally beginning to understand what he meant: Create. Be part of something bigger than yourself. Make something, do something. Be a person who solves problems, who finds answers. Love and be loved. Live with laughter. Don't mitigate yourself to fit into someone else's mold.
And give everything you have to make it real.
Catch the latest in Opinion
Get opinion pieces, letters and editorials sent directly to your inbox weekly!