NEW YORK — The college basketball season is a few weeks away, but talk of "Sneaker Wars" began to heat up Tuesday in a wood-paneled courtroom.
Arizona and Oregon, both Nike and Pac-12 schools, were mentioned prominently during opening statements in the federal trial against three men accused of wire fraud and conspiracy to commit wire fraud.
Prosecutors say former Adidas executive Jim Gatto, former Adidas employee Merl Code and would-be agent Christian Dawkins defrauded so-called "victim schools" Kansas, Louisville, Miami and N.C. State, all of which are sponsored by Adidas.
Defense attorneys told Judge Lewis A. Kaplan and the jury that Arizona and Oregon were willing to pay for recruits who were also being sought by the Adidas schools. Defense attorneys painted their clients as products of — and pawns in — "Sneaker Wars."
"The competition between Nike, Under Armour and Adidas to recruit the top basketball players can be pretty intense," said Mark C. Moore, Code's defense attorney.
One of Gatto's attorneys, Casey Donnelly, said in court Tuesday that Arizona had offered — or was prepared to offer — $150,000 to land recruit Nassir Little.
Gatto, the former director of global sports marketing at Adidas, "was told Arizona was going to pay or had offered to pay (Little) $150,000 if he went to Arizona," Donnelly said. "Jim was asked to level the playing field so Nassir could go to Miami, an Adidas school."
Moore said Code "discovered that Arizona was going to pay Mr. Little $150,000 to get Little to Arizona. He discovered that Mr. (Jim) Larranaga wanted Little for Miami, a school that was sponsored by Adidas." Larranaga, Miami's head coach, contends the program was unaware of a pay-for-play scheme involving Little.
The defense attorneys do not deny that their clients agreed to pay players, but argued they were doing so to benefit Adidas, the Adidas schools and the players' families.
"It's not a crime to pay somebody in cash," Moore said. "It's not a crime to create a fake invoice. It's only a crime if you do so with the intent to defraud a specific school."
Arizona's reported offer to Little was first alleged in a federal complaint released a year ago. Little is now a freshman at North Carolina, a Nike/Jordan Brand school, and is a projected top-10 pick in next year's NBA Draft.
Dawkins' attorney, Steve Haney, said the would-be agent had "no dialogue with Little or his family" about money. Little's family has maintained it did nothing wrong.
Donnelly, Gatto's attorney, also said Tuesday that Pac-12 rival Oregon was prepared to spend "an astronomical amount of money" to land recruit Brian Bowen, the 6-foot-7-inch wing whose controversial recruitment to Louisville led to the firing of coach Rick Pitino.
Ducks coach Dana Altman did not immediately return a text message seeking comment.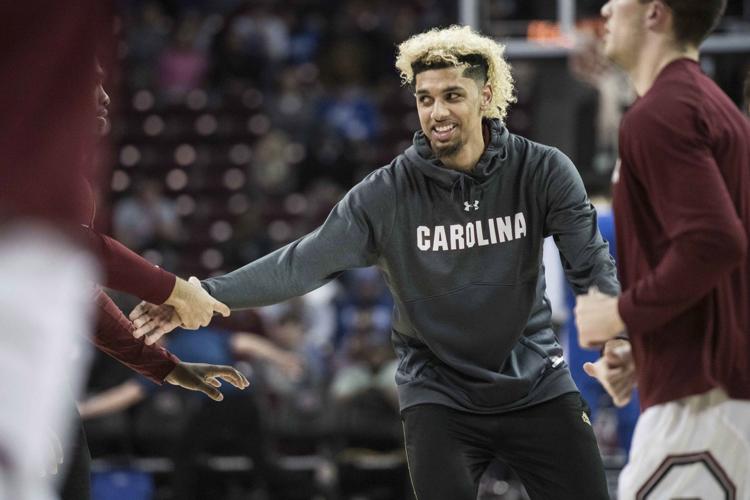 Later, the athletic department issued a statement saying it was "aware of the claim made by a defense attorney" in trial.
Bowen took both official and unofficial visits to Arizona, and put the UA among a list of finalists that included Oregon, Texas, Michigan State and Creighton. He picked Louisville, the lone Adidas school, seemingly out of the blue in June 2017.
"Michigan State was one of the only schools that was not going to pay Brian Bowen to go there," Haney said.
Dawkins' attorney did not address whether Arizona was willing to pay Bowen. However, he said Bowen "was ready to go to the University of Arizona" before two things happened.
First, Louisville's Donovan Mitchell declared for the 2017 NBA Draft, opening up a spot on the wing. Rawle Alkins then opted to return to Arizona for his sophomore season, which took away a spot that could've been used by Bowen.
Haney said Bowen "never would've gone to Louisville" had it not been for those two developments. At that point, Bowen and his father "sat down and made the best basketball decision," choosing Pitino and the Cardinals, Haney said.
The court should hear from Bowen's father during the trial: He has cut a deal with prosecutors and is expected to testify.
Dawkins, the would-be agent, had a longstanding relationship with the Bowen family dating to their time in Saginaw, Michigan. He "could've cared less where Brian Bowen went to college," his attorney said, noting that Dawkins only wanted Bowen to retain him as an agent when he declared for the NBA.
Bowen's role in the case may explain why former Arizona associate head coach Joe Pasternack is on the "other relevant individuals" list presented by prosecutors. Yahoo Sports reported last spring that Pasternack, now the head coach at UC Santa Barbara, discussed with Dawkins what it would take for Bowen to choose Arizona. Dawkins wrote to his boss that Pasternack "told me verbatim he will help us get all the Arizona players" for representation, the story said, "so put his feet to the fire."
Arizona coach Sean Miller, his former assistant Book Richardson and former Wildcats star Deandre Ayton, the No. 1 pick in this year's NBA Draft, are also likely to be mentioned during the three- to four-week trial, prosecutors say.
When asked Monday about the attorneys' mention of his name in court, Miller referred reporters to a statement he made a year ago about his commitment to compliance.
Miller declared in March that he had "never arranged or directed payment or improper benefits to a recruit or prospect or family or representative and I never will." Miller said he was approached about paying a player once, and "I did not agree to it. It never happened and that player did not come to the University of Arizona."
It's unclear which recruit Miller was referring to.
Richardson was indicted a year ago in the case, accused of taking bribes and using at least some of the money to pay an Arizona recruit. He pleaded not guilty and is scheduled to go on trial in April.