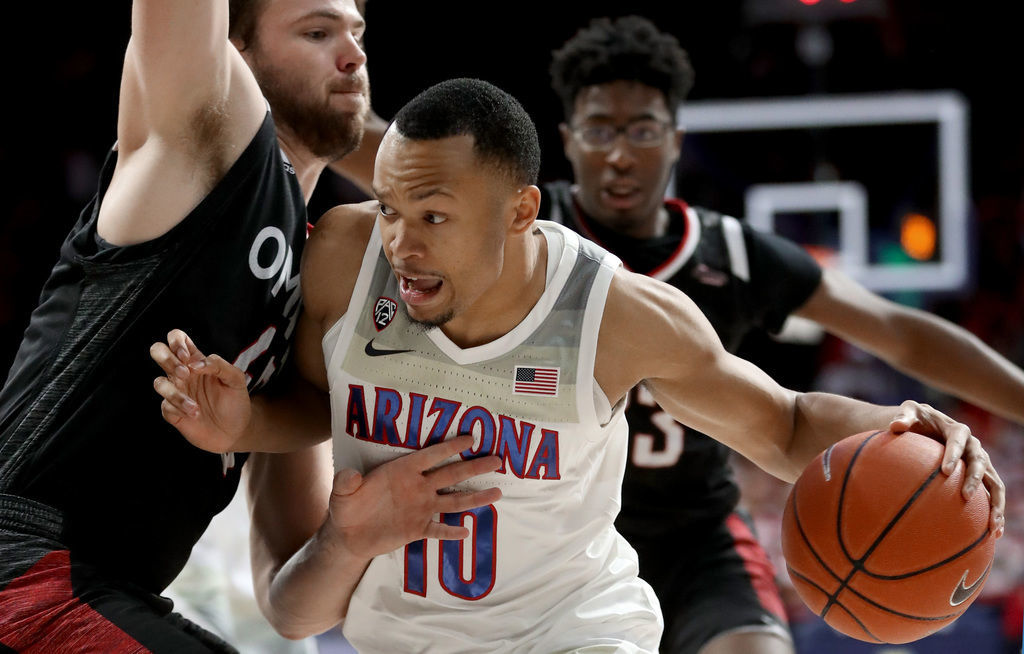 Sean Miller has seven guys on his tentative 2020-21 roster with point guard experience.
He might just need all of them.
During a 37-minute conversation with UA play-by-play announcer Brian Jeffries that was posted Thursday, Miller said for the first time that backup combo guard Jemarl Baker played at only about 80% all of last season because of knee trouble. Miller discussed every player on his upcoming roster except for combo guard Brandon Williams, who missed all of last season with a longtime knee issue.
What's more, as Miller found last season, sometimes guys can be simply pulled away: Guard Max Hazzard missed four of UA's final five games with what Miller called a "personal issue." (The YouTube conversation represented Miller's first public comments since the Pac-12 Tournament was canceled on March 12, though a virtual news conference is expected later this spring.)
"I mean he could catch fire in a way that you don't oftentimes see," Miller said of Hazzard, the Wildcats' grad transfer from UC Irvine. "I was disappointed that we weren't able to see him in March. And then in the future, whether it be in the NCAA Tournament or the (canceled March 12) USC game, being able to maybe implement him at that point would have been interesting to see."
Already having pulled in a seven-player recruiting class that 247Sports.com now rates No. 7 nationally — it assigned four-star rankings to UA international signees Kerr Kriisa, Bennedict Mathurin and Daniel Batcho — Miller said he still might "get one or two more before we're all settled here."
Adding two players might suggest the Wildcats are not counting on Williams, who is still considered an unknown.
Williams was not with the Wildcats during the Pac-12 Tournament and the staff has not been able to keep a close eye on his continued rehabilitation since the coronavirus shut down sports that week.
Even if Williams doesn't return, either because he isn't healthy or because he opts to play professionally, Kriisa, Baker, Georgetown transfer James Akinjo, Seattle U transfer Terrell Brown and even Mathurin and 6-foot-8-inch fall signee Dalen Terry have all played point guard at times.
Miller told Jeffries he could envision the Wildcats playing three guards together often, as he has during the past two seasons.
As the highest-rated of UA's spring signees — 247Sports.com pegged him at No. 63 overall in the class of 2020 — Kriisa appears likely to get on the floor one way or another.
Here's how Miller broke down the games of Kriisa and UA's other four spring signees — Batcho, Mathurin, Turkish wing Tibet Gorener and Terrell Brown — in what were his first public comments on them since their national letters-of-intent were received last month:
On Kriisa, a 6-2 guard from Estonia who played on a Lithuanian youth club team last season:
"Kerr is just an amazing playmaker. In FIBA tournaments, with the different teams that he's played, the one thing that always holds true with him is that he makes the right play, he loves to pass the ball. I love his ability to shoot. He is a deadly 3-point shooter when left open, but (also plays well) in the open court, with pick-and-roll basketball, playing in transition.
"And because Kerr is every bit 6-2, maybe 6-3, he could be on the court with a variety of players. The days of just playing a point guard, two big wings, our four and the center are over — you want to put your best players on the court. I think this year a lot of times we'll have lineups that have three guards that play different styles and Kerr is somebody that we're really excited about. I also love his competitive spirit."
On Mathurin, a 6-6 wing from Montreal who played for the NBA Academy Latin America the past two seasons:
"We're very fortunate to get Benn. We were in a very tough battle. We didn't know if we were going to get him or not. A lot of schools really wanted to join his recruitment. We were fortunate that we identified him early on and (UA associate head coach) Jack Murphy did an outstanding job of identifying him, and really recruiting him with a lot of energy. Baylor was involved for a long period of time. Because we played against Baylor each of the last two years and they beat us, we tend to respect those types of programs — and you think about Baylor's guards, and some of the things that we played against. I think you really get that with Benn.
"Benn is every bit 6-5, maybe 6-6. He finishes above the rim. He's a very good shooter with a chance to be even better, but a guy who can play pick-and-roll basketball, and could do a lot of different things. I would say the difference is, from an athleticism perspective, he's like a lot of guys that we've seen in Arizona who've played the wing position, Josh Green being one of them that thrives in the open court, a high-flyer. And as he continues to get more skilled and learn the game, the sky's the limit for Benn. So we're really thrilled to have him."
On Batcho, a 6-10 post player from Paris who suffered a broken kneecap last year:
"He's fully recovered and we're anxious and excited to eventually get him here on campus. Daniel is a physical 6-10, forward/center. I think he could play both positions for us. He's aggressive, and he's a very good defensive rebounder. In FIBA basketball, they were playing pick-and-roll basketball, up and down, being able to defend pick and rolls. Those are things that he's been doing for a number of years and he's hungry, a guy who loves the game."
On Gorener, a 6-8 wing forward from Turkey who played last season at Orange Lutheran in Southern California:
"We watched him closely throughout the year. He also played in FIBA for his country and a lot of tournaments … I think you see a guy's highly skilled. He shoots the basketball, can catch off the move, really has a great feel for moving without the ball. And I think as he gets bigger and stronger physically, that's when you're going to see the best for Tibet. And that's something we pride ourselves in it. You just watch Christian Koloko's body change in the brief year he's been with us, it's amazing — and I think Tibet will experience similar types of growth. It's important for me to also address that Tibet is 6-8, and not 6-4 or 6-5, so he could play either the three or the four. No doubt, what he brings to the table from Day 1 is his ability to play the game the right way, move without the ball and shoot from the 3."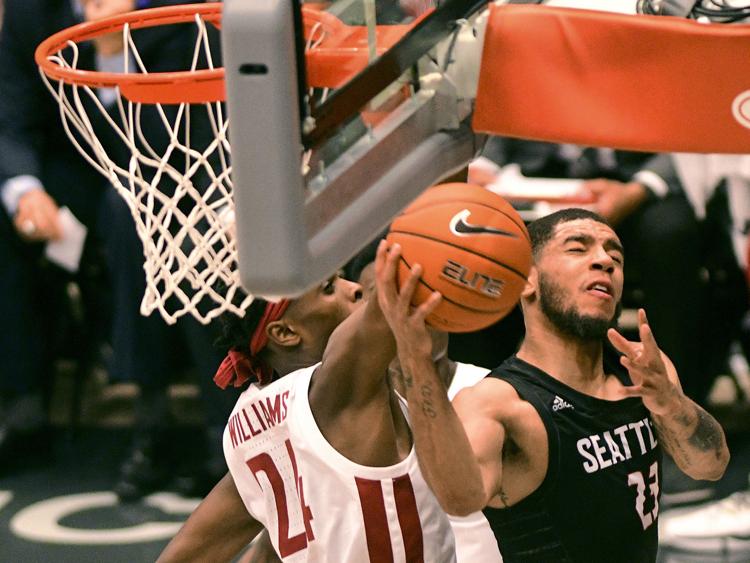 On Brown, a 6-2 combo guard who is grad transferring from Seattle U:
"He's a great student. He's going to graduate from Seattle with a very high GPA. We know his head coach at Seattle very well. He came highly recommended not just as a basketball player but a teammate, a leader, somebody off the court, who's a great, great kid, high character, and he scored 21 points per game. I don't care what conference you play in — if you scored 21 points per game, you shoot the percentage that he shot, the free throw attempts that he shot. ...
"We're really excited to have him. He could play in that third guard, second guard or a point guard, and he's older. He's physical. And keep in mind we lost our starting five and seven of our top nine players from a year ago. You have to blend in experience when you lose that much, and Terrell will be a godsend for us no doubt. He'll be a big part of what we do this next season."
Be the first to know
Get local news delivered to your inbox!