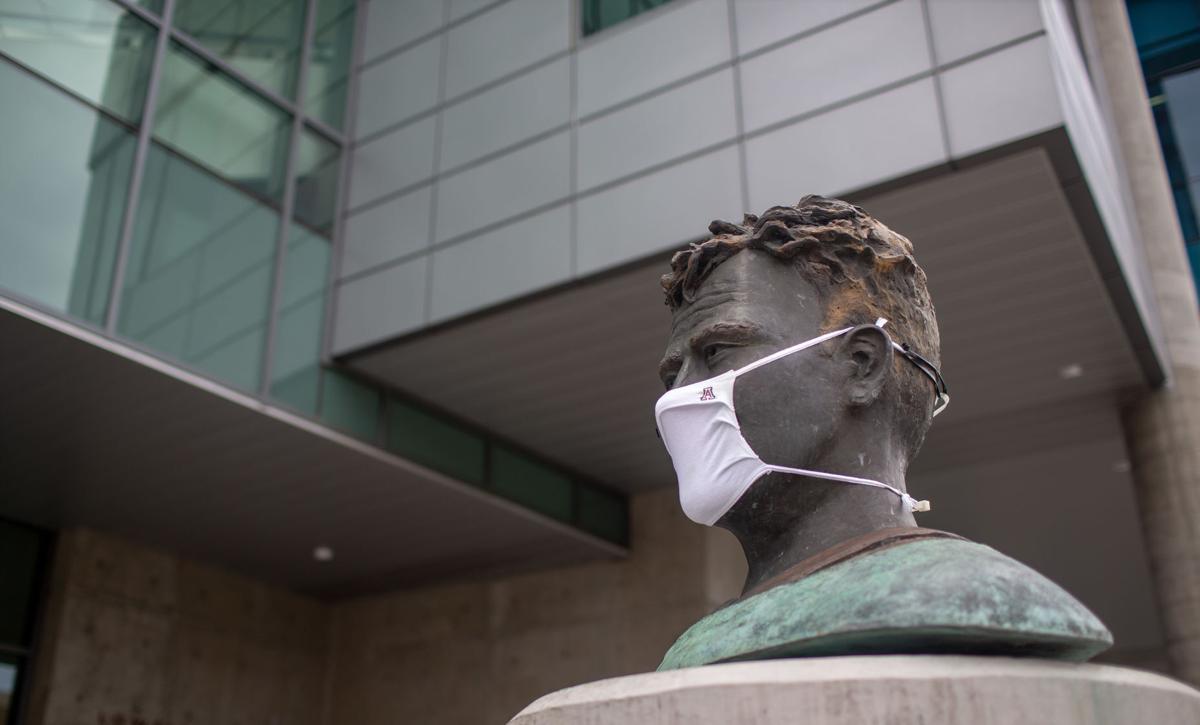 As expected, the Pac-12 released a 10-game, all-conference football schedule Friday. But it came with a few twists.
One is that the schedule is starting later than had been reported initially — Sept. 26 vs. Sept. 19 — and even that date is subject to change. Another is that some schools, including Arizona, are opening the season against their biggest rivals.
"This remains a very dynamic process," Pac-12 commissioner Larry Scott said during a video news conference Friday. "The health and safety of our student-athletes continues to remain of paramount importance.
"This work is ongoing. We will continue to evaluate and be nimble in terms of how we adjust. But we have a plan, and we have a football schedule."
How did we get here? What obstacles remain? Below, we provide answers to those questions and more.
What's the basis for the Pac-12 structuring the schedule the way it did?
Let's go back a bit and work our way from there.
On July 10, the league announced it would be shifting to a conference-only format. The reasons behind that were two-fold: (1) It would allow for greater flexibility in case of postponements or cancellations; and (2) it would allow for streamlined COVID-19 testing and safety protocols.
As Dr. Doug Aukerman, Oregon State senior associate athletic director, sports medicine, said Friday: "We have all agreed upon a standard protocol for bringing student-athletes onto campus. … One of the real benefits to college athletics is … having good, timely interactions with the student-athletes. When somebody tests positive, we're going to be notified at the same time or sooner than the health department. Then we can promptly begin isolation and contact tracing."
The Sept. 26 start date is roughly a month after a handful of Pac-12 schools, including Arizona, were supposed to have opened the season. In the Wildcats' case, their original opener was Aug. 29 against Hawaii.
By pushing the start date back, the Pac-12 is giving programs more time to prepare. Additionally, the spread of the virus could slow between now and then.
The revised schedule includes one bye week for each team, all slotted for Oct. 17, 24 or 31. (Arizona's bye is slated for Oct. 17.) The Pac-12 also has a league-wide open date — Dec. 12.
The idea behind that is it will give programs options in case of an outbreak or other unforeseen circumstance. Any of Arizona's first three games — vs. Arizona State, at Washington, vs. Colorado — could be shifted to Oct. 17. The opener or a later game could be moved to Dec. 12.
The schedule was created "with a lot of built-in flexibility," Scott said, "so that if the situation warrants based on health and safety and how the virus proceeds, whether it's the first games of the year or other games, we have the ability to reschedule them."
Why is Arizona opening against traditional end-of-season rival Arizona State?
Only four of the league's teams are facing off against their rivals in Week 1. In addition to the Territorial Cup matchup, UCLA is slated to play USC.
Scott said "a lot of factors" went into that, but the biggest one is that Arizona and Los Angeles remain "real hot spots" for the coronavirus.
"By putting them in the first week," Scott said, "they become very easy to reschedule.
"(But) we're going into this with eyes wide open. We're going in knowing it's possible that not all our schools can start on Sept. 26."
Some schools are on a different pace than others because their surrounding communities are combating the pandemic differently. In a joint statement released by UCLA and USC, their athletic directors said: "Though we are progressing toward the start of our respective seasons, at this time we do not have the necessary county and sate clearances to begin competitions."
If the UCLA-USC game happens as planned, it would mark the first opener between the schools since 1945. The last time Arizona opened a season against ASU was 1946. The last time they opened against each other was 1937.
Will fans be able to attend games here or elsewhere?
That remains unclear, but it's virtually certain that capacity will be limited. The question is how much.
In an e-mail sent to UA on Friday, the school stated:
"A final capacity decision has not officially been made at the University of Arizona, but we expect to operate at a reduced capacity for at least the beginning of the season. Tailgating and other fan amenities may not be available for the early part of the season, but it's our hope to increase capacity and fan amenities as the season progresses. All decisions will be made under the guidance of local, state and federal health officials."
Regarding the capacity issue, Scott said: "At the moment, we do not believe that's a conference decision." He said the league would "defer" to local municipalities on that front.
UA athletic director Dave Heeke said in late May that he anticipated capacity would be "significantly less" than full and "probably trending to the lower side" of projections that have ranged from 20% to 60%.
If all goes well, when could Arizona begin training camp?
The conference announced two key dates in addition to the proposed start to the season. One is Aug. 3 – this upcoming Monday – for the commencement of "summer-access mandatory activities." That means teams can move to 20-hour work weeks, including unpadded walk-through practices.
Teams can begin training camp as early as Aug. 17.
"Our expectation is that all our programs will be able to start as early as then, but as we're sitting here today, they're not," Scott said, adding that "if schools can't get a safe on-ramp" to needed training activities "we will re-evaluate."
The Wildcats aren't expected to hit the first milestone, making it unlikely they'd hit the second. The UA announced this week that football newcomers, including freshmen and transfers, would be integrated into the voluntary workout program Monday.
They will follow the same protocol as the veterans who preceded them: medical check-ins and testing the first two days, followed by a period of isolation.
If cleared, the newcomers would begin participating in strength and conditioning the following Monday.
The NCAA gives football programs 29 days to complete 25 training-camp practices and has outlawed the scheduling of two-a-days. If the Wildcats opened training camp 29 days before the start of the season, their first practice would be Aug. 28. They were supposed to begin camp on Friday, the day of the Pac-12's schedule announcement.

What are the biggest concerns the league has?
ASU athletic director Ray Anderson, one of four participants in the news conference, noted that people in his line of work — especially coaches — are used to having "a lot of control."
"This situation," he added, "took that away from us."
Despite all the effort the league and its Medical Advisory Committee have put in to create what it believes are best practices, there are limits to their reach. Multiple Pac-12 schools reportedly have experienced virus outbreaks that sprang from fraternity or sorority parties. Football players will have at least some interaction with the rest of the student body, even if that population is smaller than usual.
"There is no bubble, and a bubble would not be appropriate for college sports," Scott said. "These are students. They're not going to be able to be quarantined or isolated in a bubble like (professional) sports do."
Aukerman, who previously worked as a team physician at East Tennessee State and Penn State, said everyone in the medical community has "a healthy respect" for the coronavirus, which has proved "difficult … to manage and handle."
"We all continue to watch the curves," Aukerman said. "We're all continually reliant on the general community to wear masks and make good choices."
How feasible is all of this?
Asked to assess his confidence level in the viability of a college football season, Scott was blunt.
"I don't know," said the commissioner, who has recovered from a bout with COVID-19 suffered earlier in July. "I think we are all trying to take this a step at a time. We are cautiously optimistic sitting here today. There are elements outside our control. What's happening in our communicates? What happens when thousands of students come back to campus? None of us have that answer."
Major League Baseball — which elected against a bubble concept — began its delayed, shortened season on July 23. Less than a week into it, an outbreak struck the Miami Marlins, forcing the postponement of multiple games. The season already is in peril.
Scott said the Pac-12 is prepared to move to "Plan C, D or E" if circumstances dictate. The all-conference schedule announced Friday is considered Plan B.
"We realize games could be rescheduled," Scott said. "No one can predict what will happen. We might not get 10 games in. We all recognize the best-laid plans might not come to fruition.
"There are many, many scenarios still on the table. But we felt it was critical at this point to give our student-athletes and programs clarity."
Speaking on behalf of his peers, Stanford coach David Shaw appreciated finally having some answers – even if they're written in pencil. He sounded confident, if measured, about the prospect of a season.
"We'll find a way to make it work," Shaw said. "There are things we can do now that we couldn't do two weeks ago … We'll do what we're allowed to do until we can do something more."
Be the first to know
Get local news delivered to your inbox!