Dear Mr. Football: What's the last thing you'll see after an Arizona football game this season?
A: Freshman quarterback Grant Gunnell being interviewed by TV, radio and newspaper reporters. That's because UA coach Kevin Sumlin does not allow true freshmen to participate in media sessions.
Sumlin says he delays the process "so that when you present yourself publicly it presents the right message for them and the university. It becomes important because (that message) is there forever."
When true freshman quarterback Ronald Veal became Arizona's starter in Game 4 of the 1987 season, taking over for injured Bobby Watters, I was standing on the UA practice field with my colleague Jack Magruder, waiting to interview Veal. In those days, you could not only watch practice — let me tell you how boring it was — but you could speak to almost any player, any day.
Veal saw Magruder and me and a TV cameraman waiting. He turned to coach Dick Tomey and said, "do I have to do this?" He was clearly uncomfortable.
"Yes," said Tomey. "You'll be fine." And he was.
Sumlin further explained his policy. "Once it's out there, it's out there. I have been doing this for 37 years and I still screw this thing up," he said.
Gunnell was interviewed many times at his Texas high school a year ago. The Star's Michael Lev spoke with him at length after a September game near Houston a year ago. The most revealing thing Gunnell told Lev was that he signed with Arizona in part because he was impressed with the QBs coached by Arizona offensive coordinator Noel Mazzone at UCLA and Arizona State — future NFL players Brett Hundley and Brock Osweiler.
"Those are spitting images of me," said Gunnell. That's an image that sticks, especially after Gunnell's winning performance last week against UCLA.
Dear Mr. Football: Who else won't be interviewed at Folsom Field?
A: Colorado starting safety Aaron Maddox, who was a force at Pima College under coach Jim Monaco in 2016 and 2017, will not play for the Buffaloes. Maddox, the son of former Arizona Desert Swarm defensive captain Richard Maddox, had emerged as a potential All-Pac-12 player in early September, making 22 tackles — including nine in a victory over Nebraska.
But while making a tackle against Air Force, Maddox ran full speed into one of those sideline misters, and suffered a serious laceration on his calf. He isn't expected to return until later this month.
Aaron Maddox was born in Tucson in 1997 and moved to his father's home turf in Augusta, Georgia, and after originally signing with Western Carolina chose to transfer to Pima College with his brother, Brandon, who is redshirting this season at Vanderbilt. Former Arizona coach Rich Rodriguez did not recruit the Maddox brothers.
Dear Mr. Football: Is this just another game in the Pac-12, relegated to the Pac-12 Networks because of lack of interest?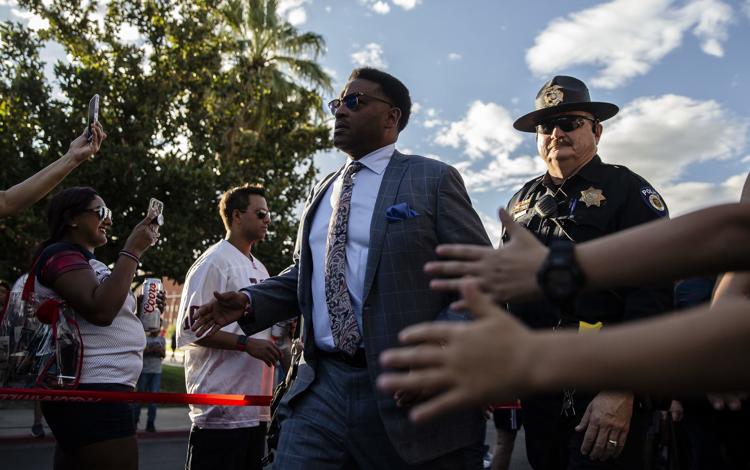 A: The UA-Colorado game has historical significance. It matches two African-American head coaches, Sumlin and Mel Tucker. This is just the ninth game since the Pac-8 was expanded in 1978 that two black head coaches will meet.
The first was a 2005 UCLA- Washington game in which Bruins coach Karl Dorrell and UW coach Tyrone Willingham broke a so-called color barrier.
For the first time in league history, there are four black head coaches in the Pac-12 at the same time: Sumlin, Tucker, ASU's Herm Edwards and Stanford's David Shaw. It's notable because in the 41 years of Pac-10/12 football, there was not a black head coach in 19 seasons.
There have been 92 head football coaches in the league in that period; only eight have been black in a sport with a heavy minority population. For example: 25 of Saturday's projected 44 Arizona-Colorado starters are black.
Dear Mr. Football: Is this a record-breaking Arizona team?
A: Arizona is on pace to break its career record for penalty yards in a season and threaten the 100-penalties barrier for just the second time in school history. It "leads" the Pac-12 in both categories.
"It's ridiculous," said Sumlin. "We're not a good enough team to be doing that. And that's going to change."
However, a year ago, Sumlin's first Arizona team committed 95 penalties — the second-highest total in school history. This year's club has already committed 36 penalties for 326 yards. How bad is that? Here are the UA's three worst penalty seasons this century:
2018: 95 penalties for 908 yards
2011: 95 penalties for 786 yards
2014: 92 penalties for 881 yards
And it's not just Arizona. The Wildcats and their opponents combined for 199 penalties and 1,895 yards last season, which is second to the 2014 season when both teams committed 216 penalties for 1,967 yards.
It wasn't that long ago that penalties were modest in numbers. From 2004-08, Arizona averaged just 65 penalties per season.
One reason college football games take so long now, an average of about 3ƒ hours, is because stoppages for penalties have increased.
Dear Mr. Football: Are the Buffaloes the best-dressed team in the Pac-12?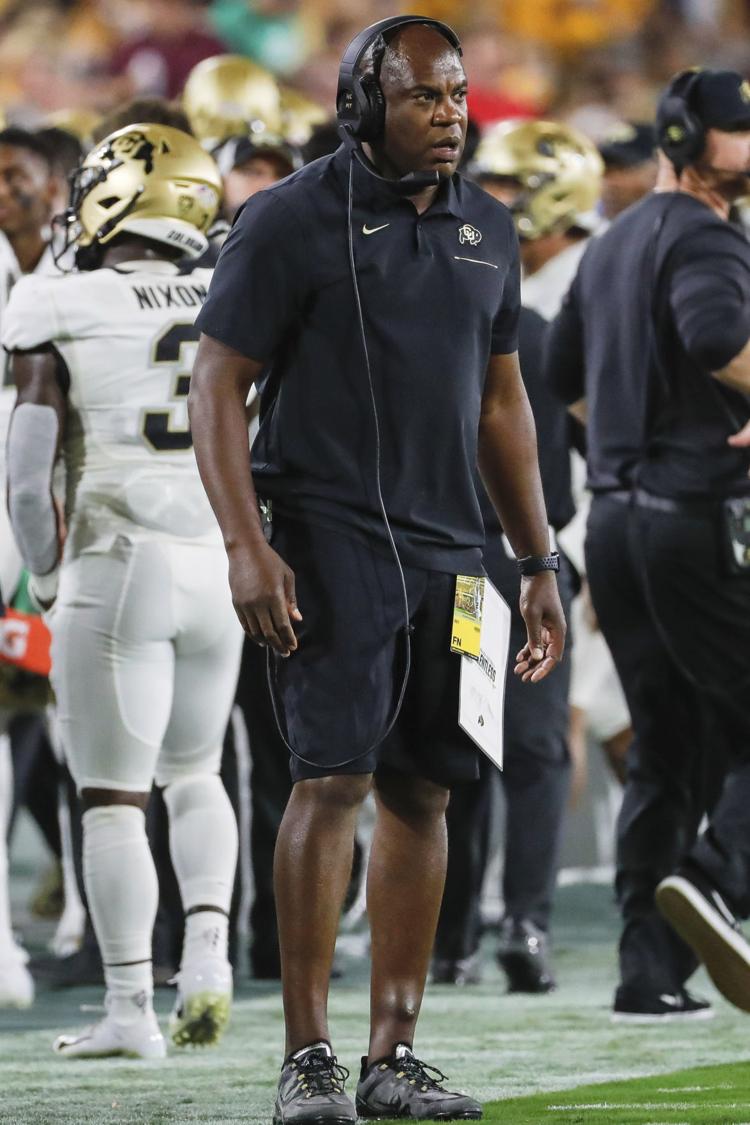 A: Let's just say the Buffs have better taste in uniforms than, say, Oregon, which leads the league in ghastly uniform color combinations.
But there's also this: Tucker, the CU coach, wore shorts during the Buffaloes' victory at Arizona State two weeks ago. No one keeps records on clothing worn by coaches during games, but I've been covering Pac-10/12 football since 1978 and Tucker is the only coach to wear shorts during a game.
In fact, coaching gear has such sameness that the last Pac-10/12 coach to stray from that uniformity was Arizona's John Mackovic in 2002. Mackovic wore a coat and tie on the sideline, a really bad look, mirroring the Woody Hayes-Bear Bryant fashion look of the 1970s.
Dear Mr. Football: Who is Colorado's rival in the Pac-12?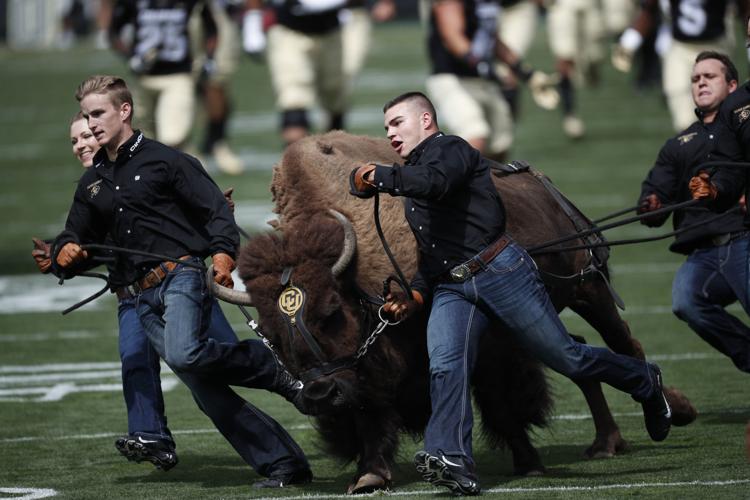 A: The Buffaloes' real rival remains old Big 8/12 foe Nebraska, even though the Pac-12 pairs the Buffaloes with Utah, surely because the two were added to the league in 2011.
The Utes don't draw well at Folsom Field. Except for Colorado's 2016, Pac-12 South title season, the Utah-CU game in Boulder has averaged 41,522 fans — about 12,000 fewer than capacity.
That's even fewer than Arizona-CU games at Boulder, which have averaged 43,608 fans since Colorado joined the league.
But a much-anticipated afternoon kickoff, with autumn leaves changing and temperatures no higher than 70, means this Arizona-Colorado game has appeal beyond football. It will have the feel of college football the way it used to be played, on a grass field. Shorts are optional.
This year, Ralphie the Buffalo may actually run for more yards than Khalil Tate.