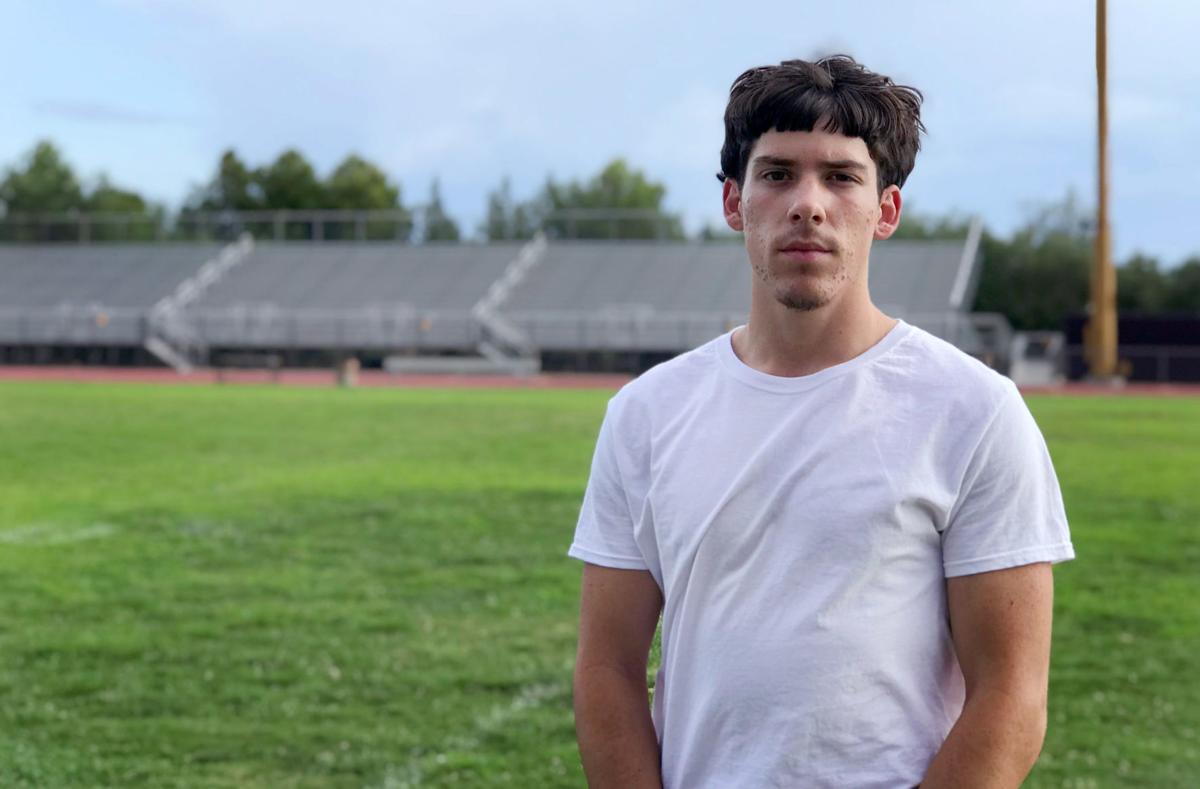 Sabino started the 2018 season with back-to-back losses — including a 34-7 defeat by east-side rival Sahuaro. The rematch against the Cougars is slated for Friday night, and this year Sabino has started the season on the right foot.
The Sabercats opened their season last week when they hosted Casa Grande. After a scoreless first half, Sabino was able to pull away in the defensive battle and win 14-7.
Part of the team's success came from having Andrew Owen back on the field. The senior finished the game with 69 rushing yards on 12 carries; he also caught one pass for 7 yards. He did it all against a Casa Grande defensive line that loaded the box in an attempt to stop the Sabercats' rushing attack.
"When we were trying to drain the clock, he was able to pick up some tough runs," Sabino coach Ryan McBrayer said. "He was able to let us take the knee at the end. The best play in football is taking the knee — that was kind of set up by his couple first downs."
Owen almost didn't play this season. A car accident suffered on the second-to-last day of Owen's sophomore year cost him his entire junior season — and put his health and football career in serious jeopardy.
Owen was in the passenger seat when he and a close friend where in a car that crashed near Owen's home. The airbag caused damage to the left side of Owen's face, and his left eye swelled shut. When the swelling went down, Owen realized the injury was more severe than he initially thought.
He was blind in his left eye.
"My vision was pretty messed up," he said. "It took a few weeks for my eyes to adjust … it took us a while, we talked to three doctors before we actually found out what was wrong with my eye. The impact was so severe, I had a detached retina, which caused me to lose vision. I ended up having a surgery for it to heal so I could play football again."
Following the surgery, Owen had to lay face down for an entire week. Then he had to wait a couple months for the gas bubble in his eye to evaporate. Because the damage had been caused by trauma, doctors warned Owen that he may not ever regain his vision.
Through the monthslong recovery period, Owen continued to participate in football — well, as much as he could. He had played in five games as a sophomore, and figured to move into a starting role as a junior.
So the day following the accident, Owen showed up — busted face and all — to summer workouts.
"He was there for every step of the way, which kind of talks about his character," McBrayer said. "He was coming to practices as much as he could. He was going through a lot of doctors' visits and everything like that. He couldn't be out in the sun and he had a patch over his eye … but everything he could be at, he was there and present and really supportive of everything. He was just working his tail off as much as he could to come back."
Owen said his teammates' support motivated him to get back to the team. He could have been scared of getting tackled after severe impact cost him vision in his left eye, but he knew he had to return.
"This team — the people I would surround myself with — and the coaching staff, they're the real reason why I came back to it and the love I have for football," Owen said.
The surgery proved to be successful. Owen has no central vision out of his left eye, but can see things on the periphery. It's an improvement.
Shortly after the surgery, Owen realized his hand-eye coordination wasn't the same. He'd try tossing random objects up in the air, but when he'd try catching them, they'd fall through his arms.
Slowly, his eye adjusted. The starting position was waiting for him when he rejoined the team for his senior year.
McBrayer said Owen proved to be everything a Sabino player should be.
"Dealing with the adversity that he was given, they didn't know if he was ever going to play again," McBrayer said. "And he worked his butt off and got in the weight room. Once he was cleared, he was full throttle. And he's a major leader, a motivational guy for us. Come Friday nights, he plays very well for us and he's kind of the catalyst for us, for what we want to do on offense."
Now a senior, Owen would like to help his team get back to the playoffs and improve from last year's semifinal finish.
The injury didn't dampen his love of the game.
"It's all about how much you care about it and how much you want to do it," Owen said. "For me, I've been injured before and I found my way back and I've been perfectly fine. Just never give up, love what you do and try to be the best you can."
Contact reporter Norma Gonzalez
at 520-262-3265 or