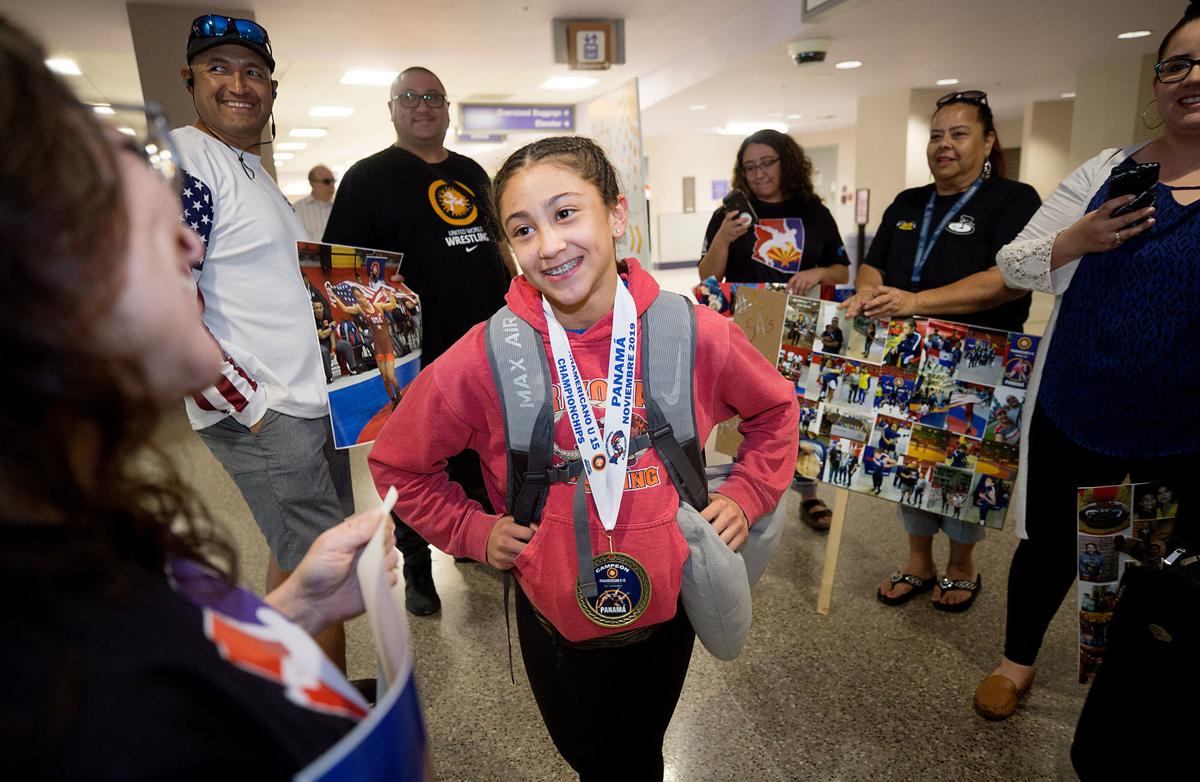 Audrey Jimenez smiled broadly as she descended the escalator at Tucson International Airport on Monday afternoon, the gold medal around her neck glistening under the fluorescent lights.
A cheering crowd of her family and friends awaited her.
Thirteen-year-old Audrey, a member of Sunnyside Wrestling Academy and the USA Wrestling National Team, went undefeated in her three matches at the U15 Pan American women's freestyle championships in Panama on Saturday, earning her the gold medal for her 39-kilogram weight class.
"I just wrestled how I usually wrestle, and there wasn't really any surprise there," Audrey said. "The people (in Panama) are so loving and so kind. The girls I wrestled, after the match they congratulated me and we talked. My Nana translated for me since I couldn't talk to them, but they were so nice."
Audrey, a self-proclaimed foodie, said she loved the food in Panama.
"After I made weight, I ate a lot," Audrey said, laughing. Her weight bracket for the tournament was 85.8 pounds, but she actually came in nearly 3 pounds under. "I felt good. I was light, but I felt strong."
Twelve hours after her return to the States, Audrey was back in the gym for training, demonstrating the machinelike work ethic that's earned her the respect of her coaches and peers.
Later Tuesday morning, Audrey was honored at Gallego Intermediate Fine Arts Magnet School for her academic achievements during the first quarter of the school year. While Audrey has missed some classes because of out-of-town tournaments and development camps, she's still managed to maintain her 4.0 GPA and earned the eighth grade algebra and humanities awards.
By Tuesday afternoon, a video on Billy Jimenez's Facebook page of Audrey walking to the podium in Panama to receive her gold medal had more than 5,000 views. Thousands of people had also tuned in to watch videos of her Pan Am matches.
"She's a fantastic kid. Her work ethic is phenomenal," USA Wrestling coach Mike Duran told the Star. Duran is the developmental coach for California USA Wrestling and the high school elite coach for Titan Mercury Wrestling Club.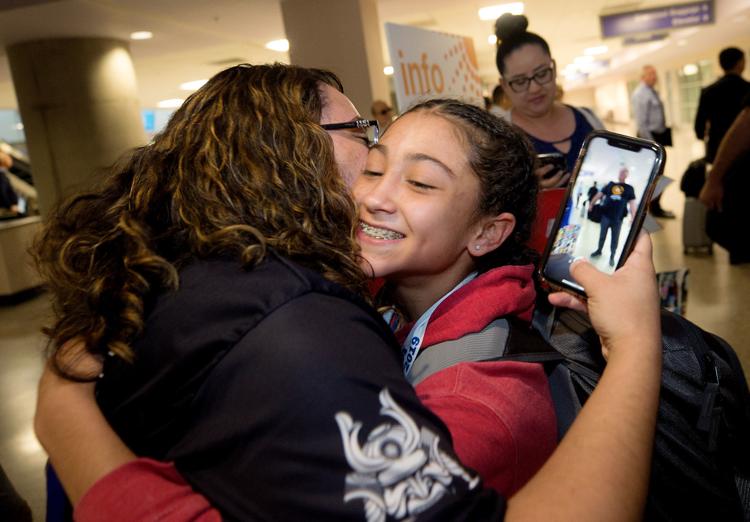 The 15U age group in relatively new to the Pan Am Championships, having just completed its fifth year. Duran has coached for three of those years and said the talent has increased tremendously in that time.
"Audrey is a very, very, very technical and talented wrestler. There weren't too many kids that gave her much of a challenge," Duran said. "She kind of just went in there, was laser-focused on doing her job, got it done and then came off the mat."
Duran said he's been around girl's and women's wrestling at a national level for the past decade, and he believes Audrey's commitment, focus and drive will keep her in the sport for a long time.
"There's been a lot of kids that have been a part of our developmental programs and national teams, but you know when you see someone that's focused and wants to get the job done and get to the next level, and that's her," Duran said. "To be at that level at any sport takes a lot of sacrifice from the athlete, but from the family as well. I just kind of felt like (the Jimenezes are) all in, and that's what it takes."
Audrey is already back in the grind in preparation for another national competition. She and her family will head up to Phoenix on the weekends to get her reacquainted with scholastic wrestling, the style practiced in middle and high schools in the U.S. Some of her recent matches, including Pan Am, have been freestyle, which is slightly different. Traveling to tournaments outside of Tucson allows Audrey the opportunity to wrestle new opponents, who are always boys, according to her father, Billy Jimenez.
In December, Audrey will travel to Colorado Springs for the King of the Mountain tournament, where she'll compete to be both king and queen, since she'll wrestle both boys and girls.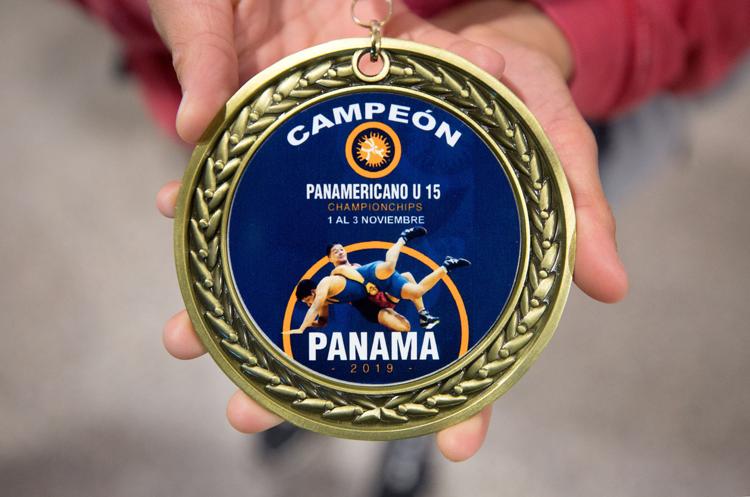 "That was a great tournament last year," Audrey said.
Audrey won't be away from the international circuit for long: In March, she'll travel to Estonia for the Tallinn Open as a member of the U.S. Female Wrestling Travel Team World Tour. The Tallinn Open is Europe's largest wrestling tournament, with more than 2,200 wrestlers from 29 countries having competed in 2019.
In May, she'll head to Irving, Texas, for the Women's Nationals. If she wins, she'll earn a spot on the United World Wrestling Team. The UWW is the governing body for amateur wrestling and oversees wrestling in the Olympics.
Before Audrey heads to Fargo for the US Marine Corps/USAW Junior National Championships in July, she'll have to make a decision about her plans for high school. While coaches for the Sunnyside High School team would love to have her as a member, Audrey is also considering Wyoming Seminary, a boarding school in Pennsylvania with a top-ranked wrestling program. Within days of Audrey's victory at the Pan Am Championship, Wyoming Seminary's wrestling coach had already contacted Billy to get the ball rolling on a visit to the school.
While Audrey's drive and commitment to wrestling is often praised by those who know her, Audrey says it's just the way she's always been.
"I do put in the work, but the way I see things and how I mentally prepare myself, I think it's just natural to me." Audrey said. "It's the things I do, I think. I know the right things to do, I know the wrong things to do, whether it has to do with school, social life or wrestling."
Before Audrey's plane landed at TIA, her mother and sister talked to a group of Air Force members gathered in the arrival area to meet a colleague.
Audrey's mother and sister, Denise and Alyssa Jimenez, told the servicemen about Audrey and her accomplishments, to which one of the men replied, "We get to greet an American hero, too."
Realizing a moment later that his statement needed clarifying, he pointed at one of the posters adorned with photos of Audrey and added, "She's the hero."
For Audrey's growing community of friends and supporters, that's certainly the case.