You can smell the Indian food as you're walking down Stone Avenue. The rich scent of toasted spices only gets stronger as you step through the doors of the Pioneer building, into a small room with rows of baked goods on display. 
At first glance Bombolé seems like it might be an Indian bakery of some sort, but those aren't samosas on the counter. They're empanadas, though not the sweet kind you might see at a Mexican panaderia. This new lunch spot fills its moon-shaped turnovers with Indian curries like butter chicken and the spiced potato aloo matar.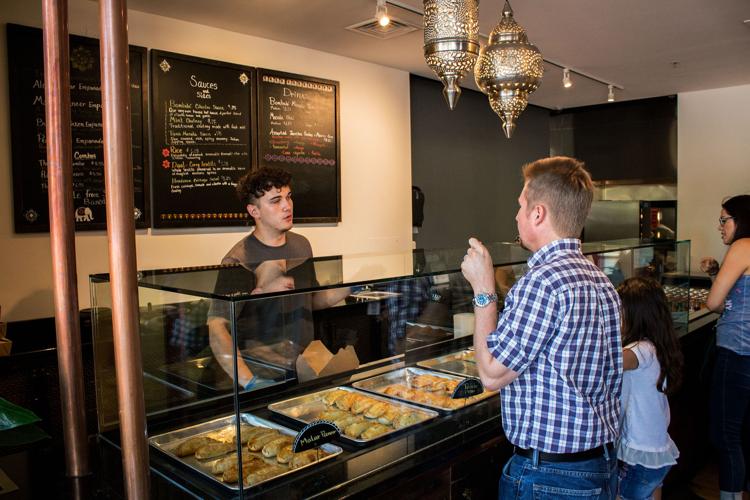 It might sound like a weird concept for the business area of downtown, but Indian and Latin American cuisine actually go together quite naturally. 
"All over the world you go, and you eat rice and beans," says Bombolé's owner Jackie Sharma, who also owns Ike's coffee shop across the breezeway. Jackie was born in Honduras, but has been living in Tucson since the age of 17 where she met her husband, who is from Scotland but of Indian descent.
"My mother-in-law and I are always comparing notes regarding food, talking about whether they have certain things in India. ... Being married into an Indian family, I started cooking curries and I've been trying to perfect them for the past ten years. Hopefully my mother-in-law approves." 
Jackie likes to experiment in the kitchen, and came up with the idea of putting leftover curry into an empanada to feed her husband and two kids. The name Bombolé refers to the Indian street food scene in Bombay, with a "Latin twist." Unlike a lot of samosas that are flaky from being fried, Jackie's empanadas are baked and "twisted" into that iconic half-moon shape.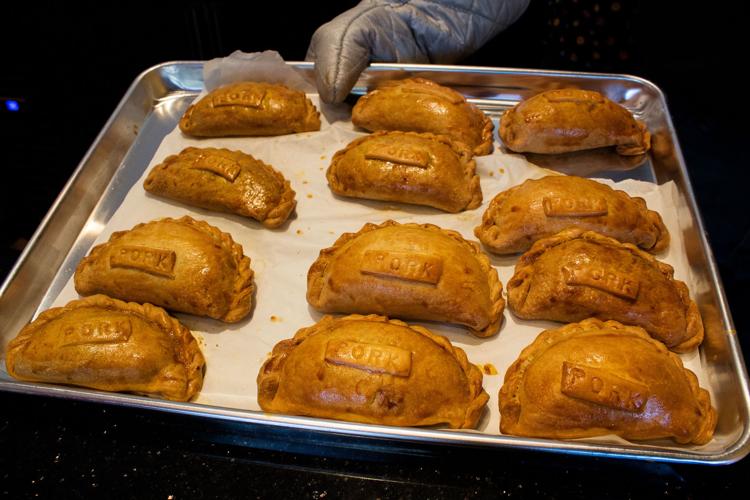 Since they opened on Monday, Bombolé has had four varieties of empanadas on display for $3.85 each: the curry pork, chunky butter chicken and two vegetarian options aloo matar with peas and potatoes, and the matar paneer with spicy tomato sauce, peas and Indian paneer cheese. (They're going to expand the menu in the future, and may add the sweet empanadas we love here in Tucson.)
None of the empanadas are particularly saucy, so each combo plate comes with a sauce on the side. The mild tikka masala sauce is the most substantial; Pour it all over your rice for a makeshift curry dish. The Bombolé cilantro sauce has a spicy kick from serrano peppers and tastes somewhere between green chutney and chimichurri. 
The only distinctly Honduran item on the menu is the side of cabbage salad, which may remind you of the saucy curtido you've gotten with your pupusas. But this salad is fresher and less pickled than its Salvadoran cousin. The thin slivers of cabbage, tomatoes and onions are only lightly dressed in lemon, so they add little tangy crunch to your rice. And for the "beans" portion of the plate, you've got a curried lentil daal that's so creamy it has the texture of Mexican refrieds.
It's not imperative though that you get the entire combo plate. With its reasonable prices and quick takeout vibe, Bombolé is perfect for a grab-n-go lunch. Make sure to pick up an iced chai tea while you're there. Or if you want something fizzy, a Jarritos soda ...