This story is part of series being produced for Girl Scouts of Southern Arizona by #ThisIsTucson. Thanks for supporting the local organizations that support us!
---
One of the newest restaurants downtown comes from a woman who has been keeping Tucson caffeinated for several years. Now she's feeding us, too. 
Jackie Sharma, 44, has owned Ikes Coffee and Tea on Stone Avenue downtown (and in other locations) for about three years. This summer, she opened Bombolé, a downtown lunch spot that serves empanadas stuffed with Indian curries. (More on Bombolé here.) 
Although she was born in Honduras, Sharma married into a family of Indian descent and has spent the last 10 years perfecting Indian curries. Some experimenting in the kitchen led to an empanada filled with leftover curry — a new (and tasty) business venture. 
Because we love these savory empanadas, we wanted to introduce you to their creator.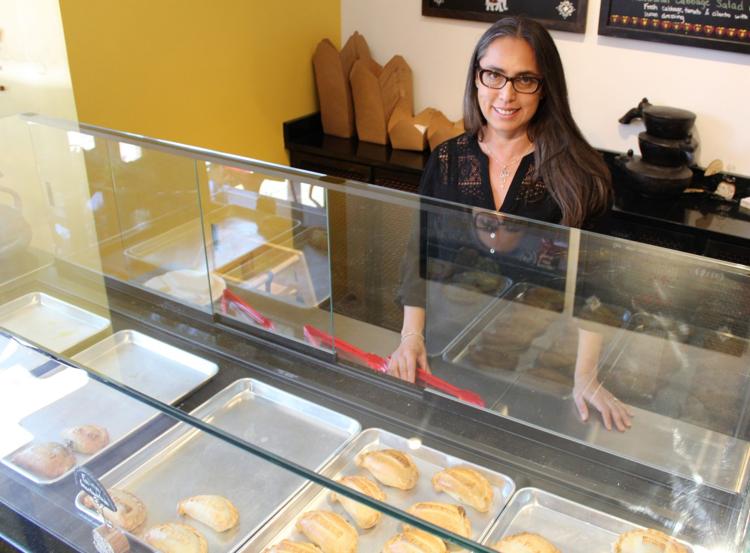 Meet Jackie Sharma.
Describe what you do: I am a mother of two children, a wife and a business owner. I keep myself busy by running the shops and looking after my kids.
You're a restaurant and coffee shop owner. Tell us how you got here. I have always enjoyed feeding people. It has been my passion to make food to feed others, so it was probably inevitable to become a coffee shop owner. I used to be an elementary school teacher and was in a hiatus while I had my babies. However, once my children were old enough to start preschool, I started wondering what else to do with my time. My husband and I decided to invest in a coffee shop. That's how we came to own Ikes Coffee and Tea. It has been a total adventure and a dream come true. I get to feed people, make wonderful friendships and continue to learn and grow as a businesswoman.
Now that we have opened our own shop (Bombolé) that has been another dream come true. It has taken lots of time to come to fruition but we are here to feed our downtown community
What has your experience as a woman in this industry been like? My experiences as a businesswoman have been just as expected from someone who doesn't have a business background. There have been days when nothing could really prepare me for the daily problems, but I am fully committed to being able to provide a good service to each one of my customers at Ikes coffee shops, Bombolé or at Twirls Frozen Yogurt.
I want every customer to have a good experience. That's the most fulfilling of all the dreams.
Got a future restaurateur? Here's how your girl can get started. 
The Young Entrepreneurs Academy Tucson is a yearlong program for middle and high school students that teaches them the ins and outs of starting and running a business. This year's program just started, so if you're interested, look at applications for program. Go here for more information. 
Cuisine Classique Cooking School runs a culinary summer camp for kids. But if your aspiring chef can't wait that long, sign her up for a short winter camp the week after Christmas. This is for kids ages 5-11 of any skill level. Go to cuisineclassique.com for more information. 
Felicia's Farm produces eggs and produce for low-income and homeless Tucsonans. Teach your girl about our city's food needs by spending some time volunteering at the farm. She'll get a chance to learn more about locally grown food and sustainable farming. Kid volunteers are welcome with adult supervision. Go to feliciasfarm.org for more information. 
---
Prepare your girl for a lifetime of leadership with Girl Scouts
When they're learning to cook or run their own business, advocating for our communities, discovering the outdoors, exploring science and technology, or powering new adventures as part of the Girl Scout Cookie Program, Girl Scouts discover they can achieve anything!
Girl-led, expert-approved, and volunteer-supported, Girl Scouts helps girls discover their strengths and change the world.