Scientists worldwide are racing to perfect hypersonic vehicles, which can travel at many times the speed of sound, for military as well as civilian uses.
Working to keep pace, the UA is in the final stages of installing two high-speed wind tunnels to help researchers — and aerospace companies like Raytheon — solve the unique challenges of flying something at hypersonic speeds of Mach 5 or faster.
Wind tunnels are used to test aerodynamic effects on objects such as aircraft, typically using much smaller scale models, and sometimes individual components.
Housed on the third floor of the UA Aerospace and Mechanical Engineering building, the Boundary-Layer Stability and Transition Laboratory features a new hypersonic wind tunnel capable of testing at air speeds of up to Mach 5 — five times the speed of sound, or about 3,800 miles per hour.
Sharing a parallel space and some common equipment in the lab is a smaller, Mach 4 tunnel acquired from another school.
The UA College of Engineering had been looking to install a hypersonic wind tunnel for at least a decade. After hoped-for federal funding for a hypersonic tunnel fell through in 2010, the UA built a $2.5 million subsonic wind tunnel in 2013.
When the school hired Alex Craig as an assistant professor in the UA Department of Aerospace and Mechanical Engineering in mid-2016, department officials told him that they were in the process of acquiring the Mach 4 wind tunnel from Purdue University.
"I said, 'I think that would be good to get started, but we really need something bigger,'" said Craig, who earned a doctorate in aerospace engineering from Texas A&M University in 2015 and was a postdoctoral research assistant at Los Alamos National Laboratory before joining the UA.
Craig and his colleagues convinced the administration to fund the bigger, faster wind tunnel to help researchers study the effects of hypersonic speeds as the U.S. military moves to develop hypersonic missiles and aerospace firms study hypersonic transportation.
Both China and Russia are testing hypersonic missiles, and the U.S. Air Force, Navy and Missile Defense Agency all have accelerated hypersonics research to keep up.
"We're in somewhat of an arms race right now internationally in the field of hypersonics, because you've got a variety of possible applications and a lot of them are being driven by the military now," Craig said.
The commercial sector, including a growing roster of private spaceflight companies, also is deeply engaged in hypersonics. Last year, Boeing unveiled a concept for a Mach 5 capable hypersonic passenger jet.
"This is also important for space access — re-entry vehicles are by definition hypersonic," Craig said. "They're quite a bit faster than what this tunnel does, but you can learn a lot at Mach 5 that still applies to Mach 15 or 20 as well."
WORKING WITH RAYTHEON
Beyond basic research, the UA is looking to attract new work from industrial research clients such as Raytheon, Craig said, adding that he consulted with Raytheon officials on the wind tunnel design.
Craig is collaborating with Hermann Fasel, a UA professor of aerospace and mechanical engineering, on a 2017 hypersonics research award of $560,000 from the Office of Naval Research.
Fasel, an expert in computer simulations and modeling, received an additional $485,000 from the Office of Naval Research.
Anatoli Tumin, a UA professor of aerospace engineering and applied mathematics, received a separate Navy award of $934,000 in 2017 to advance theories on how gases and sound waves behave at hypersonic speeds.
UA associate engineering professor Jesse Little is performing hypersonics research for Raytheon, which is working on a hypersonic vehicle design for the Defense Advanced Research Projects Agency.
Raytheon already makes several missiles, such as the Standard Missile-3 ballistic missile interceptor, that fly at hypersonic speeds in relatively short bursts.
"The capability to conduct aerodynamic testing in the hypersonics regime is a great enabler for our development programs and it will further enhance our strong partnership with the UA," Laura McGill, Raytheon Missile Systems engineering vice president, said in an e-mail.
Raytheon, Southern Arizona's biggest private employer with more than 11,000 local workers, hires more graduates from the UA than any other university.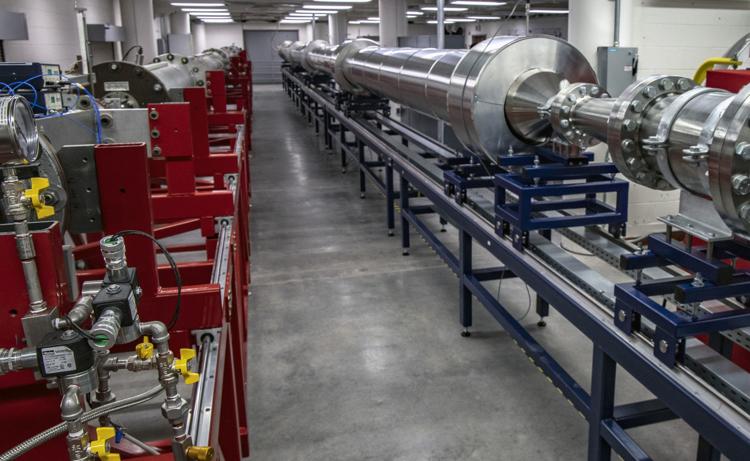 TAMING TURBULENCE
Hypersonic flight has some unique effects, creating shockwaves and intense heat that can liquify gases in the so-called boundary layer — a thin layer of fluid or gas along the surface of an object in flight.
Craig and other researchers are working to understand the boundary layer and how it transitions from a smooth, or laminar, flow to a turbulent flow, which can create 10 times the heat and drag of a laminar flow.
"Think about your faucet at home, you crack it open a little and you get this smooth stream — we call that laminar — but if you crank it all the way open you get this bubbling, mixing flow and that's turbulent," he said. "It's got some pretty profound implications for the design of vehicles, but we've done a pretty poor job of predicting how and when that transition will occur."
A subsonic wind tunnel generally uses powerful fans to generate a test flow, using streamers or smoke or other media to visualize the flow and computers to gather critical data.
A hypersonic wind tunnel is a different animal.
The UA's Mach 5 wind tunnel is a Ludwieg Tube design, which uses a setup of pressurized air that is released suddenly into a massive vacuum tank as a pair of thin metallic film diaphragms break. The shockwave moves into the vacuum tank while a soundwave travels upstream through a roughly 100-foot tube and bounces off the end wall to return and create a Mach-5 flow over the test subject.
The air accelerates so rapidly that it cools and must be heated so the oxygen won't liquify, and since the burst of air lasts only about a tenth of a second the test must be recorded with high-speed cameras, Craig noted.
Hypersonic technology doesn't come cheap. Craig estimated the UA has spent around $1 million on building the Mach 5 tunnel, noting that one high-speed camera that shoots up to 2 million frames per second costs about $75,000.
The school's Mach 4 wind tunnel is a "quiet" Ludwieg Tube design, with a highly polished nozzle to limit turbulence that can interfere with experiments. The UA plans to eventually install a quiet nozzle on the Mach 5 wind tunnel, Craig said.
While the 87-foot-long Mach 4 tunnel — which the UA got for the cost of shipping — is useful, its roughly 4-by-4-inch test section is tiny compared with the 15-inch test area of the Mach 5 tunnel, he noted.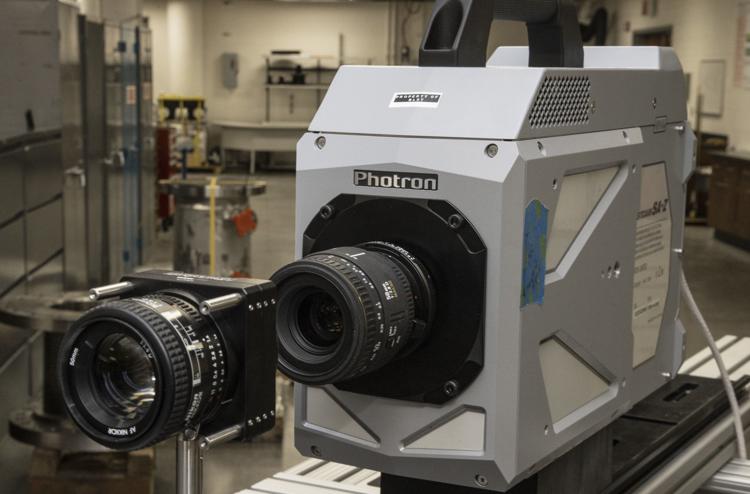 KEY RESEARCH AREA
Craig said he's encouraged by the support he's gotten from the UA administration, which has included hypersonics as a key research area in its strategic plan.
Hypersonic research is a key research area for the UA and its revamped University of Arizona Applied Research Corp., or UA-ARC, an independent organization spun out from the UA's former Defense and Security Research Institute in January to focus on solving complex national-security problems.
Austin Yamada, president and CEO of UA-ARC, said the new wind tunnels will help push the UA's hypersonics research to the next level, noting that schools including Notre Dame, Purdue and the University of Maryland are leaders in hypersonics research.
"I think the UA is carving out a niche for itself in certain Mach (speed) areas, but also with the breadth of the team," Yamada said.
"It's not just about mechanical engineers or aerospace engineers, it's about material science and modeling and simulation, and it's the collaborative team you build to do more than just publish an article — it helps you solve a problem."