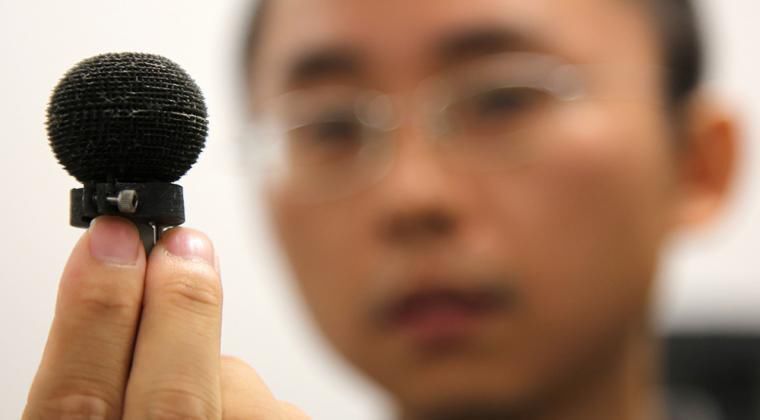 With self-driving car technology already showing up in the marketplace, a University of Arizona startup company is developing technology to make it better — and cheaper.
The UA has licensed a pair of technologies to improve radar systems for autonomous vehicles to startup Lunewave Inc., headed by lead inventor Hao Xin, a professor in the UA Department of Electrical and Computer Engineering.
The core of the company's technology is the use of inexpensive, high-performing, 3-D printed "Luneburg lenses" — spherical lenses that can replace multiple sensors, according to a licensing announcement by Tech Launch Arizona.
Xin says he sees a huge opportunity for the technology applications including sensing and detection, autonomous cars and drones, pollution, water vapor detection and wireless communication.
Now, most technologies for "advanced driver assistance systems" require multiple expensive sensors, including LIDAR — a light-based remote sensing technology — ultrasonic, and optical devices. All have limited ranges, and are sensitive to adverse weather conditions.
The UA radar technology, invented by Xin along with assistant professor Siyang Cao and postdoctoral research associate Min Liang, uses a 3-D-printed version of a Luneburg lens — a technology developed in the 1940s.
The lens is combined with embedded electronics and metalized film dielectrics, or insulating layers, to scan more efficiently, avoid interference and cover a full 360 degrees while replacing multiple more expensive, conventional sensors, the UA says.
"Together, these two technologies may prove to be the key to allow traditionally expensive luxury car automotive safety systems to be included on much more popular and less expensive cars," said Bob Sleeper, Tech Launch licensing manager for the College of Engineering.
Lunewave is a participant in the Arizona Center for Innovation incubator at the UA's Rita Road Tech Park, where the company is working to scale up the technology under a National Science Foundation grant.
The startup is one of several players working on self-driving vehicle technology in Tucson.
In August, a Chinese startup company developing self-driving technology for commercial trucking opened a facility in Tucson for research and testing — including a planned Tucson-Phoenix run with an autonomous truck.
At the UA, associate engineering professor Jonathan Sprinkle is a co-principal investigator on an autonomous-vehicle student technology challenge, under the National Science Foundation's Cyber-Physical Systems Virtual Organization.
Arizona is one of a handful of states that has adopted legislation or policies supporting the testing and development for the autonomous vehicle industry.
Tech Parks AZ leads mission to Israel
Tech Parks Arizona recently led a business mission to Israel as part of Global Advantage, a program designed to attract fast-growing tech companies to the Arizona-Sonora region.
During the second week of the business outreach mission, the Tech Parks Arizona delegation was joined by representatives from the UA and Universidad Nacional Autónoma de México, or UNAM.
That led to the signing of a joint agreement between the UA, the Mexican university and Israel's Ben-Gurion University, pledging cooperation on innovation and entrepreneurship, as well as plans for academic ties and cooperation between Ben-Gurion's high-tech park, Tech Parks Arizona and a high-tech initiative of UNAM.
A delegation representing the Global Advantage Soft Landing Program spent a week in Israel meeting with 34 small to midsize Israeli technology companies operating in the areas of advanced energy, cyber-security, digital healthcare, robotics and smart vehicles, as well as arid lands agriculture and water, the UA said.
Tech Parks Arizona says its goal is to have the Israeli companies launch their North American operations in Southern Arizona, citing the area's easy access to major American markets as well as Mexico. Four companies have expressed an interest in joining the Global Advantage program, the UA said.
TECH EXPO is OCT. 25
The Arizona Technology Council and the Arizona Commerce Authority will host the fifth annual Southern Arizona Tech + Business Expo on Wednesday, Oct. 25, at the Tucson Convention Center.
The keynote speaker will be Denise Johnson, group president for resource industries at Caterpillar Corp., which is in the process of moving its surface-mining technology division to Tucson and is a top co-sponsor of the expo.
For more information, or to register as an attendee, exhibitor or sponsor, go to the Tech Council's web page, www.aztechcouncil.org