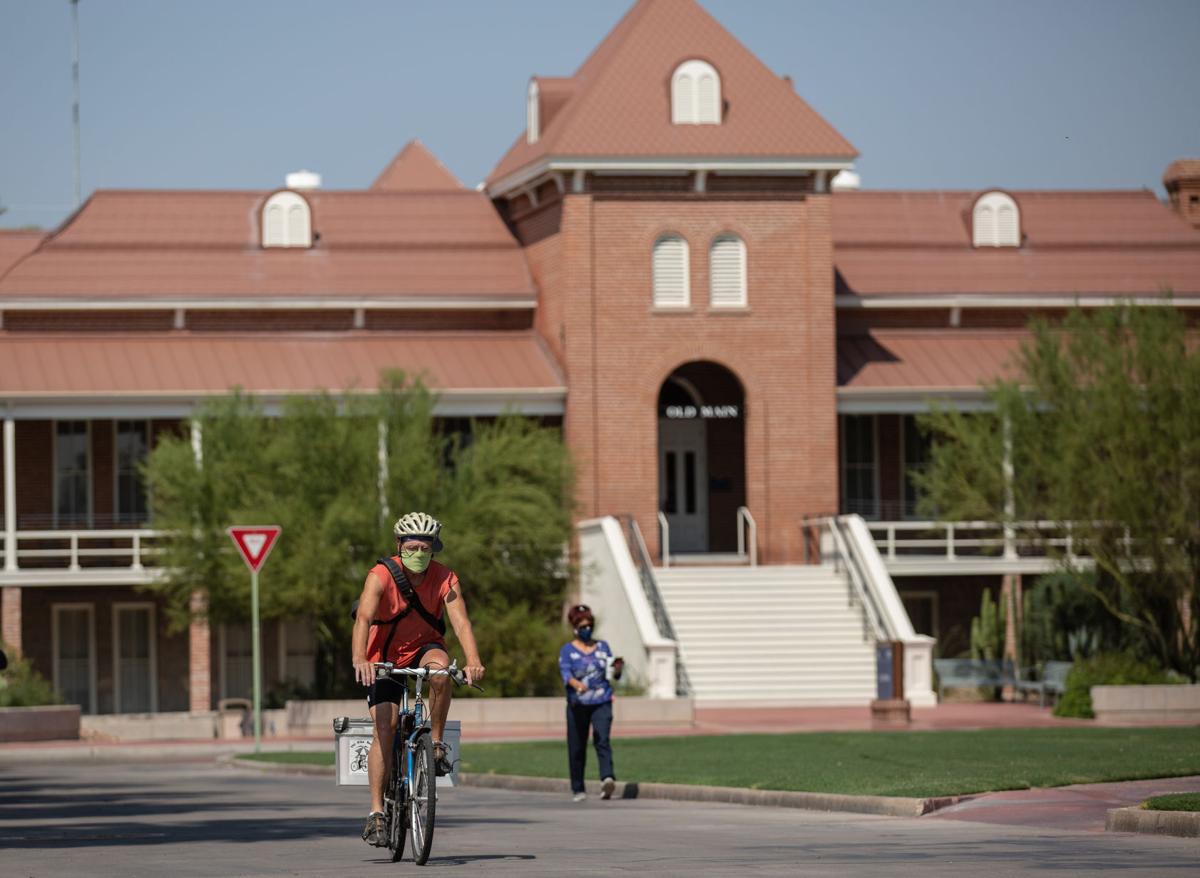 With clusters of coronavirus identified at a handful of off-campus student dwellings, local government officials and neighborhood residents expressed frustration that the University of Arizona was not proactive enough about a situation that all parties acknowledge was inevitable.
The UA has not specified how many off-campus students have tested positive for the virus, saying Friday only that some are included in the 480 cases the university has confirmed at its on-campus testing sites since July 31.
But early indicators show large swaths of off-campus students, who are not mandated by the university to be tested, are infected and not included in the UA's count, just as the school is into the three-day Labor Day weekend.
At least 29 cases of coronavirus were confirmed among 240 students who were tested last week by the city and county at the off-campus apartments near North Euclid Avenue and East Speedway, officials said. In addition, at least six live-in members tested positive at the Alpha Phi sorority house, located within campus limits but considered off-campus, according to local news reports.
On-campus clusters of cases have already been identified in the Likins, Árbol de la Vida and Coronado dorms.
The university has partnered with Pima County, Tucson and neighborhood groups to take efforts to curb the off-campus outbreaks before they spread to the larger community, through a series of mobile testing sites, including at apartment complexes and Greek houses this week.
But ultimately many expressed frustration that the university's initial coronavirus plan was focused on the 5,000 students who opted to live within the dorms, as opposed to the many thousands more who live off-campus, when classes resumed late last month.
"Hoping and encouraging isn't a plan. The reality is that while the university did testing for all of the on-campus dorms, nobody took responsibility for the thousands of students who are coming onto campus from the outside," Tucson City Councilman Steve Kozachik said. "This has to be a team effort and no longer a situation where everyone is hoping the inevitable doesn't happen. It did."
Asked this week during a media briefing, UA President Robert C. Robbins acknowledged the UA would have done things differently in hindsight, adding that school officials didn't think they could legally ask off-campus students to submit to mandatory testing.
That might change for those coming onto campus should testing expand to include things like instant tests, he said. In the meantime the onus is on students to practice good behavior.
"The students that live near campus, in the off-campus housing, our Greek housing, our students on campus, have really been model citizens," he said Tuesday. "The problem is they came in negative, they went out in the community, they've acquired the infection and now they're positive." He added that the school's plan will be to encourage good behavior and punish bad behavior.
"The way that we get back onto the positive is not following the rules," he said. "We're going to continue to advocate for education and following the rules because we know they're effective. They're pretty simple measures that we're asking everyone to do."
Asked if the county had seen a plan for off-campus students, Pima County Administrator Chuck Huckelberry said, "We haven't seen one," admitting the county is concerned. But he added that Robbins and his staff "clearly understand the need to be more proactive in their off-campus housing."
Early indicators of clusters — defined as two more people testing positive at the same site within a 14-day period — has prompted discussions about the county potentially invoking court orders to keep sick or exposed people under quarantine, he said, adding that it's a last resort.
"I think our biggest concern is things were going in the positive direction," he said, referring to recent landmarks regarding business and school closures. "A few reversals can change that, and it sends mixed messages to the public."
Jump in new cases expected
During a meeting of the county's Board of Supervisors last week, Dr. Francisco Garcia, the county's chief medical officer, said the Health Department is expecting a jump in new cases in the next couple weeks, putting much of the blame on the off-campus students.
Pima County added 149 cases on Thursday and 131 on Friday, according to state health department data, two of the largest single-day totals in recent weeks, and not accounting for routine delays in recent cases reported to the state.
Garcia also said there's a lag in reporting by one of the labs doing the tests for the UA becaue of technical issues. Those numbers are expected to be added within the next week.
Ultimately he said the strategy for off-campus students has been "less clear."
"The reality is the University of Arizona has most of its students in that off-campus environment. In the immediate off-campus environment, one of the concerns has been the type of congregation and social activity that leads to increased infection," he said during the meeting. "We are tracking that very closely. We are concerned, we are worried, that even though our positivity has been trending in the right direction, we will start seeing them bump up as those cases are identified."
Supervisor Betty Villegas expressed frustration at the UA for not taking "better care of their off-campus students," saying they're the university's responsibility.
"The fact that the students are paying $1,000 to $1,500 a bed in these luxury student housing complexes and they are irresponsible in not taking this seriously enough, I think the University of Arizona has to step up. They have to do what other college towns are doing and suspend them or send them home. We cannot afford to have the spread any more than we already have," he said.
University of Arizona officials said last week that the spikes in off-campus were "not a surprise" and that the university's coronavirus models accounted for these scenarios.
"We have worked real hard to work out these contingencies," said Dr. Richard Carmona, former U.S. surgeon general and professor in the UA's Mel and Enid Zuckerman College of Public Health.
Carmona, who is in charge of the task force's incident command center, said "it's really a team effort" to determine best practices. Local government officials, students, off-campus housing officials and neighborhood associations all play a role, he said.
Robbins agreed.
"We obviously expected that because the students that live off-campus don't have to follow the rules that the students that live on-campus do — it's only taken us a week or 10 days to see what we knew what was coming," he said.
Asked whether there is any indication there's been spread to the community at this point, Huckleberry said no, adding that "it's never too late" to try and curb the spread.
He said the key is to find out where the infections are and control those. Then it's determining whether there are any behaviors contributing to the infections, such as large gatherings, a failure to wear masks or a lack of physical distancing.
"If the students can be confined and quarantined, that's a good thing," he said. "If they go undetected or asymptomatic, then they gain access into the community, then we see community spread."
"I don't think it's ever too late. We just wish they would have been more proactive at the front end when it comes to off-campus housing. The fact that they're in that mode — we're really appreciative," he said.
In terms of off-campus counts, some schools, including ASU, have been separating their totals between on-campus and off-campus students.
ASU reported 556 positives of off-campus students, out of 983 total cases, as of Thursday.
Pam Scott, a spokeswoman for the UA, said the university has announced a plan to ramp up testing and is trying to break down data more effectively.
Huckelberry said the location of the new positive tests will be used to make decisions.
"My recommendation is wait a week or two. Let's see where we are. Let's see if this can be managed. They're taking all the right steps with more frequent testing," he said.
Testing campus wastewater
With the pressure to do more to prevent outbreaks among off-campus students, the UA has dedicated resources to detecting COVID-19 in wastewater, a scientific process that could prove crucial to identifying outbreaks throughout the community. The university is currently using this process to test for the virus in some 20 campus buildings and dorms but is looking at ways to collaborate with local and state wastewater facilities.
"For the coronavirus pandemic, wastewater-based epidemiology relies on testing wastewater from a given community for the virus," said Ian Pepper, director of the UA's Water & Energy Sustainable Technology (WEST) Center. "The concentration of the virus gives an indication of the severity of the pandemic and correlates with the number of infections. It's an extremely sensitive test. A study with polio virus 20 years ago actually showed that you can detect one infection amongst 1,000 individuals."
Last Tuesday, researchers from the WEST Center tested wastewater from the Likins dorm and found an increased concentration of coronavirus. Those results led the UA to conduct both antibody and diagnostic PCR tests on all 311 residents of the dorm and identify two cases of asymptomatic students.
Wastewater-based epidemiology is a new and developing science, but researchers believe it could be an important tool in gathering crucial public-health data.
"It's a leading indicator," Pepper said. "The virus is shed by individuals seven days prior to visible symptoms. So you have seven precious days in which you can undergo intervention. And it's particularly useful for detecting the onset of a pandemic."
The team collects samples from the sewer in the mornings around 8:30 a.m., typically after people wake up and go to the bathroom. The samples are then returned to the WEST Center, where they are processed, filtered and tested for COVID-19. "When one defecates and the fecal material goes into the sewer, the virus is not ejected with the flush in one shot." Pepper said. "It actually disseminates into the water. A study showed that from one flush, with polio virus, you could detect that virus up to four days after the flush."
If a concentration of the virus is detected in a particular building, steps are taken to test and treat residents and continue to sample the wastewater until the virus is no longer detected. Since early March, the team has been experimenting with this method, collecting over 300 samples of wastewater throughout the country, including New York, Los Angeles and Seattle.
"We soon realized how sensitive wastewater-based epidemiology is," Pepper said. "For example, we could clearly see the influence of the stay-at-home intervention when virus concentrations decreased and the opening up when concentrations increased. About six weeks ago when Arizona was making headlines for having about 800 cases a day, the concentrations were sky-high."
While the WEST team continues to test wastewater for some on-campus buildings twice a week, the university says it will take more time and resources to expand into the community and diagnose cases in off-campus high-rises. "We are currently looking with researchers to see what level of scalability is possible," Carmona said. "We have already had some early discussions with the city and county. Right now, it's a scalability issue. We have a couple of scientists in a small laboratory that we put to work, and we're looking to see if we can get other scientists involved."
UA "playing catch-up"
Still, the potential for large swaths of students off campus to become infected has left professors and those living in the surrounding neighborhoods frustrated.
Celeste Gonzalez de Bustamante, an associate professor of journalism who is on the steering committee of the Coalition for Academic Justice at the University of Arizona, said the cases are a real concern for faculty members still teaching in person. Her group was opposed to bringing those students back this early, and she said it's frustrating to see many of the concerns her group raised are now resulting in Robbins and his staff "playing catch-up."
"There's a lot of things they could have done in terms of reaching out to students who are going to be moving into these high-rises or neighborhoods near the university trying to work with them before coming back if that had to be the case," she said. "We felt the UA left it in the hands of students. They could have done a lot more."
In the neighborhoods close to campus, officials there expressed mixed opinions about the UA's handling of the off-campus outbreaks so far but agreed that measures should have been taken sooner.
In the Sam Hughes Neighborhood just east of campus, coronavirus concerns have been discussed as far back as March. With students back, there hasn't been much concern about parties so far, according to Jim Head, neighborhood association president.
With urging from the UA, Head and others hand-delivered flyers around the neighborhood last week that included information about social distancing measures, mask requirements, limits on gathering sizes and hand-washing — and included a direct number to contacts at the UA. They're prepared to call law enforcement if there are neighbors "disturbing the peace."
"The flyers were a great idea — about a month too late. We would have liked to have seen them in mid-August," he said. "The students are coming here, we can't keep them out, so we're going to work with the university to make sure it's not a problem."
In the Feldman's Neighborhood northwest of campus, the density of students is significantly lower than in a normal year, but the behavior has been the same, according to Diana Lett, neighborhood association vice president.
"I am exceedingly displeased with the university flooding my neighborhood with the demographic most likely to catch and spread COVID," said Lett, who pointed out her age and asthma put her in a demographic more likely to have more severe symptoms from the virus. "That's beyond irresponsible."
Lett is a member of the UA's campus relations committee with nearby neighborhoods. She said she's expressed her concerns but feels like they're not being handled.
She said there has been only a "post-hoc effort" to curb those behaviors.
"I get that there are reasons why the university chose to do what it has done," she said, referring to the UA's documented financial pressures. "But they basically made me a guinea pig, and I am not happy about it. The area around the university is full of people like me. … There was zero consideration given to our health and safety."
Contact reporter Justin Sayers at jsayers1@tucson.com or 573-4192. Twitter: @_JustinSayers. Facebook: JustinSSayers.
Contact reporter Jasmine Demers at jdemers@tucson.com. On Twitter: @JasmineADemers