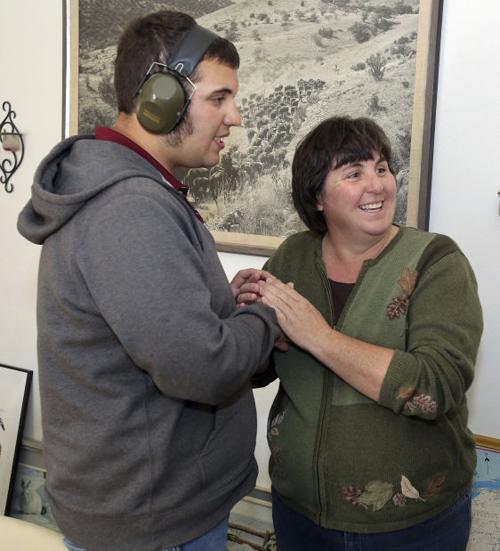 Chris Guerrero was at the supermarket last year, with a shopping list for his new little home, when a problem arose: He wanted something on the grocery-store shelf that wasn't on the list.
For a person with autism, as Chris was, this can be a paralyzing problem, his mother, Marla, told me. You can cross everything else off the list as you grab it, but how do you put something in the cart if it's not on the list?
Perplexed, Chris paused and eventually figured out a solution. He wrote the item on the list, put it in the cart, then crossed it off the list.
It was one of the many positive signs that highlighted a year of living in his own place on the new Echoing Hope Ranch at Hereford, two hours southeast of Tucson. For Marla Guerrero, this was a dream come true. She worked for years, joining others to set up a place where young adults with autism could live. Her 22-year-old son Chris was her inspiration.
Now, tragically, those highlights of Chris' growth have become treasured memories. He died in December, just under a year after moving into his own, one-bedroom place on the ranch.
"He had an amazing year of growth," said Marla, who is director of the ranch and also lives there. "He really took ownership of the house. If somebody walked in and he didn't want them to be there, he'd say, 'Goodbye.'"
He learned to clean, did a different chore every day, even helped build and paint a chicken coop. These were tremendous steps for a young man who did not speak.
But in October, he started suffering what seemed like a cold, his mother said. Most symptoms went away, but shortness of breath persisted. Finally, they had to take him to a doctor, an ordeal for many people with autism, who may grow extremely anxious about the appointment, especially about being touched.
"It was hard to do any tests with him. Most tests had to be done under general anesthesia," she said.
In the end, it turned out Chris had a cancerous tumor that was slowly squeezing his heart and lungs. He died Dec. 22.
Chris' decline coincided with a batch of good news for the ranch, which can accommodate up to 10 full-time residents as well as many more in a day-activity program.
The Kemper & Ethel Marley Foundation donated $62,000 in November. The Click Family Foundation made its second $25,000 donation in December. The donations will let the ranch make the day activities building compliant with the Americans with Disabilities Act and allow other rehab efforts.
Piece by piece, the long-dreamed-of ranch has become more and more solid, with a functioning present and a brighter future as a place for adults with autism.
But now that Chris was gone, would Marla, one of the key inspirations for the place as well as its director, want to continue?
Harlie Garcia, who heads the nonprofit's board and also founded the ranch, wondered.
"There was some concern on my part, as the board president, that, 'Oh my gosh, what are we going to do if she doesn't stay?'" Garcia said. "We were hopeful that she was going to continue, as well as deciding that we've come too far that we would move forward regardless."
The idea of providing rural, agricultural-based homes for adults with autism seems to be catching on, Garcia said. The ranch has animals that residents help care for, as well as gardens that provide some of the food.
"This is just the beginning of where we see this going," she said. "There's such a need that we have to do it."
The news from Guerrero was good. Despite the painful absence of her son at the ranch built in good measure for him, she has decided to continue on. The work itself helps ease the pain.
"I find it challenging, yet I find the other people in the program here to be very therapeutic for me," Guerrero said. "They have little things they do that are similar that remind me of him. Little things that bring a smile or laugh."