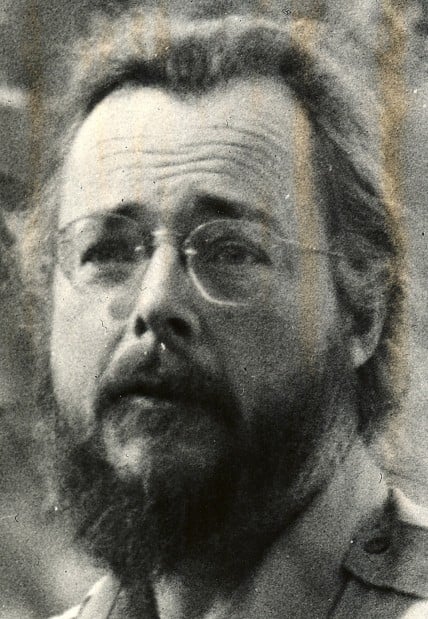 Park ranger and naturalist Paul Fugate set out on a short hike in Chiricahua National Monument on Jan. 13, 1980, and he never returned.
Searchers on foot, with tracking dogs and in helicopters and light planes scoured the rugged landscape 120 miles southeast of Tucson, to no avail.
A hypnotist was called in to jog the memory of a park employee who had seen two men driving out of the park in a pick-up truck with Fugate, 42, apparently unconscious, in the cab between them.
The National Park Service offered rewards for information about Fugate's disappearance.
In July 1983, based on new leads, a Cochise County Sheriff's Office official announced Fugate had been murdered and that the arrest of "more than one person" was imminent. However, no one has ever been charged.
More than eight years after his disappearance, and without having found his body, Fugate was declared dead.
Last month, more than 30 years after he vanished, Fugate's family and friends gathered at Chiricahua National Monument for the dedication of a memorial plaque. Nearby they planted an apple tree.
Memories of her husband remain fresh for Dody Fugate, who resides in New Mexico. The tree brought back fond recollections for Dody Fugate.
"Paul had a a friend at the park who was a javelina. His name was Lone Pig, and he loved apples. He would lay on Paul's porch and listen to music, except he didn't like rock 'n' roll," Dody Fugate said. "I was wondering why Paul was buying so many vegetables. I thought he was getting healthy."
But the fresh produce was for Lone Pig. The javelina was picky, inspecting each vegetable before making his selection, but when Fugate tossed his prickly friend an apple, "he would catch it in the air like a Frisbee," Dody Fugate said of the beloved javelina.
The Star will feature some of the Tucson -area violent crimes that remain unsolved - sometimes many years later.
Anyone with information is urged to call 88-CRIME. Tips also can be submitted online at www.88crime.org; or by text message at 274637, then enter tip259 plus your text message.