Things will soon pick up for a portion of the Broadway widening project — literally.
In the next couple of weeks seven historic bungalows set for renovations will be moved out of the way of the construction zone west of Campbell Avenue as the Rio Nuevo Multipurpose Facilities District follows through on plans to preserve the character of the area, said Fletcher McCusker, the agency's chairman.
"These are seven historical bungalows that were in the right of way for the road widening," McCusker said.
"The city would've torn them down, so we convinced the city instead of doing that, to give them to us and we will repurpose them. So that's exactly what we're doing."
The goal is to move the structures back between North Warren and North Cherry avenues, keeping a 25-foot distance from the road once the widening portion is complete. All seven structures are located in the 1600 block of East Broadway.
"Our hope is to reactivate them as restaurant, cafe, retail kind of establishments," McCusker said.
Rio Nuevo, which is funded by a share of Arizona sales tax dollars, will spend about $150,000 to move each bungalow, but the goal is to not spend much, if anything, on the renovations.
"What we typically do is we partner with somebody that's interested in doing (the renovations) so we're likely to give them a rent-free building in exchange for them doing the ultimate improvements," McCusker said.
McCusker added the vision to preserve the structures, which began in 2017, is being done with the community in mind.
"(Residents) love the idea of them becoming cafes, little restaurants, boutiques that a lot of the neighbors will be able to walk to," McCusker said. "We've had nothing but support from the neighborhoods regarding our ideas."
At a public workshop in May held by Rio Nuevo and its partners, 60% of participants said they wanted to see efforts to protect and enhance the historic character of the Sunshine Mile, which includes use of the bungalows.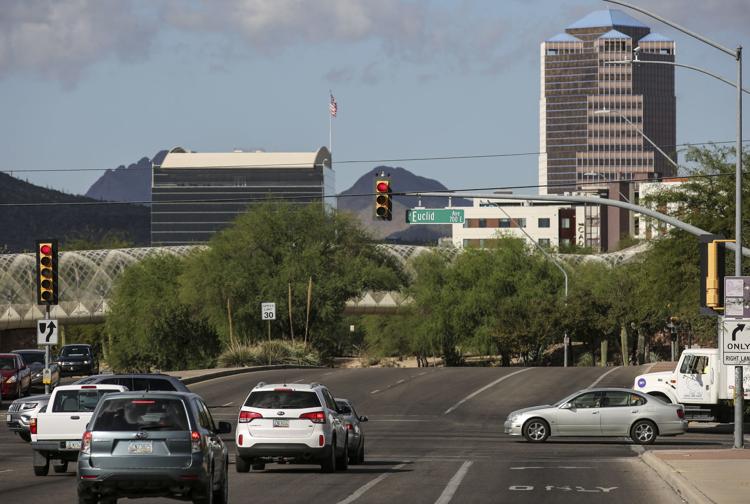 Those bungalows would be one of five general parts in making Broadway — between Euclid Avenue and Country Club Road — a more "vibrant," "enticing" and accessible place for visitors, according to Rio Nuevo.
"One thing that'll be fun: we are going to put a webcam on those buildings so people will be able to watch them literally being picked up and moved, so there should be some interesting YouTube moments as they start moving these buildings," McCusker said.
Meanwhile, officials say a vast majority of people interested in the widening project say making the area safer for pedestrians is a top priority, calling for improvements like better crosswalks.
"Bike lanes on Broadway should be safe and there should be bike access to alleys and bikeways between Broadway and the university," according to the Rio Nuevo's May workshop report.
Officials would also make room for mini hubs offering bus stops, bike share, parking and car sharing, and maybe rapid transit by bus connecting visitors to the area to downtown.
"The entire mission is to create some sort of input so that the neighborhood can participate in what happens there, so we're really open to a lot of very creative ideas . . . " McCusker said.
However, before the boarded-up bungalows and other parts of the area get added features, widening Broadway to six lanes must take place.
Some property owners have waited decades for the Broadway widening, first promised in 1989, according to Star archives.
The city has completed demolition for structures within the upcoming improvement area, said Michael Graham, a spokesman for the city's Transportation Department.
"However, there are still two properties in the project limits that the owner has committed responsibility to demolish before the project begins," Graham said.
"This was negotiated between the owner and city during the acquisition period."
You'll likely continue to see engineers from Tucson Electric Power conducting utility relocations for the time being.
New power poles will be installed due to the upcoming construction.
Once other communications providers' lines are moved to the new lines, the old poles will be removed.
There is no completion date for the power line work, which prevents area improvements from being started, Graham said.
"We are not able to start construction on this improvement project until TEP is completely finished with their pole relocations," Graham said.
"Therefore, we do not have a construction start date as of yet."
Down the Road
I-10 work resumes on Wilmot, Kolb and Rita roads
Motorists should expect delays Monday as signal work and lane configuration work resumes on Interstate 10 at the interchanges of Wilmot, Kolb and Rita roads.
The work will be done between 8:30 a.m. and 4 p.m. The entire project will be completed in November.
Motorists should use caution and watch for personnel in the areas.
Project at Tanque Verde Loop intersection
Motorists should expect possible delays for the next two weeks as an improvement project at Tanque Verde and Tanque Verde Loop roads begins Monday.
There will be lane restrictions in the area from 6 a.m. to 4 p.m. each day until November 1 due to the traffic signal work.
Lend your opinion on prioritizing county roads
The Pima County Transportation Advisory Committee is seeking community input on prioritizing repairs on unincorporated Pima County roads for the next two fiscal years.
The public is invited to attend a meeting Tuesday at 12 p.m. in the Abrams Public Health Center, 3950 S. County Club Road.
Houghton Road shoulder work to cause heavy delays
Crews will begin road paving work Monday on South Houghton Road from the north entrance of Andrada Polytechnic High School to Sahuarita Road.
The work will last from 6 a.m. to 4 p.m. each day until Oct. 30.
Motorists should expect heavy delays in the area. Motorists should use Wilmot Road or Wentworth Road as alternate routes leading to I-10.