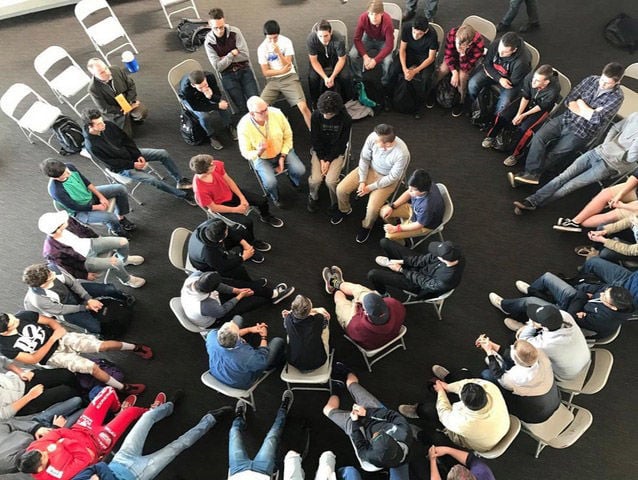 One circle at a time, a small nonprofit is working to change young men's ideas about healthy masculinity.
Now the University of Arizona — led by President Robert C. Robbins, Vice President Ron Wilson and head football coach Kevin Sumlin — has joined the blitz.
"UA is trying to spearhead a tide change in the culture of toxic masculinity, including sexual and gender-based violence, substance abuse, and men's mental health. It has been doing lots of preventive work in the last year to turn this massive ship around and it makes sense to connect with an organization like Boys to Men," said Michael Brasher, executive director of Boys to Men Tucson, which is comprised of about 60 trained male volunteers who offer mentorship circles for groups of at-risk boys in 11 middle schools and high schools.
The goal is to impact boys during their formative years so that by the time they move into adulthood and start college, they have a solid understanding of the framework, behaviors and practices for healthy masculinity
The movement is a counteroffensive to old-school, rigid ideas and stereotypes about gender, according to Brasher.
"Toxic Masculinity 101, at the entry level, is made up of the kind of unspoken and often unconscious rules that men feel pressure to operate within that actually limit their well-being and impact the quality of their own lives," said Brasher.
Brasher said many stereotypes — such as "Men don't ever lose," "Win at all costs," "Don't be gay," and "Men never show emotion" — are detrimental to individual men and to society at large.
"Research shows that men who have these ideas tightly ingrained throughout their upbringings have a whole range of negative effects — from depression, suicide, substance abuse, sexual violence and gender-based violence to mental and physical health problems," said Brasher, a doctoral student in the UA Department of Geography who anchors mentorship circles at Sunnyside High School and Roskruge K-8 School each week.
The mentorship circles don't adhere to specific curriculums, but cover topics such as accountability, decision-making, emotional intelligence, integrity, identity and consent.
The circle is designed to allow the boys to share feelings, emotions, problems and ideas and has proven transformative for many of those involved, Brasher said.