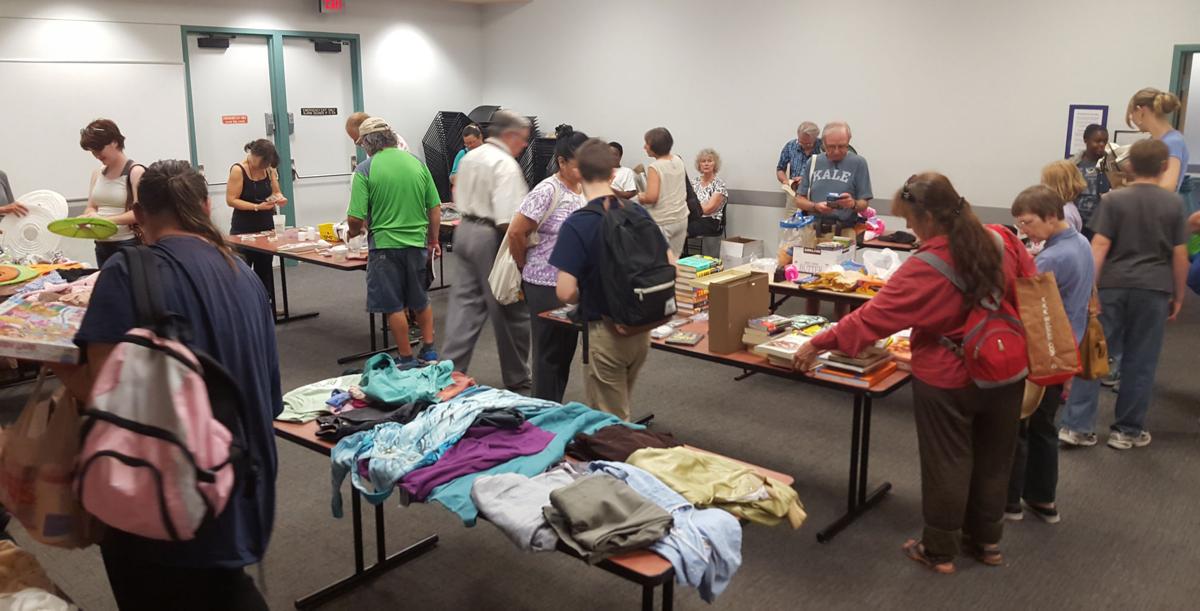 Refresh, renew, pare down, clean up: If this is your mantra for 2017, you won't want to miss the Freecycle Post-Holiday Swap from 2 to 4 p.m. Saturday at Woods Memorial Library, 3455 N. First Ave.
"This is a free event that we do twice a year — right after the holidays and in July — and it is a lovely, goodwill gesture between the library and the neighborhood that encourages people to come together and clean our their closets and trade with their neighbors," said Elizabeth Salper, a Woods Memorial Library associate, who has helped to coordinate the event since its inception more than five years ago.
The swap features a variety of items in good condition: Clothing, toys and games, kitchen and household items, books, holiday items, small electronics and more. Large items such as refrigerators and motorcycles are not allowed. Last year a free document-shredding service was added, courtesy of the office of Ward Three Councilwoman Karin Ulich and Constable Bennett Bernal. More than 3,500 pounds of paper were shredded on site.
Salper works closely with The Freecycle Network, a local nonprofit organization, to stage the event.
"We collaborate with Freecycle to let people know that they are doing this on a daily basis. We also offer lots of books and information about recycling and up-cycling and encourage people to be aware and mindful about how we can recycle and help each other," Salper said.
Founded in 2003 by Deron Beal when he realized thrift stores wouldn't accept a high-quality mattress due to health concerns, Freecycle is on a mission to "change the world one gift at a time."
By 2013, the local grassroots movement had grown into the largest internet recycle and re-use web community in the world with more than 9 million members in more than 110 countries. The purpose is simple: to provide a place where members can give or receive items that they have and don't need or items that they need and don't have while simultaneously reducing the amount of waste that goes into landfills.
Beal estimates that more than 33,000 items — or more than 1,000 tons — each day are kept out of landfills through Freecycle's efforts to regift and re-use.
Current online posts in Tucson, which Beal said boasts a family-friendly membership of 14,000, include a diverse range of products where "just about anything can pop up." The site features "wanted" items such as used magazines, a large wheelchair and a juicer or blender and "offered" items such as wardrobe boxes, light fixtures with bulbs, a black refrigerator and broken concrete. Computer monitors, printers and other electronics are also popular.
"We are all about empowering people to help themselves and help each other. There is a real 'Aha!' moment the first time you give something away and someone thanks you effusively for an item that you were going to throw out. The fun isn't in getting, but also in giving and that cycle of giving is something that we humans, as members of the ape species, need: It is about helping each other and giving and caring," said Beal.
Beal emphasized that Freecycle is filling a void left by thrift stores since many refuse nonworking electronics and older computer monitors and printers. Additionally, he said about 70 percent of items donated to thrift stores go unsold and are eventually thrown out.
"There are all sorts of hobbyists and tinkers who want items even if they are not working. I saw one post that wanted a broken telescope. It was a man who liked to fix things who had just moved to Tucson and wanted to experience the night sky. We have found that there is a huge gap between the items that the Goodwills of the world can sell and items that still have value, and that is where we fit in," Beal said.
While post-holiday is a great time to subscribe to the theory of "out with the old, in with the new," Beal said that sometimes "out with the new" is also appropriate.
"If it doesn't create joy, put it on Freecycle: That is a good rule of thumb when you are looking around and thinking, 'What do I do with all this junk?'" he said.
The annual post-holiday swap has created an abundance of joy in the neighborhood around Woods Memorial Library, according to Beal and Salper.
"There is a large immigrant and refugee population near the library. You see some of these young kids fresh in our country who have nothing. Last year someone gave a small Somali boy a guitar and it was amazing to watch his face light up. It is really touching to be part of a unique event where you can see that people who could really use a little extra are getting some nice help," Beal said.
Be the first to know
Get local news delivered to your inbox!