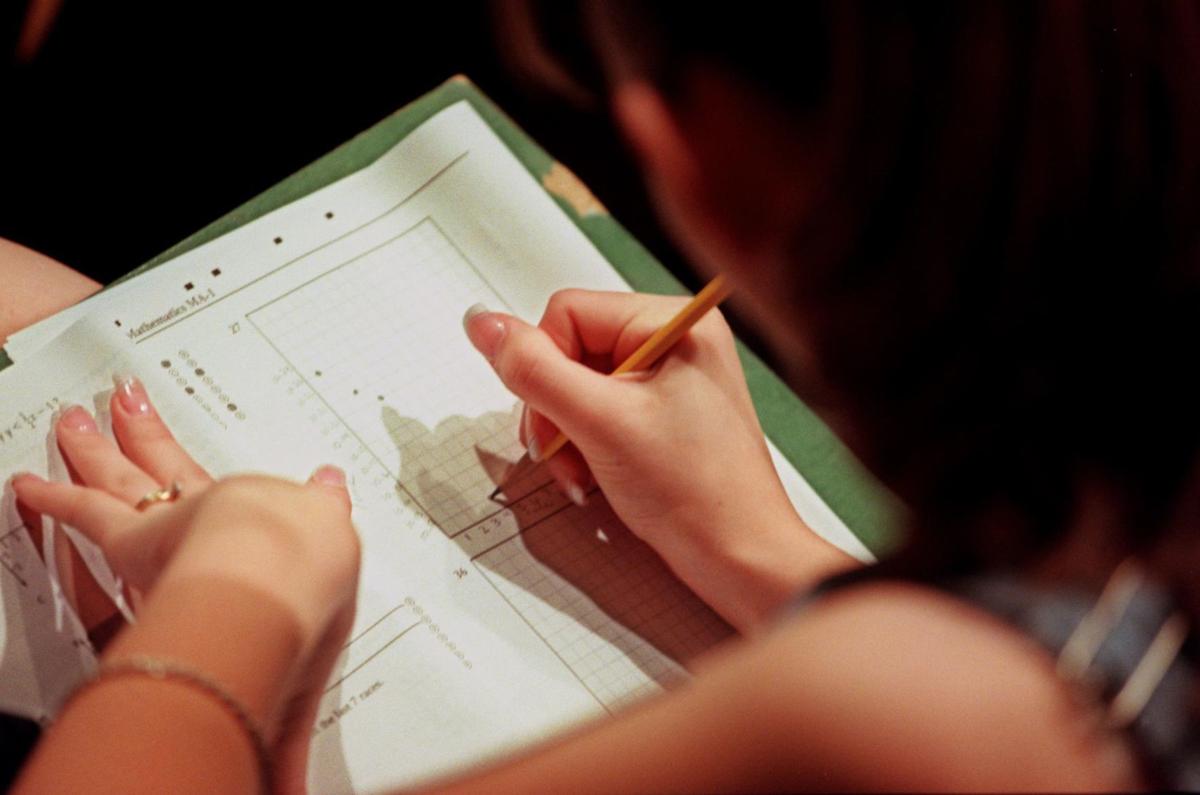 Tucson's largest school district is ditching the AzMerit test for high schoolers next year, taking advantage of a new state law, the first of its kind in the country, that will allow each school district to pick its own standardized test.
The law could potentially leave the state with a multitude of different tests to measure school success, eliminating the ability to compare test scores across schools and districts, and undercutting the accountability movement that has largely driven state education policy for the past decade.
However, only a handful of school districts and charter schools have so far opted to administer an alternative to the AzMerit, and all those have chosen the ACT or SAT.
The push by state lawmakers for more school choice and local control comes at the expense of school accountability, said Jacob Mishook, director of assessment and accountability at Achieve, a national nonpartisan nonprofit focused on college and career readiness.
"If the goal of the accountability system is to have an apples-to-apples comparison of schools, having a menu of assessments is a serious threat to that," he said.
That's a problem for parents trying to decide where to enroll their students, he noted.
It's also problematic for state education officials who are faced with a host of technical issues in implementing a dozen different test types.
"The bottom line is, don't do that," Mishook said. "For a host of technical reasons, it's extremely difficult. The more assessments you put into a menu of assessments, the more challenging it's going to be. You lose comparability, and when you lose comparability, it's very challenging to have an accountability system that can differentiate between schools."
Conflicts with federal law
The law raises complicated questions state officials will need to answer. Among them: How will the state compare proficiency on the AzMerit to other tests, such as the ACT, and how will scores on alternative tests be incorporated into the state's A through F school grading system largely based on AzMerit test results?
Further complicating the issue, state officials acknowledge that Arizona's law conflicts with federal law under the Every Student Succeeds Act (ESSA), which allows school districts and charters to choose alternative assessments, though only for high schools and only districtwide. Arizona was the first, and state officials say still the only, state to take up the menu of assessments allowed under ESSA.
But Arizona's law goes further than ESSA, and allows districts to choose a new assessment on a school-by-school basis, and will allow K-8 schools to choose their own assessment in the 2019-2020 school year.
Those conflicts could put in jeopardy millions of dollars of school funding if the U.S. Department of Education decides to press the matter.
Dan Godzich, associate superintendent at the Arizona Department of Education, acknowledged that the state law conflicts with federal law.
"Definitely our state law, as applied to ESSA, would be precedent-making," he said, noting that the federal government wields a big stick in its ability to withhold federal grant money for states that don't comply with federal law, though he doubts the feds would use that stick.
"In theory, they could withhold that money. Whether they do that in practice would be very interesting," he said.
U.S. Department of Education officials did not return multiple calls or emails seeking comment on Arizona's law.
Flowing Wells, Sunnyside also switching
Tucson Unified School District is the largest district in the state to take advantage of the new law, and will drop the AzMerit from all its high schools next school year, in favor of the ACT test.
But it's not the only district in Pima County doing so.
As of Friday morning, two other local districts had notified the state they will also drop AzMerit. Flowing Wells Unified School District high schools will also switch to the ACT next year, and Sunnyside Unified School District decided to switch to the ACT at its alternative and online high schools.
School districts have until Sunday, July 1, to notify the state if they're making a switch, or they will be locked into the AzMerit test next year.
The new law is wildly popular with teachers and principals who see their students suffering from test fatigue, Halley Freitas, senior director of assessment and program evaluation at TUSD, told the district Governing Board.
"We did a survey of all the principals in TUSD and learned the principals were very loud and clear in their support for the ACT over AzMerit," she said.
High school students in Arizona are required, each year, to take two AzMerit math tests, two reading tests and a writing test, totaling roughly four to seven hours of testing — though the AzMerit has no time limit, students can take as long as they need, and schools can only schedule a maximum of two tests per day.
On top of that, ninth-graders take a two-hour AIMS science test, and 11th-graders in TUSD already take the ACT.
Switching to the ACT means high school students will take just one test, only in 11th grade, which takes 3ƒ hours to administer, including the four subtests: English, reading, math and science.
Freitas noted that under AzMerit, the school district was measured in every grade between ninth and 11th, and the district is held accountable for its students' scores on all those tests via the A through F grades.
"If we choose the ACT option, then it's only 11th grade. … So the 11th grade would be the only grade that the state would hold TUSD accountable for, in terms of accountability measures," she told the board.
Freitas acknowledged that only testing one grade level will lead to complications with the state's A through F letter grade system, which is based mostly on AzMerit scores and places a heavy emphasis on "growth" in student performance year-over-year.
With students taking one test, rather than testing in each grade level, it is unclear how schools will be awarded those crucial "growth points" in the A through F system, she said.
It will be up to the State Board of Education to determine how that will work — though the board this year struggled to set the formula for the A through F system, delivering the grades months behind schedule.
TUSD Superintendent Gabriel Trujillo warned that his concern is the district will start focusing on test preparation at just one grade level, rather than ensuring all high school students are succeeding.
"I remember the days of AIMS, and the huge problem I always had with AIMS was it was all about 10th grade. … So ninth, 11th and 12th all of a sudden didn't matter," Trujillo said.
Mark Stegeman, the only member of the Governing Board to vote against making the switch, argued that there are far too many unknowns in how the law will be implemented.
He noted that the state has repeatedly changed the standardized tests in recent years, first to AIMS, then to AzMerit, and now to a variety of test options. And that makes it impossible to measure apples to apples, both in terms of measuring one district against another, but also in comparing how TUSD is doing year-to-year.
"It's very difficult to understand how you're doing on student achievement when you're changing the testing every three or four or five years," Stegeman said.
He noted that AzMerit was designed to be aligned with Arizona's curriculum, while the ACT was not.
And Stegeman cited a University of Chicago study that found when Illinois switched to the ACT several years ago, teachers started teaching to that test, spending on average a month of the school year preparing students to take the ACT, rather than focusing on the curriculum.
"I'm very concerned if we switch to this, the importance of doing well on this test will lead to teaching to this test. And of course now we're teaching to AzMerit to some extent, but AzMerit is (aligned with) our curriculum," he said.
Finally, he argued that the district shouldn't jump on board as a guinea pig for this new policy, especially considering that with changes in the Legislature and the Department of Education, there's no guarantee policymakers won't abandon this menu of assessments, or change it significantly, in coming years.
"I think it would make more sense, instead of jumping on this in the first year, to wait at least another year and see how stable this looks. Because it would be silly to jump to this test and in two or three years it's off the menu," he said.
But Governing Board member Kristel Foster said that as a longtime educator, she's seen the drastic changes that the push for more standardized testing wrought on classrooms, with teachers being forced to drill test questions into children from a young age, rather than focusing on actual learning.
She said moving away from the AzMerit test is one of the "most significant votes I'll ever take" and countered that as one of the largest districts in the state, TUSD should show leadership in moving away from the AzMerit test.
"We all for so many years have talked about how standardized testing shouldn't drive our instruction, and we actually have the opportunity here tonight to be a leader and step away from that," she said.
"Test fatigue factor"
Sunnyside Unified School District also decided to drop the AzMerit test, though only at its online and alternative high schools, which serve a total of about 80 to 90 students.
Sunnyside spokesman Victor Mercado said it made sense for the district to make the limited switch since students in those schools are often making up classes, and therefore can get slammed with multiple makeup AzMerit tests.
"As for our alternative high schools, there's a lot of credit recovery going on. So you could have a situation, because of the types of credit they're trying to make up, they could potentially be taking up to five AzMerit tests that year. There's a certain test fatigue factor there," Mercado said.
But to switch tests for the entire district would set the district back in the work it's done to prepare for AzMerit, he said.
"We really built our entire curriculum and content and instruction based on the standards. And the AzMerit test measures those standards. We've just invested so much into it that to do away with it just doesn't really make sense for us at this point," he said.
Other districts chose to stick with AzMerit test, including Vail Unified School District, where Superintendent Calvin Baker also sits on the state Board of Education, which was tasked with implementing the new law, and will have to iron out the many kinks it will create in current law.
"There are still just a lot of unknowns about the other tests that may be used," Baker said. "For the sake of consistency and stability, we're going to hold our course."
Those pending questions include what test scores will be considered "proficient" on other tests, and how that will impact the district's A through F grades, among other things.
Like TUSD and Sunnyside, Vail already requires 11th-graders to take the ACT test. But it also sells its curriculum to more than a hundred other schools, curriculum that was designed to fit the AzMerit test. Most of those schools are also sticking with AzMerit.
And while some other tests, including the ACT, have "significant overlay" with Arizona standards, they aren't the same, Baker said.
"My analogy is if you change your test for the driver's license, you want to review the booklet that was made for the new test, not the booklet for the old test," he said.
Baker said there are ways the State Board of Education can level out the effects of multiple types of tests, such as by setting different cut scores, or the minimum scores students must achieve to be considered "proficient." It will be even more complicated working in the new tests to the "growth" formula in the A through F system because you can't measure individual growth in a single test.
And while Baker said he's concerned about the ability to compare school-to-school, the Vail district also places a high value on school choice and local control.
"If you go back 10 years ago to the movement for national standards, that was the fundamental motivation behind that movement — so that you could accurately compare the performance of a school in Benson, Arizona, to a school in Bemidji, Minnesota," he said.
But he said since then, the tide has turned toward more local control, and school choice.
"There was a tremendous political backlash against that, and the narrative went from 'let's hold everyone accountable' to 'schools and parents should be able to choose different emphasis for their children,'" he said.
A decade ago, Baker was an advocate of having all Arizona schools use the ACT as their benchmark test. That never happened.
"We would have saved ourselves an awful lot of pain and agony trying to design our own testing system just because we wanted to call it Arizona's," he said. "Now we're asking every charter and school district to choose their own systems. And things definitely get a little muddier."